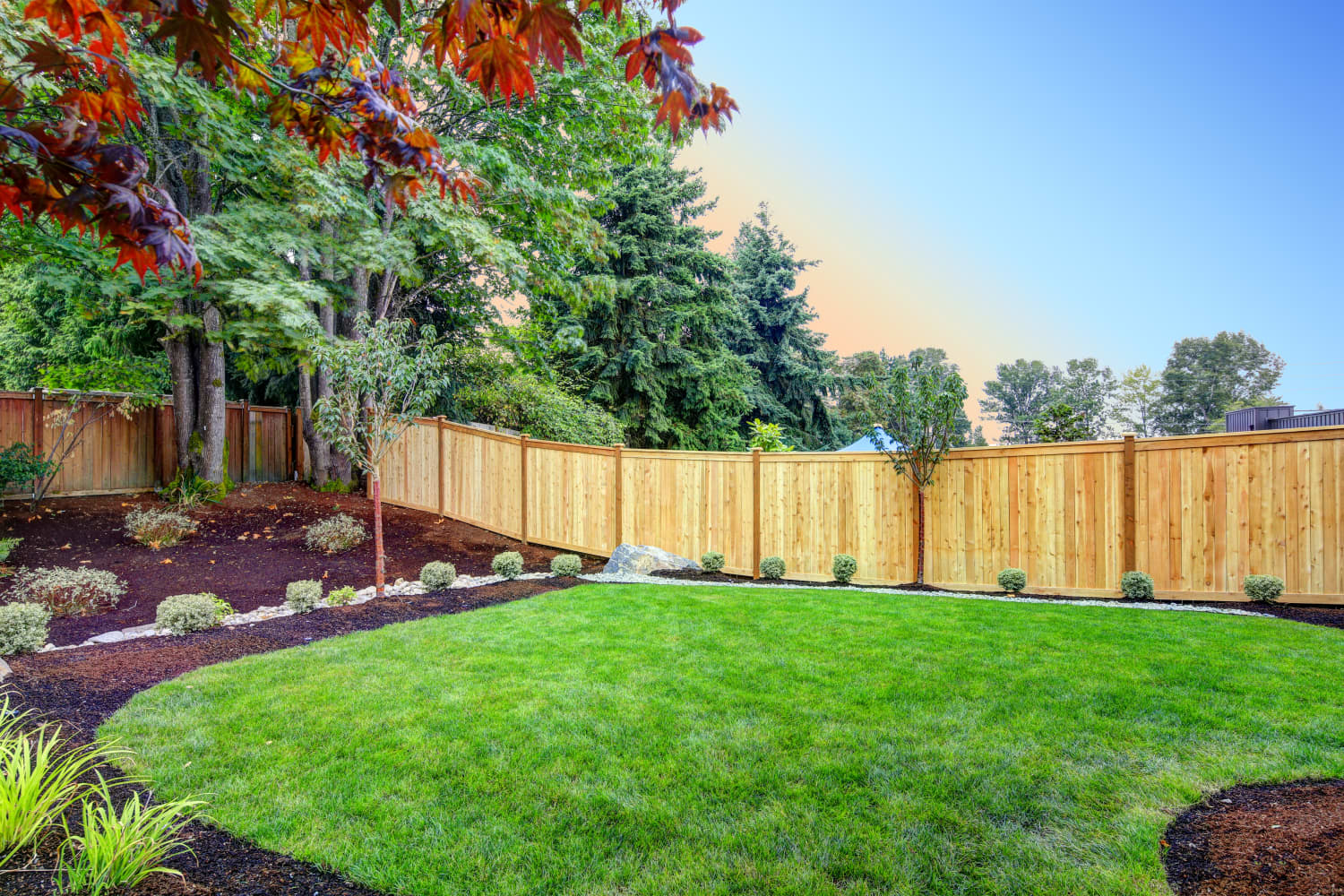 We're well into patio season, and people are heading outside in droves (as long as the heat and humidity stay at bay). The grills are fired up, and the dirt has been cleared off of decks and outdoor furniture sets. Is your backyard dinner party-ready, though? No worries if not — it's not too late!
Mina Starsiak-Hawk, co-star of HGTV's "Good Bones," loves spending time in her backyard, and she's here to help anyone who might be procrastinating on showing their outdoor space a little love. "Grilling in my backyard is the heart of all my summertime gatherings," says Starsiak-Hawk. "My outdoor space is a beautiful mini-escape with my family and friends, as we enjoy the best parts of summer." Want to soak up the rest of the season in style like Starsiak-Hawk? Here the HGTV star is sharing a few quick and simple tips to give your backyard that mid-season refresh it deserves.
If you're lucky enough to have a deck but it's exposed to the elements during the outdoor entertaining off-season, then it might have suffered a little wear and a tear. According to Starsiak-Hawk, "There's nothing a fresh coat [of stain] can't fix!" Whether you chose to go with a brand-new color for your deck or just want to touch up the existing shade, one or two layers of stain on your deck could go a long way and take just a weekend's worth of work to pull off.
One caveat: Summer rains can put a damper on this DIY project, literally. Be sure to choose a clear day, and remember to let your deck dry completely, which can take up to four hours, in between coats. If you don't want to restain your deck this late in the season or you have a patio, consider power-washing it to get it to look its best instead. Get to the weeding you've been putting off in the yard, and take on some timely plantings for July if you haven't already.
Adding a pop of color anywhere in your home is an easy, affordable way to change the look of your space. The same goes for your patio! You can add color in the form of a pillow, rug, or even a patio umbrella. Outdoor pillows come in different colors and textures, just like the pillows you buy to display inside your home. "A new pillow in a cute color can immediately make your outdoor sofa that much cuter," says Starsiak-Hawk. The same goes for chairs and stool seat cushions.
Expand your seating selection
Speaking of cushions, seating should top the list of ways to personalize your outdoor space. When you're not chasing around kids or pets — or tending to your backyard — you want to be able to relax and enjoy the oasis you created. "It's okay to have more than one place to sit," Starsiak-Hawk says. Provided you have the room, the HGTV star actually encourages it!
If you already have a dining table outside, consider adding an outdoor sofa to your setup. If you only have a sofa, maybe add in a few accent chairs for people that want to sit solo. You could even add a floor cushion or two, which can cozy up a patio on the cheap. Along those lines, you can also try turning part of a staircase into a comfy extra seating option, as shown above. Simply set a bench cushion made out of indoor/outdoor fabric on top of a portion of a stair tread. Just make sure to leave space for guests to move around the "bench" you've created.
Opt for fancier fixtures and accessories
Lighting can really make a statement, whether you're decorating inside or outside your home. "Hang a chandelier on your patio — it doesn't even have to work!" Starsiak-Hawk says. You can also try perking up your outdoor space with artwork, mirrors, or even bistro lights. Anything that's exposed to the elements will patina, so just keep that in mind as you're selecting pieces.
If you want to keep the party going all night, you want to make sure you (and your guests) are as comfortable as possible. "Fire pits are great for gathering," Starsiak-Hawk says. No matter where you live, the sun goes down at night, and the temperature drops a bit. Having a fire pit in your backyard gives you a place to warm up, get cozy, and roast marshmallows. Tons of stylish options for fire pits exist, with metal, brick, or high-end stone finishes to match the rest of your backyard decor. You can also DIY a fire pit if you're on a tight budget.