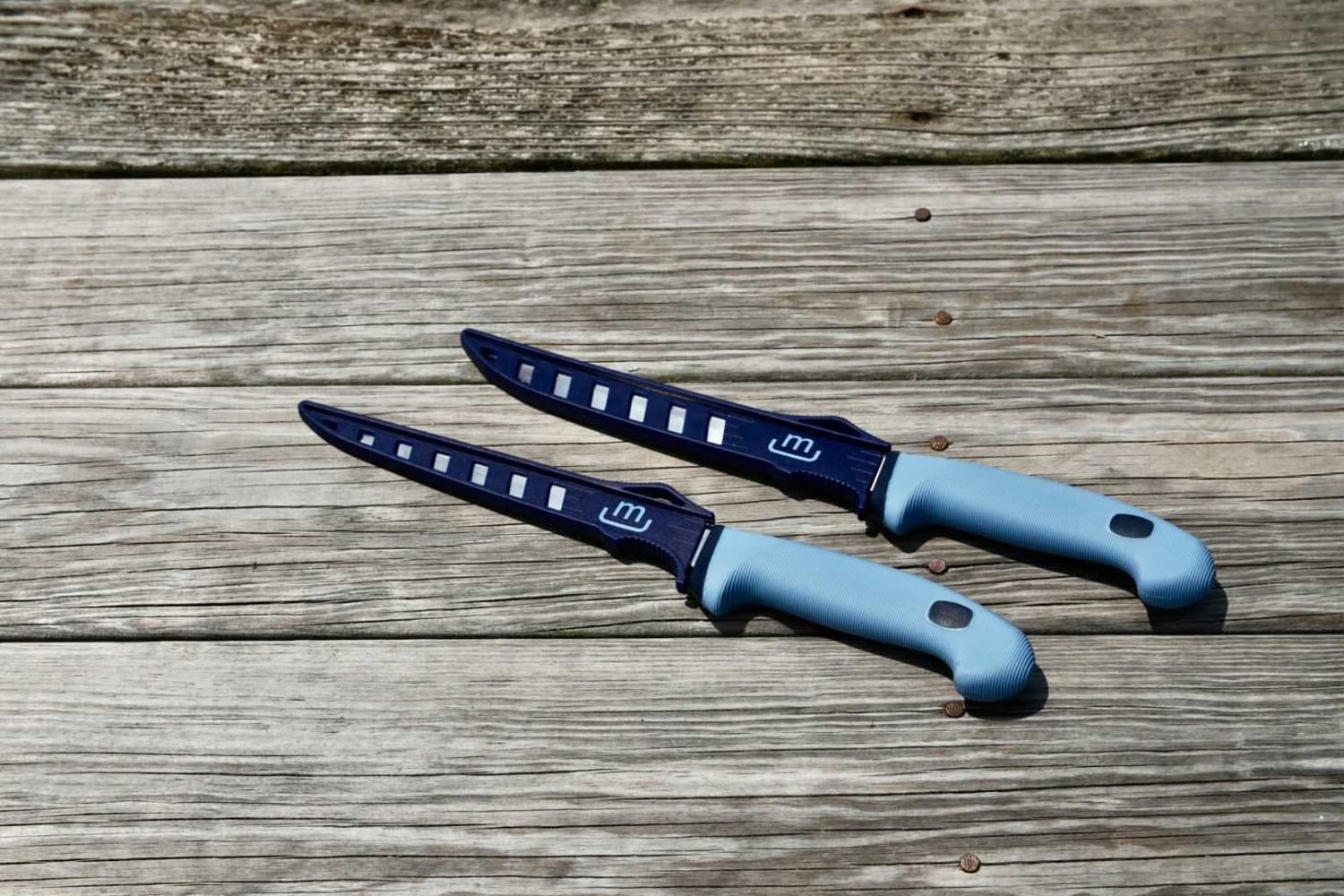 We independently select these products—if you buy from one of our links, we may earn a commission.
Tom Colicchio loves the water. "If anyone knows me, besides being in the kitchen, one of my favorite things in the world is to be out on the ocean," says the five-time James Beard Award winner, avid fisherman, Top Chef Judge, restaurateur, and celebrity chef in this video clip. (If you're a Below Deck viewer and want to be disappointed by an April Fools joke, watch it!). Which is why it it makes total sense that, for the last year, he worked with the direct-to-consumer cookware company Made In to design a fishing knife set.
And, as of today, you can buy said knives! The set includes a straight-edged Flexible Fillet Knife for precision cuts like deboning, skinning, and filleting fish, and a serrated Utility Knife best for tougher cuts, like taking the head off a fish, prepping bait, and cutting frozen fish.
"We were talking about kitchen knives when Tom mentioned his dream of making something for his boat," Jake Kalick, Made In president and co-founder, says. "We went through all the various blade shapes and sizes to determine the ideal two-piece set for sport fishing. Obviously Tom is known for his accomplishments in the kitchen, but judging by the detail he put into this we'd say his true passion may actually be fishing! We even designed the handle to match the color of his boat's hull."
After spending six hours out on the water on a recent Monday morning with Colicchio, Kalick, and Made In CEO and co-founder, Chip Malt, I can confirm that the slip-resistant handle does indeed match the hull. And that the award-winning chef's love for the water is unparalleled. While I may have needed an, ahem, brief fishing refresher after stepping aboard Colicchio's boat, a morning spent chasing stripers and bass off the coast of Long Island and using the knives on the fresh catch sure beat my usual Monday morning remote "office" (aka my bedroom).
Are you an avid fisherman or do you know one? Let us know in the comments!