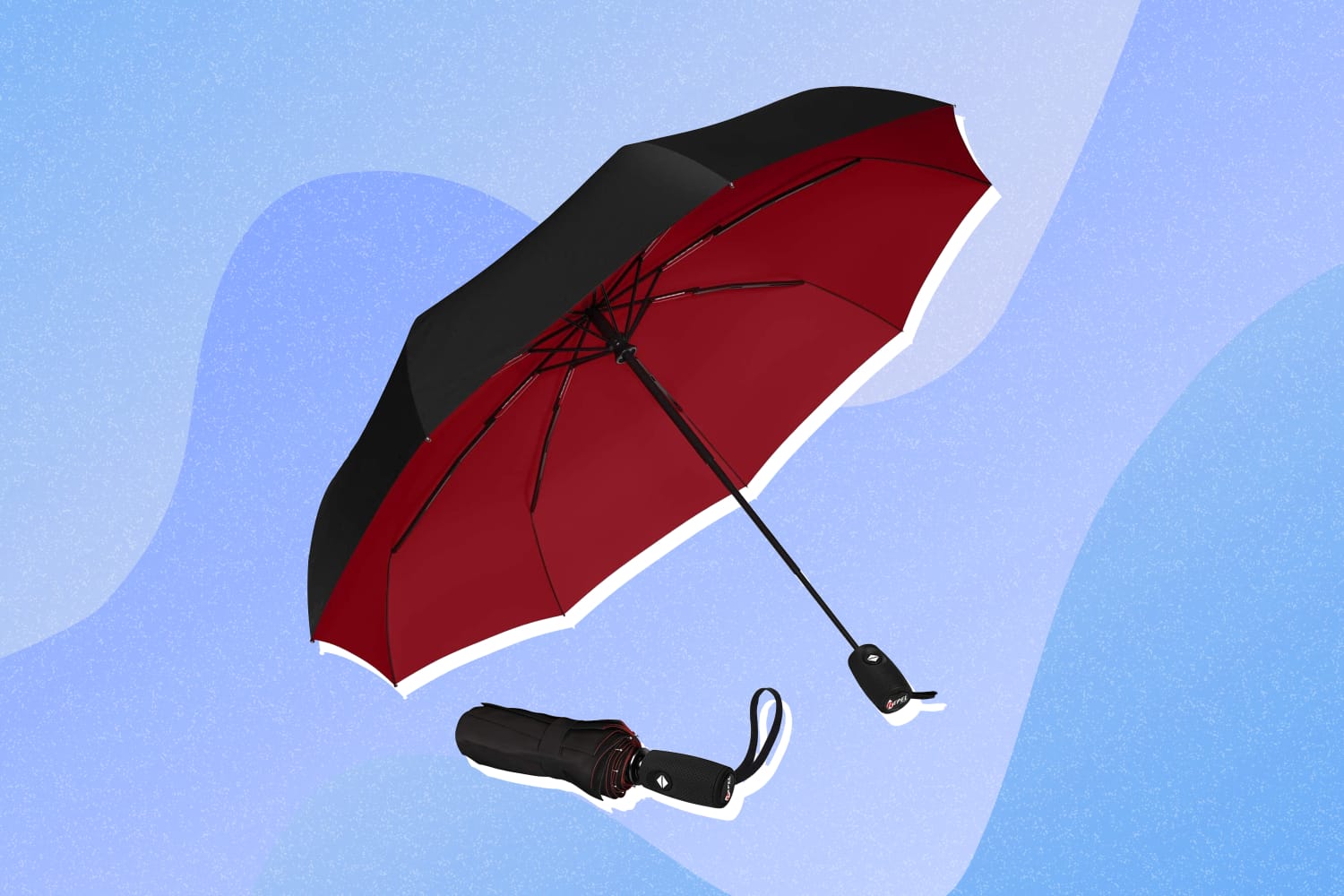 We independently select these products—if you buy from one of our links, we may earn a commission.
If you were affected by any of the unexpected storms that happened this summer, chances are you've been re-evaluating just how prepared you are for torrential downpours. While you might be outfitted with the ultimate summer-ready raincoat and waterproof shoes, a simple item many people often find themselves without is an umbrella — and usually when they need it most. Of course, this makes sense considering many umbrellas are either too large to fit in your everyday bag or too flimsy to rely on when a major storm hits. Thankfully, there's a solution that has you covered on both fronts: the Repel Windproof Travel Umbrella. According to thousands of satisfied Amazon shoppers, this umbrella is built to last and it's compact enough to carry around wherever you go. For these reasons (and more), it just so happens to be one of the most beloved umbrellas on Amazon.
With nearly 12,000 5-star ratings, suffice it to say that the Repel umbrella, which is sold in 11 colors, is nothing short of a lifesaver when clouds arrive and flood warnings pop up on our phones. Whether it's a light drizzle or an all-out thunderstorm, the Repel Umbrella Windproof Travel Umbrella is built to withstand the elements. Despite weighing less than a pound, the lightweight umbrella is sturdy to a fault. It's designed with a double-vented canopy, which lets wind pass through, and nine reinforced ribs. Together, these features ensure that the umbrella will maintain its shape, even when strong wind gusts blow in.
Let's be clear: This one is nothing like those $5 umbrellas you've had to buy in a pinch when caught in an unexpected downpour. The Repel umbrella is also made with Teflon coating to repel water like nobody's business, which means you've won't be left with a sopping wet mess once you've made it inside. "My husband specifically likes the fact that it repels the water and it is pretty much dry after he uses it, so he can just give it a little shake and put it back in his bag," one reviewer wrote. "No more forgetting wet umbrellas in wet buckets by the door."
This umbrella also features an automatic design that makes it easy to open even if you're juggling a million things when the storm hits — something we can all appreciate. "The automatic open and close button makes it easy and fast to get in and out of buildings and cars without having to stand in the rain longer than I want," one satisfied customer wrote.
The best part? If the umbrella falls short in any way, you can fall back on the brand's lifetime replacement policy, which guarantees a replacement umbrella if anything goes awry with your original purchase.
All signs point to making this umbrella part of your next Amazon haul. It's perfect for outfitting your purse, briefcase, car, and/or any other place you keep your "just in case" stash. You seriously won't want to leave home without it!