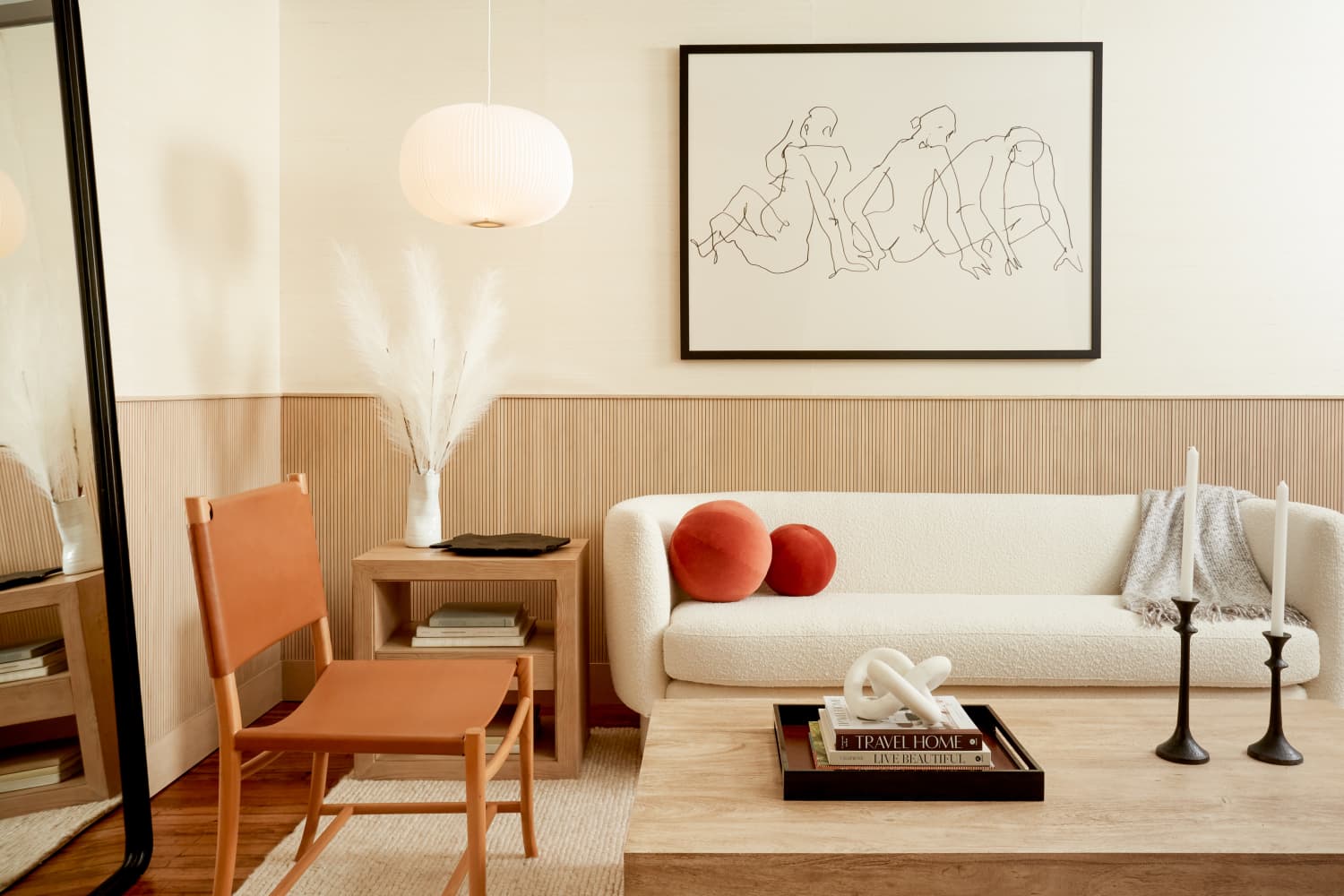 We independently select these products—if you buy from one of our links, we may earn a commission.
Even as a total throw pillow enthusiast, I've noticed that cushions only get so interesting. Sure, they come in a wide variety of fabrics and sizes, and different shapes do exist, but often, there isn't anything terribly new or exciting when it comes to pillows. Right now though, the most exciting thing happening in textiles is the ball pillow, which is exactly what it sounds like: a round pillow shaped like a ball.
All that aside, as a proud ball pillow owner (see above!), there's something nice about this shape. For one, it introduces something more sculptural to a clean-lined boxy sofa, chair, or bed. They're not all just good looks though; I've learned from experience that the shape is surprisingly comfortable for cradling your head while watching TV or even napping. Some ball pillows can be pretty hard, but that does mean they'll retain their shape well over time.
Once I saw designer Bobby Berk use a duo of rust-colored velvet ball pillows from Etsy in his Small/Cool "Warm Minimalism" living room (which you can see at the top of this article), I knew the spherical silhouette had arrived. And now, I'm officially calling it: 2022 will be the year of the ball pillow. Get ahead of the curve, literally, with these picks.
Creamy bouclé fabric and a ball silhouette? This pillow set hits two big trends at one fell swoop. If you'd love a light bouclé sofa but think you'd stain it, spring for this set to get some of the look without the same worry. They also come in nine other fabrics.
Buy: Mid-Century Orb Pillows, $150.00 for a set of 2 from Kardiel
Morning Ball Velvet Round Pillows
Overstock carries both light blue and cream velvet ball pillows from TOV furniture in two sizes, 9- and 14-inch spheres. They also have a version in beige bouclé available as well, which is on a pretty good sale right now. This is the cheapest you'll find this trend right now, folks!
Buy: Boba Pillow, Starting at $34.84 for a 9-inch ball pillow from Overstock
Faux-Fur Pom Pom 10″ Round Decorative Pillow
Maileg Kid's Ball Pillow
The 3D knot cushion is another especially playful ball pillow variant. They're available in a handful of colors, as well as a floor pillow size, and have been in production by Design House Stockholm since 2011.
Buy: Knot Pillow, $125.00 from Design Within Reach
Sherpa Fleece Throw Ball Cushion
Etsy really does have the most variety and stock of ball pillows right now, since this trend hasn't quite hit the mass market. This teddy fabricversion would be a super cuddly addition to any neutral couch or sofa.
Buy: Sherpa Fleece Throw Ball Cushion, $49.72 from Etsy