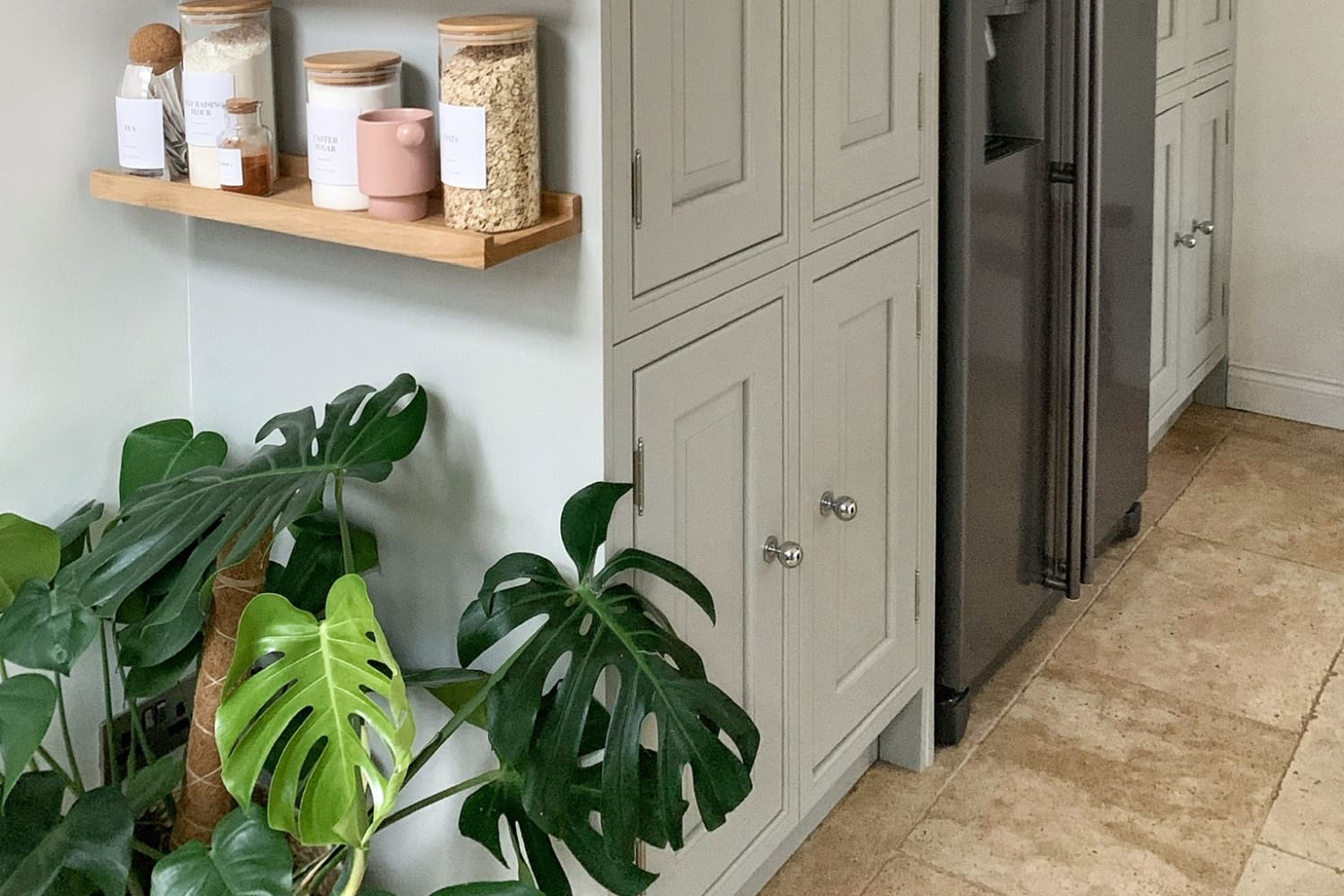 1. Install floating shelves
You can use any small corner to install floating shelves, as Imogen did in her kitchen. Just fill pretty jars with your essentials so they double as décor.
Jazmin Fuentes had her washer and dryer moved out of the kitchen to create a spot for open shelving in lieu of a pantry. She also utilizes decorative jars and baskets for a tidy design.
This cabinet was completely refurbished by Laura into a moveable pantry. The result is très farmhouse chic.
Believe it or not, this freestanding pantry actually used to be an IKEA Besta TV stand. Spouses Chris and Jenny added cane webbing, painted the chest a warm gray, and added new legs and pulls to complete this makeover.
5. Find a new use for a bookcase
Bookcases make great stand-alone pantries, which this BILLY hack demonstrates beautifully. Jasmine has them in her kitchen with baskets.
6. Utilize a cabinet edge
If you're lacking wall space, you can even hang open shelves on the ends of your cabinets, as Jen Rothbury did. We love how she accessorized her open shelves with more than just pretty food jars.
If you have a truly unique, awkward space, you can always build around it! Vineta needed a cabinet in a non-standard depth, so she went to her workshop and made this custom piece — complete with a knocked-out bottom shelf to store her automatic vacuum. Her blog has a ton of practical tips, like checking your proportions with existing cabinetry.
8. Consider a pull-out pantry
To maximize your pantry potential, keep an eye out for unusual storage places. You can purchase pull out pantries from big box stores or create a DIY pull-out pantry. It's perfect for those small, always-lost items or the awkwardly tall ones that are difficult to reach from the back of shelves.
Turn any wall space into a mini pantry like Ashley did by using hooks and dollar store wire baskets to store loose items like onions and potatoes.
Speaking of baskets and produce, how cute is Kimberly's pantry cart? It includes a separate section for each item, making it easy to keep organized. She uses the top of the cart for snacks.
11. Try the open shelf + hanging basket combo
Nikki's home had no pantry to speak of, but she did have a nice blank wall. She cleverly used a mix of open shelves and hanging baskets to create a system for all her dried goods, plus some storage for appliances.
12. Utilize your dining space
Your pantry floating shelves don't need to live in the kitchen. Scarlett of Fork & Flower has hers with decorative jars above the dining table.