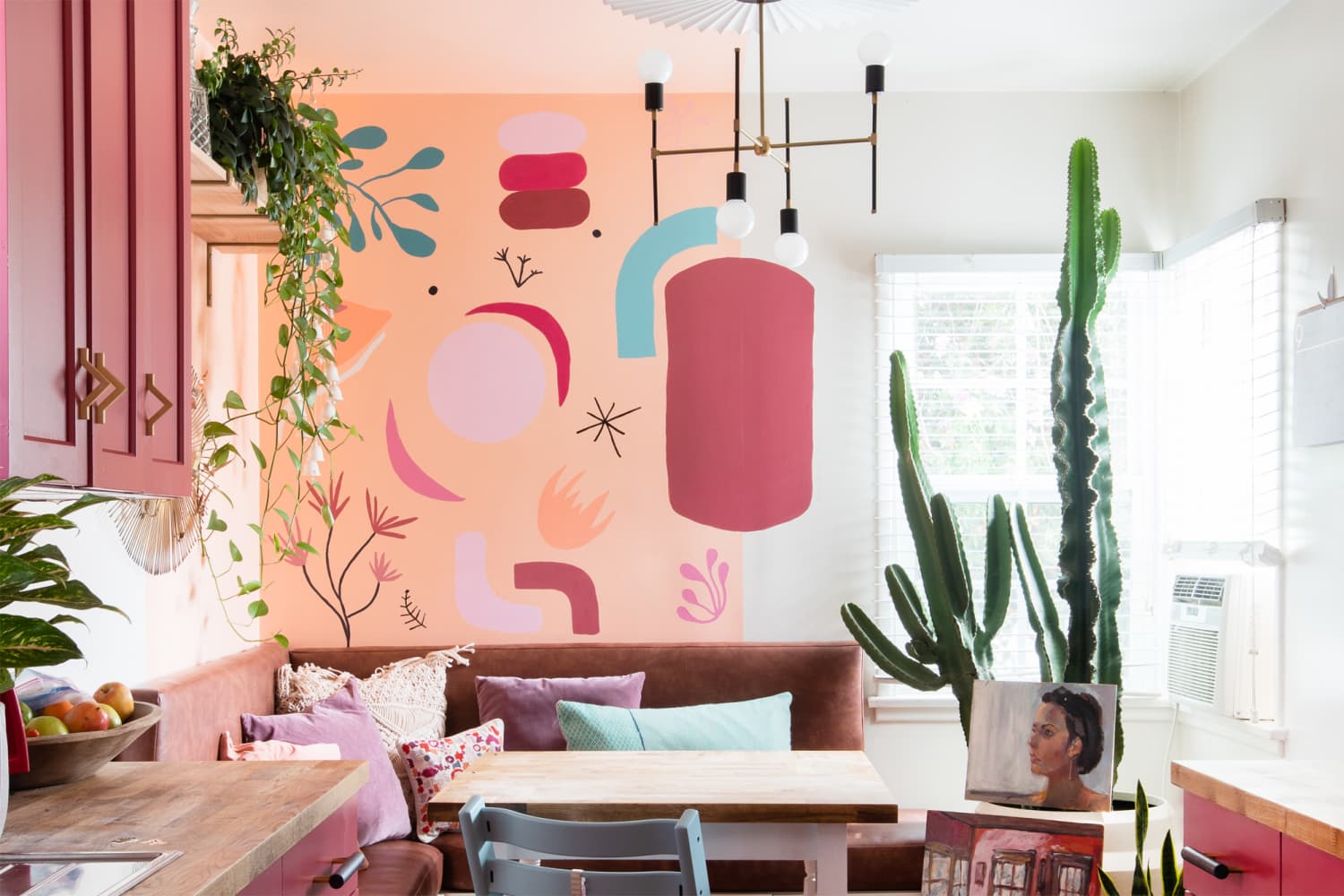 Wall murals are massive and oftentimes splashy, which makes some people cautious when it comes to trying them, but even though they take up a lot of space and have a lot of character, they don't need to be overwhelming. It's all about having a vision for your space first, and then choosing a mural that will help tie it together.
When you understand what you want your mural to do in your room, then you will be able to narrow down the actual style you want to buy. From abstract shapes that add interest to a breakfast nook, to a sprawling mountain scene in a hallway, to a storybook jungle scene in a kids' room, they're a powerful design tool.
Ahead, wall murals that just might make you want to take the plunge.
1. Add an outdoor pop of color
The solution to any bland patio is a pop of color in the form of a wall mural. This Omaha house does it right with flowers to match.
It's your home, so why not have fun with it? Laura Horstmann sure does in her Los Angeles apartment, with murals like this one in a rainbow-colored bedroom.
3. Incorporate whimsy into your space
Wall murals are an excellent way to add magic to a room. Whether that's your kid's bedroom or your living room, you can choose something fanciful to bring the space to life. This jungle leaf mural transforms this child's room into a space full of adventure.
4. Add a heavy dose of design
If you have a small bedroom, under-the-stairs nook, or dull hallway, an easy way to spruce it up is with a mural. Liz chose a mountain mural and accented the wall with plants, tassel blankets, and fringed pillows. The end result is a memorably decorated space.
5. Bring your kitchen to life
You may not think a kitchen is a place for a mural, but it can completely transform your open shelving. Liz created a mural just behind her shelving unit, adding an unexpected pop of color and design.
6. Spice up a kids' room
This baby girl's room is nothing short of fun, with a colorful geometric mural.
7. Bring more plants into the mix
No green thumb? No problem! If you love the wild look of indoor plants strewn across the room but can't keep a cactus alive to save your life, then a grassy wall mural will scratch your itch.
Murals are a great way to help dining areas stand out, especially if your rooms flow into one another. Here, the nature scene mural sits directly behind the dining table, separating it from the piano nook and adjacent living room.
9. Help a fireplace stand out
Placing a mural around your fireplace is a creative way to add some personality to your living room or den. It instantly pulls focus to the fireplace, and adds art to the room without the use of frames or nails.
10. Spruce up your kitchen with color
Add playful pops of color and shapes to your kitchen with the help of a mural. Mila hand-painted this fanciful mural herself, and even extended the pink paint onto the ceiling to make it look like the mural is enveloping the breakfast nook.
11. Snazz up a Murphy bed
If your space has a Murphy bed, don't make its closet nook drab and undecorated. Liven it up with a mural wall, which will add an unexpected flourish when it's time for bed. Daniel's Murphy bed makes his 425-square-foot studio feel so much bigger.
Additional reporting by Carolin Lehmann