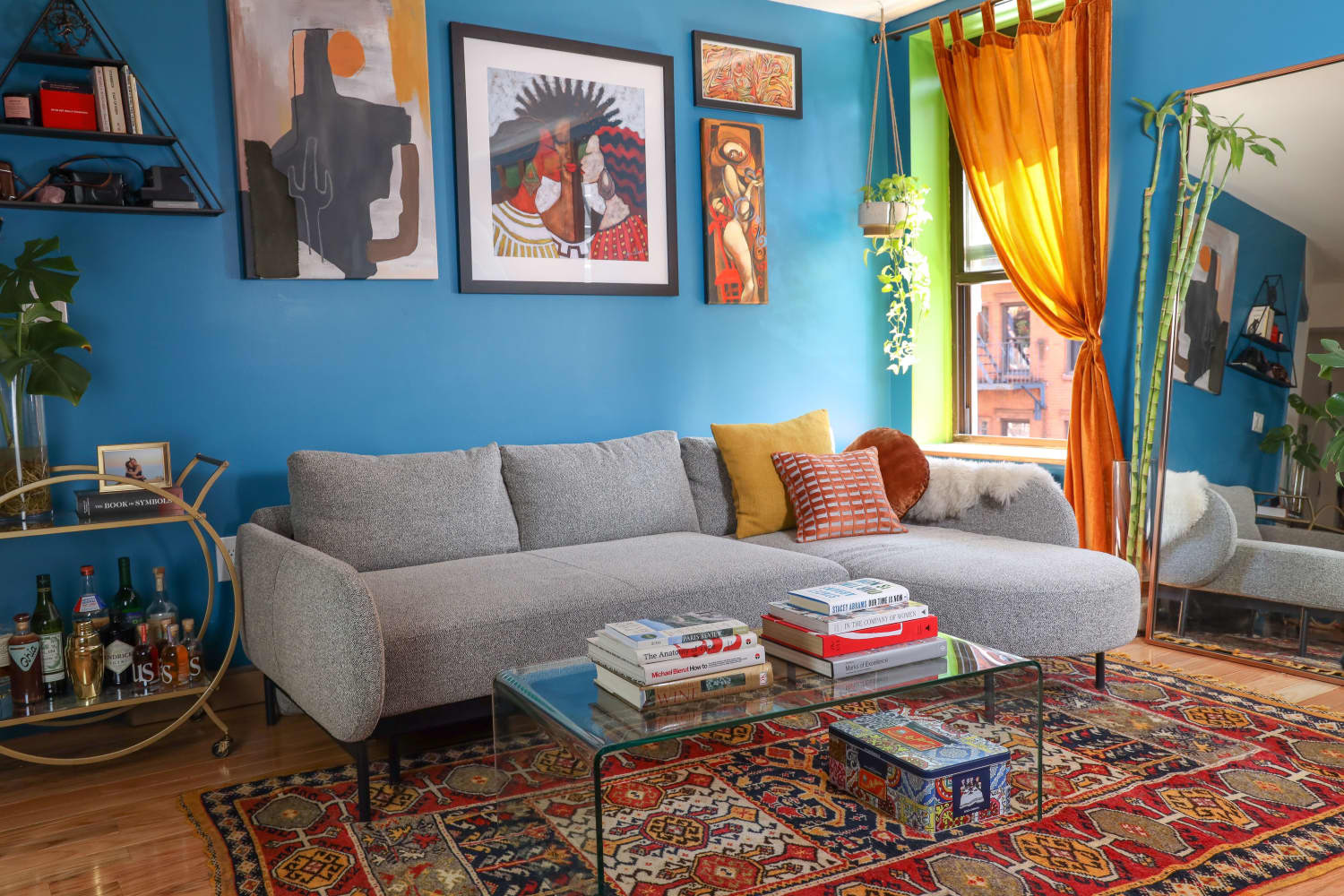 We independently select these products—if you buy from one of our links, we may earn a commission.
Name: Kaitlyn Barclay and her cat, Nova
Location: East Village — NYC
Size: 700 square feet
Type of Home: One-bedroom apartment
Time lived in: 8 months, renting
When looking for an apartment, it was really important to find something that was close to Tompkins Square Park, a place I find so peaceful and inspiring. I love the vibrancy of the neighborhood because there's always live music, art, and people milling about. The creative charge of the East Village is palpable, and Tompkins Square is its epicenter.
I'm the CEO of a creative agency, Scout Lab, and I often work from home, which means it's important for my apartment to be dually comfortable and creative. I love the refined maximalism of my space that makes it inspiring to be in. Color and pattern bring me so much joy, so I didn't shy from a bold color palette that laid the foundation for how I decorated my apartment. Truly, I'm a maximalist living in a world obsessed with minimalism.
Apartment Therapy Survey:
My Style: I'd describe my style as refined maximalism. I love color and whimsy all the while keeping the overall aesthetic quite modern.
Inspiration: I find the living spaces I love the most are decorated like a museum. Every nook has artifacts that tell a story about the person, and their history. That was my intention when I initially designed my apartment. In fact, I didn't invest too much in decor because I wanted to decorate my space with trinkets and books that I've collected through travels. It's more fun when pieces in your space don't match perfectly, and rather represent a unique memory, or a passion of yours.
Favorite Element: I absolutely love the vintage rug in my living room. It was a friend who pointed it out while shopping. While undeniably stunning, I was initially a bit skeptical of it because it's such a bold piece. But truly it ties everything together. A vibrant rug grounds a space, and provides a level of intrigue that makes the room fun to be in. It also helped confirm the color palette of my living room, since up until then I had only decided on the blue walls.
Biggest Challenge: My biggest challenge was undeniably what color to paint the walls. All the advice I was given was to keep the walls light and white, but that's just not me. I need to be surrounded by color. I sampled what felt like a thousand paint colors, and ultimately went with the hues that inspired me the most.
Proudest DIY: I painted an old black IKEA bookshelf and a pink end table both a high gloss navy. I had just found the vintage rug for my living room, and needed furniture that brought out the navy in its design. I was on a painting frenzy the weekend before I moved, and decided that instead of tossing those two pieces of furniture, I'd paint them. They now look like they're a part of a bespoke set, and fit perfectly in the room.
Biggest Indulgence: I splurged on an Eames chair, and it's been the best investment. As the CEO of an agency, I work constantly, so it's important to have a really intentional space to focus and create. The chair is something I use everyday, but also feels like a piece of art in and of itself. It's a really fun green color that I brought into the living space through pops of vibrant green paint on the window sills, and in a corner that I colorblocked onto the ceiling.
Is there something unique about your home or the way you use it? I live a few floors above a restaurant that plays live music, so on Friday and Saturdays I get my own show from the comfort of the living room. It's truly the most magical experience, and so much a part of what makes New York (but specifically the East Village) a place unlike any other. My living room feels like a cocoon of creativity, and replenishes me every time I'm in it.
What are your favorite products you have bought for your home and why? The first piece of furniture I bought for this apartment was the pair of Nardis bar stools. I love having an open kitchen, and wanted seating that was modern and design-forward. The Nardis bar stools are gorgeous, and offer the space a bit of edge and maturity.
What most people get wrong about using color in their home: There are no rules! Experiment with paint samples or fabric swatches to see which hues bring you joy. Your space should ultimately reflect your personality, and inspire your own regeneration. Give yourself permission to explore color.
What are the biggest tricks/secrets to using color in decor? It helps to pick a central color that you love for a room, and then build a palette around it. For my living room, it was the blue wall color I chose that drove how I embellished it with decor and furniture. For my bedroom, it was the pink velvet chair that informed how I picked the wall color, bedding and more. Start with one color that you love, and build on it.
What's your favorite wall paint color of all time: I love the blue in my living room, which is Deep Ocean by Benjamin Moore. It's so rich, but reflects light extremely well so the space always feels bright.
Finally, what's your absolute best home secret or decorating advice? Do you! Your space is just that, yours. It should be a sanctuary, an oasis you love to be. Fill it with color, pattern, art and artifacts that make you happy.
This house tour's responses were edited for length and clarity.