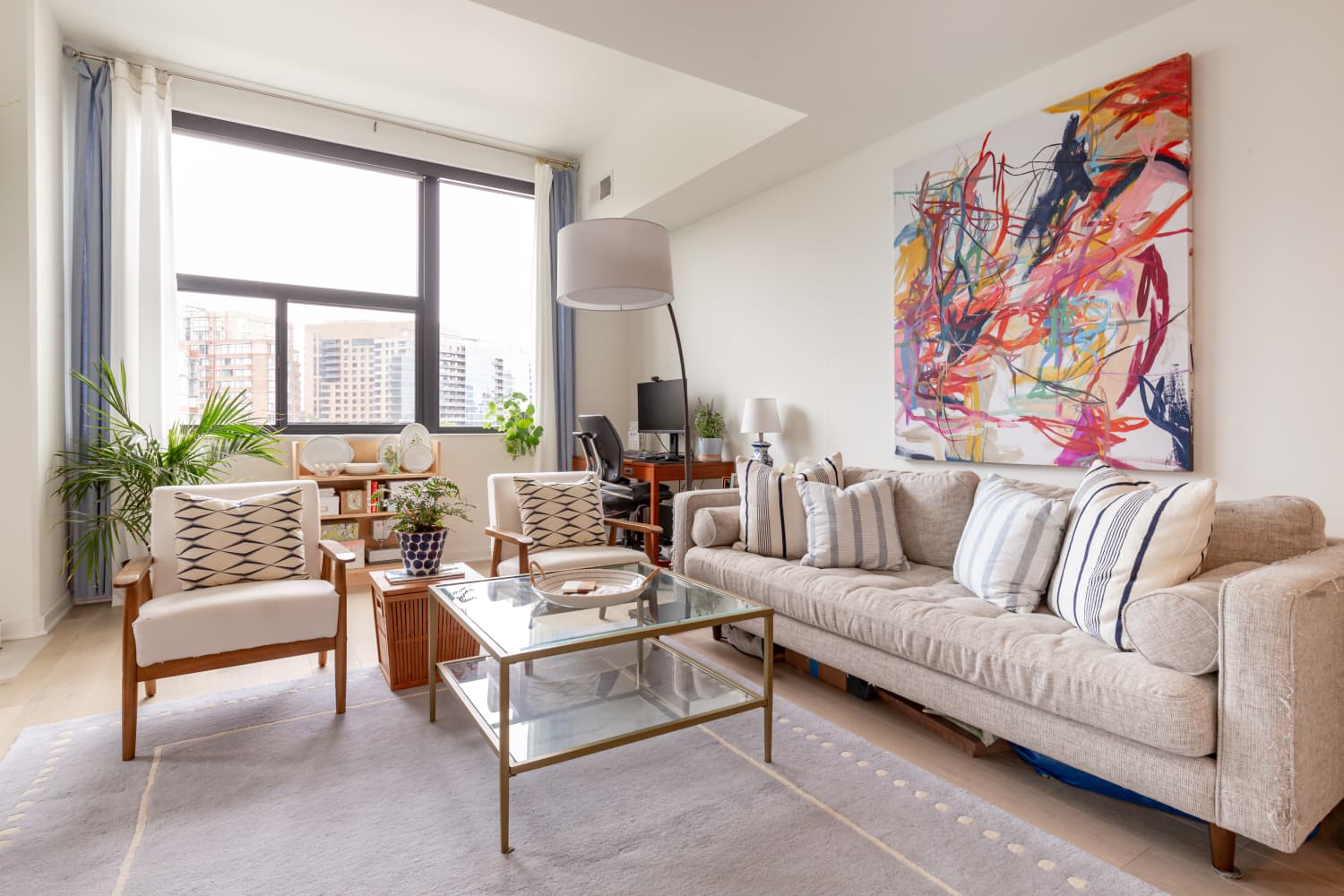 We independently select these products—if you buy from one of our links, we may earn a commission.
Name: Katie R. T. Giaimo (@kaytuc on TikTok), her partner, with Simon (an orange cat who makes many hilarious appearances on her TikTok) and Dolores (blind tortoiseshell cat)
Location: Arlington, Virginia, just outside of Washington, D.C.
Size: 1200 square feet
Type of Home: Apartment
Years lived in: 1 year, renting
Katie is a law student, research assistant, and an affable and gregarious TikToker, and she's created a home that is as colorful, bold, and welcoming as her personality. By mixing modern furniture designs with classic wallpaper, unique art, and vintage artifacts, she designed a malleable space that feels lived-in, yet where she can experiment with decor. She also owns a small antique business, Heikkinen Rose, named after her grandmother Helvi Heikkinen, and never (or rarely) buys anything retail. She's either DIY-ing or buying secondhand from local thrift shops, garage sales, and estate sales, always adding to her collection of fun, eccentric finds.
"I actually found the apartment completely virtually — it was the height of early COVID caution and not a single apartment building allowed touring," she explains. "I signed the lease before I was even allowed in the space and got very lucky that it was even better than I could have imagined. It's set up to have enough space for the myriad of hobbies my partner and I have — I also run a small business and store a lot of antiques here."
Whether you're interested in more Simon content, antique store trips, or fashion advice, Katie's TikTok is full of great vids that also feature her beautiful home as a backdrop.
Apartment Therapy Survey:
My Style: Grandmillennial maximalism with a touch of Scandinavian minimalism, Dorothy Draper meets Eero Saarinen
Inspiration: Anything and everything. I don't really go to interior design images to inspire me; I'll look up ornate china patterns, browse the Met's online collection, and look at lots of British country gardens. I like a malleable space that I can live in and experiment with — it's taken over a year to decorate this apartment because I needed to see how I lived here, where I threw my clothes, the best way to organize the closet, if I ever really sat down for breakfast. I want my space to fit my life, not the other way around.
Favorite Element: The sunlight. It's bright all the time, the windows are huge, and I love waking up to the glow.
Biggest Challenge: We had a small budget for decor, anything that could be got on the cheap needed to be. The only investments we made were in the couch, the bed frame, and a comfortable chair in the office. That's basically the only stuff we paid over $250 for.
I also struggled so hard with the bathrooms; they're both windowless and have no where to put towels, they drove me crazy, all dark and cold, like who would use all black and gray in windowless rooms?
Proudest DIY: I think the curtains and pillows in the bedroom (or just the bedroom in general). The dresser is customized IKEA, and I sewed the euro size pillows and curtains out of a print I fell in love with.
Biggest Indulgence: The couch, it was from Article, and I think it was worth it. It's held up really well, comfortable, and a classic design.
Is there something unique about your home or the way you use it? Oh we have so many of these — we use the second bedroom as a main because I think it's dumb to have the biggest room be one you just use to sleep instead of enjoy. We use the main bedroom closet as a woodshop, the main bath is storage and the cat's own bathroom for their litter box. We don't have a dining room, instead I have an open office space in the living room because I work from home so much. Everywhere antiques are tucked away, under the couch, in the kitchen cabinets, at the top of my closet, had to get creative!
What are your favorite products you have bought for your home and why? Wallpaper and art. I am a highly visual person and keeping a space bright and engaging makes me feel happier, more in control, and more creative.
Please describe any helpful, inspiring, brilliant, or just plain useful small space maximizing and/or organizing tips you have: I have severe ADHD, so I tend to let things accumulate in piles. Once every week or so I purge and move the pile a little futher from my living room, so I have to go dig for something if I need it. I figure out what stuff I do use as I bring it back, and the rest of the pile is either sorted and saved (if it's like art supplies or electronic cords) or brought with me to donate on my next Goodwill run.
What's your absolute best home secret or decorating advice? Never (or rarely) buy retail. In limiting myself to either DIY-ing or buying secondhand from thrift shops, garage sales, and estate sales, I find my ideas about a space are much more focused. Am I buying this object because it's cute, or am I buying it because I want that specific thing and I think it will work in my space? When I come back with random stuff after going to Target, it rarely works out as well as I thought it would in the store.
This house tour's responses were edited for length and clarity.