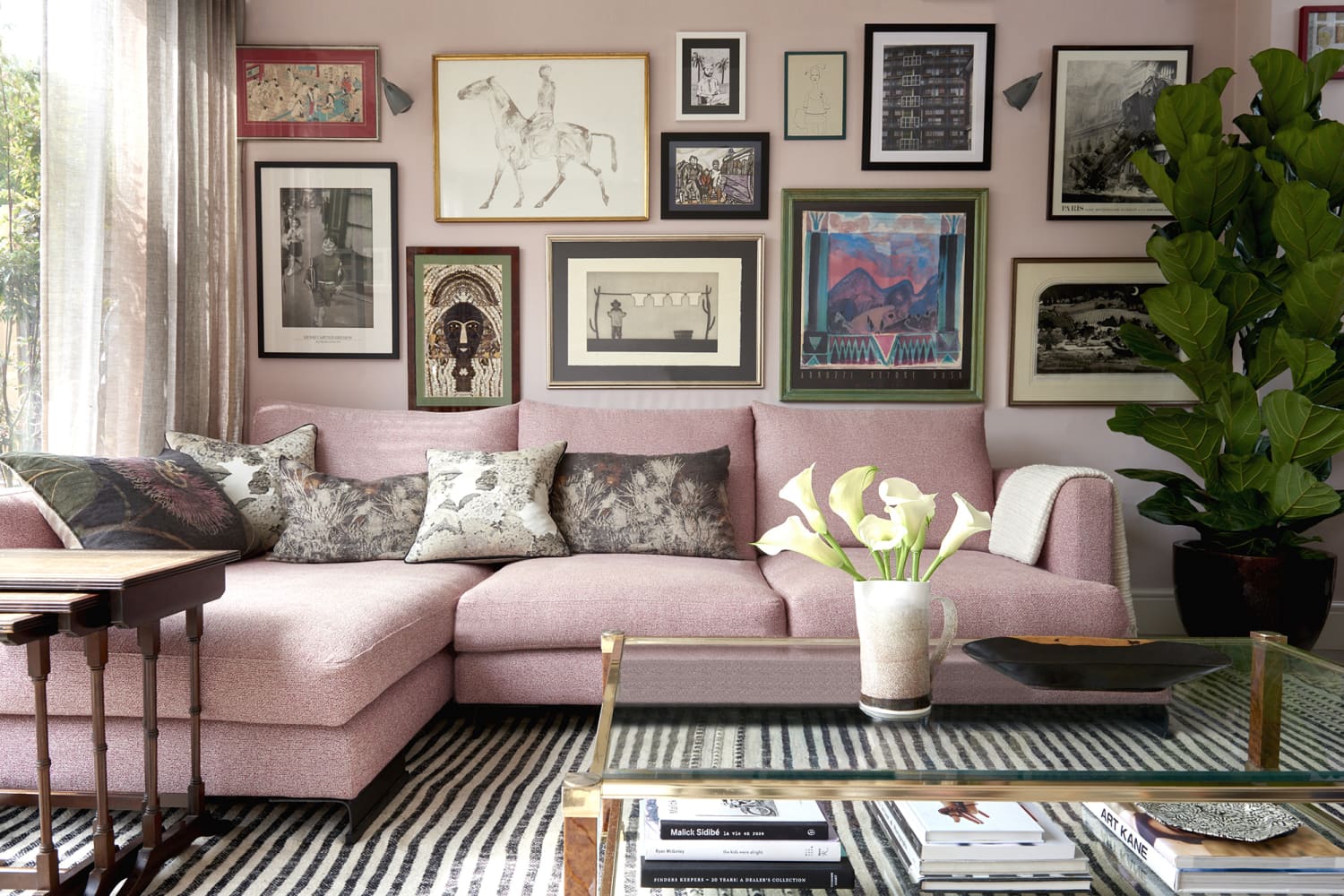 In many ways, it feels like some things in the design rule book are hard and fast — and permanent. And while yes, you'll always want to put curtains over your windows and pick rugs and furniture that are the right size for your rooms, pretty much everything else is open for interpretation. Just because piece of home decor is trending doesn't mean it's universally loved by everyone in the industry. In fact, some of the biggest trends actually have a permanent spot on many designer's "don't" lists.
Ready to have your decorating world rocked? A few of our favorite interior designers weighed in on some widespread design trends with these hot takes below. Start scrolling but consider yourself warned: Some of this design tea is absolutely scalding, and again, you just do you if what you can't live without appears on this list.
Scandinavian doesn't have to mean all white everything.
Scandinavian design often calls to mind clean lines, minimalism, and white walls, furniture, decor, and anything else. But surprise! Just because you love that Scandi style doesn't mean you have to kiss color goodbye in your home. "Having this really white, airy design looks so beautiful in photos, but it's not necessarily feasible to live in," says designer Shaolin Low of Studio Shaolin.
According to Low, the great thing about Scandinavian design is it can be mixed and matched with a bunch of styles without being too over the top (which is kind of the opposite case of an overly eclectic room). So if you want to double down on this style, go ahead and add a subtle pop of color or some printed throw pillows, as seen in the Scandi modern-inspired New York City apartment above.
Floating shelves aren't a storage solution that suits everyone.
For as long as I can remember, floating shelves have been heralded as a lifesaver for small spaces. Not only do they take advantage of vertical space for storage, but they also dress up otherwise bare walls. But again, for Low, floating shelves aren't for everyone. "This is such a cool trend, and I love it, but just make sure if you're going to have floating shelves anywhere in your home, you're willing to do the upkeep it takes to keep them beautiful," she says. "Especially if they are in your kitchen; beautiful dishes and serving ware is a must!"
If you're prepared to put in the legwork to find the well-appointed pieces it takes to create a striking shelfie — and the dusting it requires to keep your things that are out in the open clean — then go for it. If floating shelves are starting to sound high maintenance, consider floating cabinets or drawers instead. That way, you can really hide your clutter and forget about dust and dirt here for the most part.
Your curtains don't always have to skim the floor.
I don't know who needs to hear this, but Roman shades, blinds, and floor-to-ceiling drapes aren't the only acceptable window treatments. "The cafe curtain is not dead," says Davina Ogilvie, founder of Wovn Home. "Cafe curtains are typically hung partway up the height of a window so that they provide privacy below while allowing light to come through above."
Not only can cafe curtains work in a handful of rooms, but they're also available in a bunch of fun styles. An eye-catching pattern, as seen in this Los Angeles-based home, adds instant cheer to an all-white kitchen. If you want to give your space a more pared-back look, opt for a breezy solid linen set. Regardless of the pattern or fabric, you'll be doing your space and wallet a favor. "An extra bonus is that cafe panels require less fabric to make, and are therefore an economical way to instantly update and lift a space," Ogilvie explains.
Open concept layouts aren't the end-all, be-all.
Once upon a time — you know, before 2020 — open-concept layouts were all the rage. People were knocking down walls left and right, all in the name of keeping up with the latest layout trend. But after spending over a year at home though, many have learned that do-it-all rooms are best when they have some kind of partitions. "I think in the past year everyone realized overly-open concept homes are not always the way to go," shares designer Liz Caan. "While togetherness is still more important than ever, eating, working, lounging, and studying all in one room is not always practical."
Fast may be fun for fashion, but it's not where it's at when it comes to furniture.
"I am noticing customers really wanting things that are made well, and that is a big investment, but once they understand the story behind why the price is high and how it is made, they actually feel it's an excellent value," Caan explains. "I think the quick and cheap decisions they made in the past are getting old — especially when they have to keep replacing the same thing."
Not only can investing in your furniture be good for your bank account in the long run, it's also the more earth-friendly, sustainable option. If you're looking to go quality over quantity when it coms to furnishings for the very first time, check out our guide on saving up for a dream piece of furniture. Still need a quick fix? Stick to fast textiles, which are easier to store, repurpose, and take up less in landfills than bulkier pieces.
Tiny lighting details can actually make a big difference.
The importance of great lighting isn't really up for debate. What might be a little controversial here is what to focus on when choosing the right fixture for your space. Some people focus on quantity, other prioritize quality, but you might be surprised to hear that designer Breegan Jane focuses a lot on what some might consider an afterthought (or non-thought).
"I think of lighting as the jewelry of a room, so adding coordinating wall plates is key," the designer explains. "The last thing you want is to curate a space and distract from a seamless design with a blemish of a wall switch."
The upshot here? If you're going to switch out a fixture, don't forget to show your outlets a little love, too. Lighting is a total package.