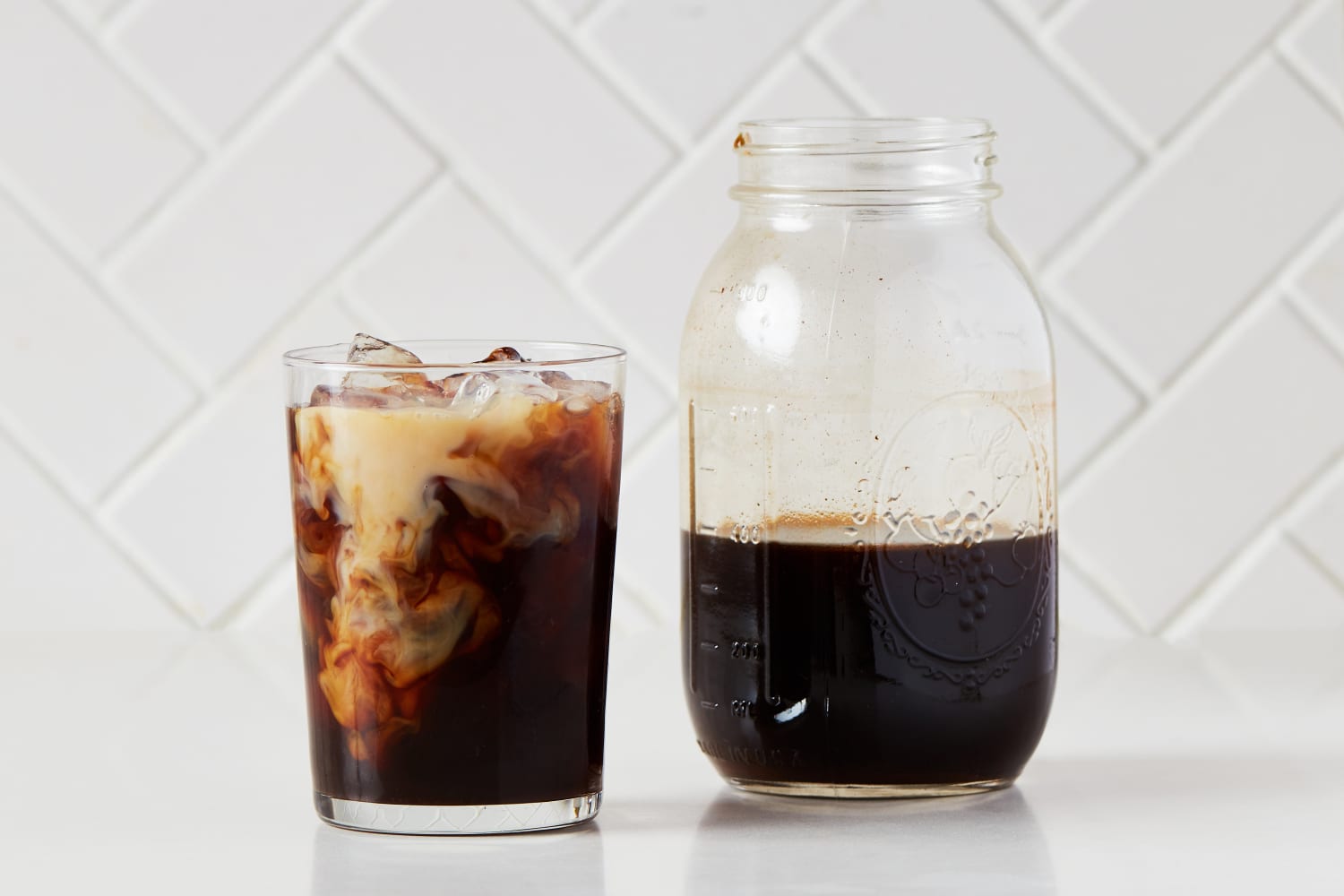 We independently select these products—if you buy from one of our links, we may earn a commission.
Raise your hand if your morning is incomplete without a cup of coffee. If your hand is up, join the club! During the summer, my usual piping hot cup of joe turns into a daily cold brew (with a splash of almond milk, please), which necessitates a daily trek to my neighborhood coffee shop. I always figured that making my own cold brew would be too much of a hassle, but as it turns out, I was wrong. The Cold Brew Mason Jar Coffee Maker from County Line has over 10,000 five-star ratings from Amazon customers who swear by this unique contraption for their morning jolt of caffeine.
With this coffee maker, it's incredibly easy to whip up your own batch of cold brew. Simply add your coffee grounds and some cold water to the stainless steel filter, let it steep overnight, and bam! You've got fresh cold brew to sip in the morning. This contraption is easy to assemble, too — just place the filter in the Mason jar, screw on the flip-cap lid, grab it by the easy-grip handle, and you're ready to pour.
If you put in the (minimal) effort up front, you'll be set on the cold brew front for several days, and you have the choice of a one-quart or two-quart Mason jar depending on your needs. According to one Amazon reviewer who owns the two-quart size, "1 batch will last me almost a week (I drink way too much but it's so good) — I use about 1/4-1/3 cup of the coffee concentrate and mix it into about 1 and 3/4 cups water. That, with a healthy dose of milk or creamer, makes for a very large cup of coffee … I'm so happy I decided to take the plunge — haven't looked back since!"
The County Line Coffee Maker features a durable filter made from heavy-gauge stainless steel mesh. Its folded-over seam ensures that there are no sharp edges, and the fine mesh guarantees that no coffee grounds escape into your cold brew. And because few things are more annoying than scrubbing out coffee stains — just ask my trusty bottle of Oxiclean — the coffee maker's leak-proof, flip-top lid is designed with a super-tight seal (aka you don't have to worry about an emergency load of laundry).
And, let's face it: Mason jars are universally adorable, so why wouldn't you want to make your coffee in one? This coffee maker comes with a classic, durable Ball Mason jar, so even if your pre-coffee morning self is a little clumsy, the jar will hold up just fine. Plus, since Ball mason jars don't leach chemicals, you know your cold brew is safe (and yummy) to drink. For extra safety, all of the device's components are food grade and BPA free as well.
Thought this apparatus was just for making cold brew? Think again. You can also make iced tea, infuse water with fruit flavors, or infuse oils with spices, making it a great tool for hosting summer gatherings.
As one Amazon customer raves, "This thing is a game changer for those of us that are used to paying 5-7 dollars for pre-made iced coffee in the grocery store." For just $22.95, you can save big on time and trips to the café, all while savoring a delicious glass of homemade cold brew. Now, let's get caffeinated!