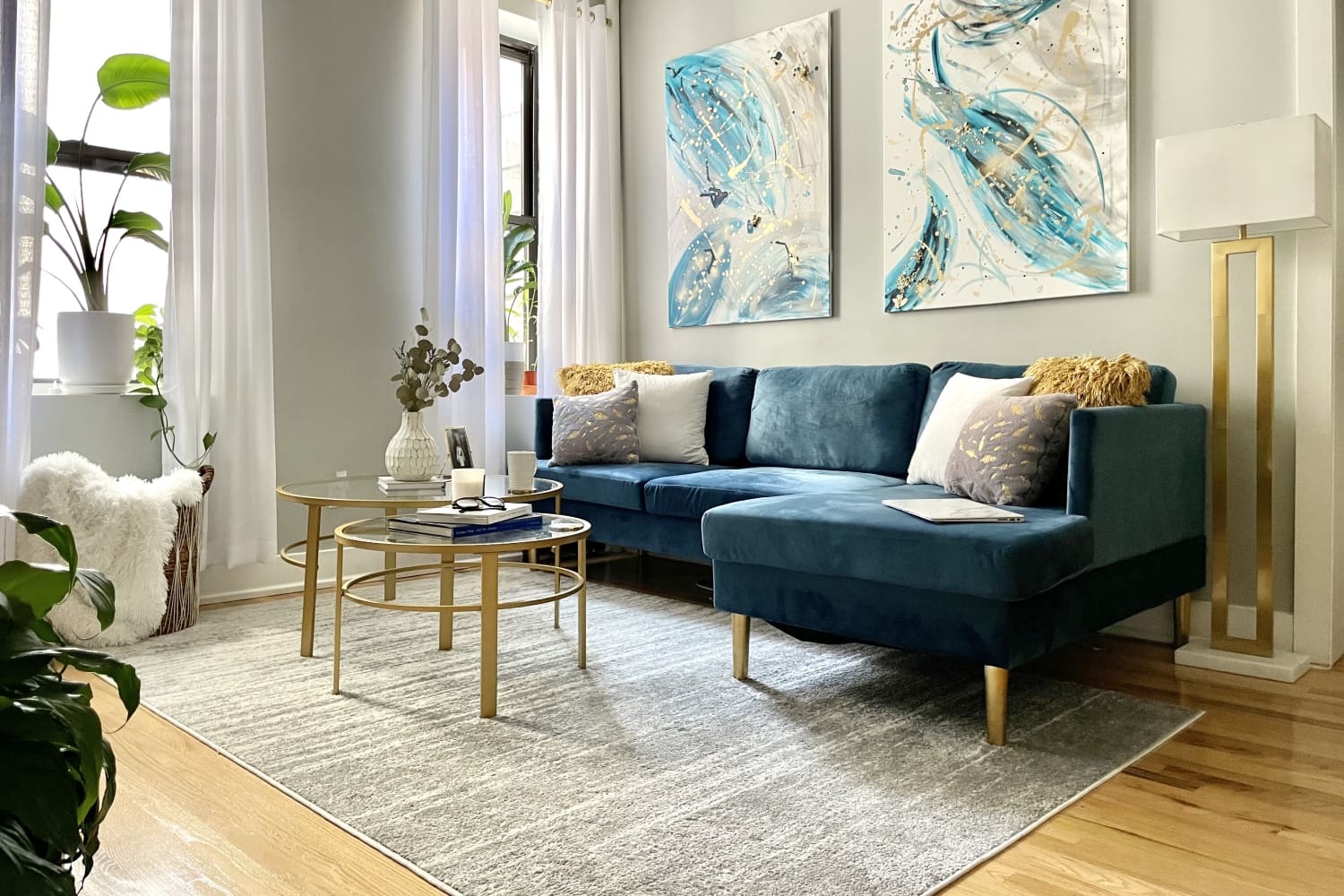 We independently select these products—if you buy from one of our links, we may earn a commission.
Name: Sarah Duncan and my husband
Location: Brooklyn, New York City
Type of home: Apartment
Size: 575 square feet
Time lived in: 6 months, renting
Tell us a little (or a lot) about your home and the people who live there: My husband and I live in a recently renovated one-bedroom apartment of a six-story building that was built in 1928 in the beautiful neighborhood of Kensington. It's our first place together since getting married two and a half years ago (we lived with family previously) and it has been so special for us to finally have a space of our own and create a peaceful environment. Decorating our home these past few months has awakened a desire I've always had for interior design and has inspired me to get into that field.
My husband and I are very creative and love the arts. I love doing DIY projects because it taps into my creative nature. You see it reflected in the images and artwork we selected. Many of the photographs were taken by my husband and most of the artwork (like the painting above our sectional) was made by me. We feel it's deeply personal and reflects who we are. With our color palettes, we love the airiness of the white and light grey with the touch of color with the blue. I am sucker for gold because I love the feel of luxury it brings to a space. I also love plants and the life and color they bring into a space.
Describe your home's style in 5 words or less: Clean, airy, bright, classy and cozy
What is your favorite room and why? My favorite room is our living room. One, because it's the first space that is finished lol. But mainly, it's so calm and peaceful, especially in the morning when the sun is at its brightest. I'm a firm believer that your physical space is a reflection of what's within. My husband and I pride ourselves in being peacemakers and love that this room really personifies that.
What's the last thing you bought (or found!) for your home? The last thing(s) I bought were the frames I used for my gallery wall (they were all purchased from Michaels) and the Pure White vase set on our dining table from West Elm. I plan to get a couple more.
Any advice for creating a home you love? Take your time to create the space you want to live in. It's very tempting to want to get everything all at once. I know I had to fight that urge many times. But taking my time to sit in it and imagine what I wanted this space to be really helped. And it's okay to change your mind about something. I've had a few things that I realized wasn't going to work for the space and that is okay. Or sometimes I try moving things around in different places until it feels right. The most important thing is that you are happy and at peace with the space that you rest in.
This submission's responses and photos were edited for length/size and clarity.