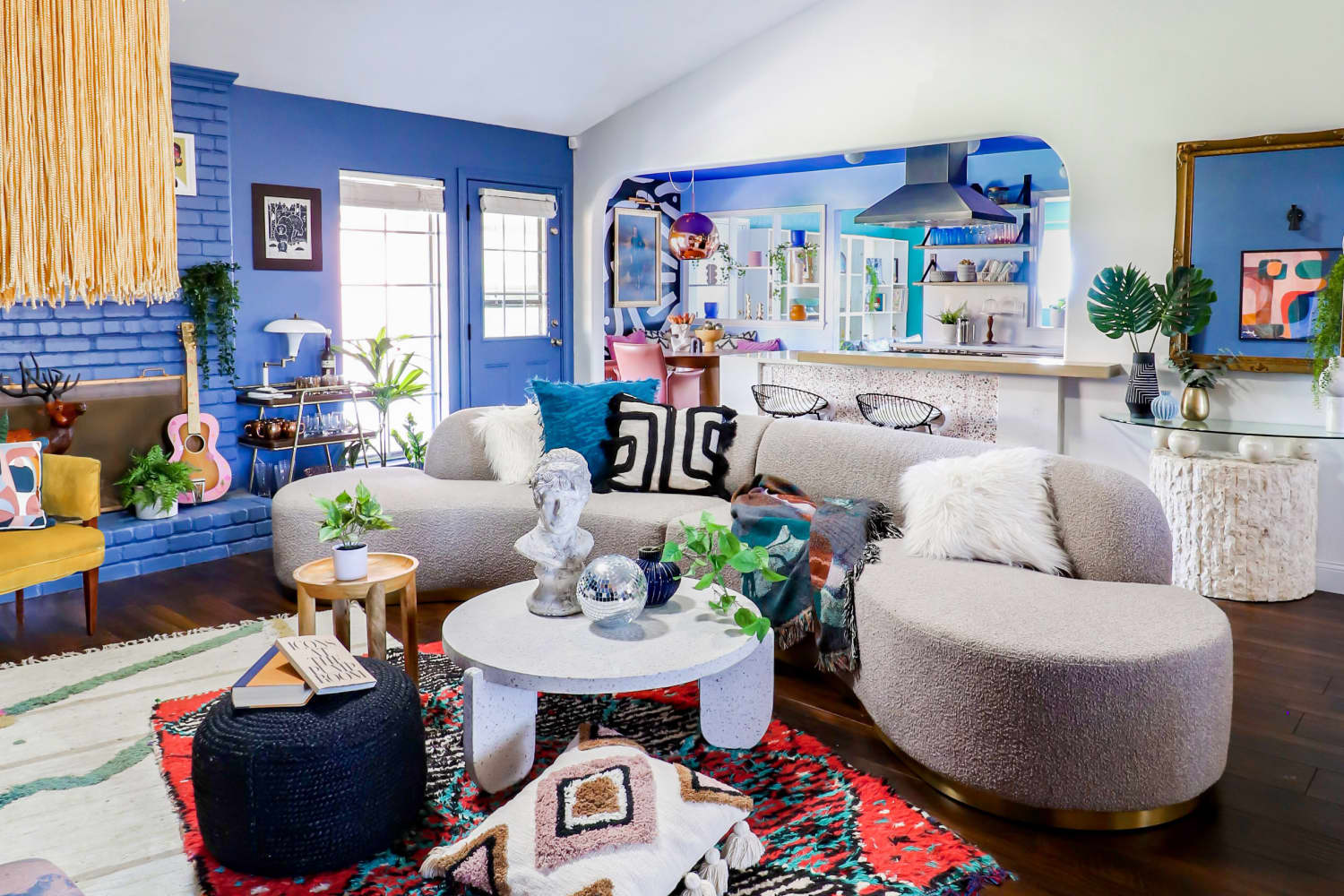 We independently select these products—if you buy from one of our links, we may earn a commission.
Name: Carissa, Adam (husband), Waffle (black dog), Queso (yellow dog), and Hotdog (the cat). (Yes we love food too much.)
Location: Richardson, Texas (outside of Dallas)
Size: 2,090 square feet
Type of Home: House
Years lived in: Almost a year, owned
Finding our home was such a blessing in disguise. After losing out on what we thought was our dream home (but was over budget), we ended up stumbling on to our current home by deciding to give the "uglier" homes on MLS another look. When I revisited this home, I realized it actually had everything we were looking for, but was just so ugly that I never realized it before. There was A TON of remodeling that had to be done (which meant it was a blank slate for some creative design), but it had the bones to be amazing. Plus, it was so much cheaper. When we pulled up to the home, we discovered that it had a huge walking trail along a duck-filled creek. There were even ducks just wandering in the neighborhood. It was a happy, warm environment. That was the moment we knew this home was going to be something special for us.
I am a self-taught designer that recently quit my job of six years to pursue starting my own interior e-design business, so my days are typically filled with cozying up on the sofa and getting my creative juices flowing while I work on design projects or think up new ideas for our own home. My husband also works from home as a video editor, so he hogs the desk most of the day. I am also a singer and perform in a '90s cover band, so our huge shower is used as my practicing spot to bust out some Spice Girls or Alanis Morissette. Lots of singing and booze has been consumed in that shower. When I am not doing something related to work, we love spooning our doggos on the couch, eating lots and lots of pizza, and binge-watching a show. We also have morning coffee chats on our patio under the pergola while our dog Queso stares off into the blank void of his mind while he sun bathes on the deck.
Apartment Therapy Survey:
My Style: Colorfully dramatic maximalism that fuses unexpected genres and styling elements together to create a layered and statement-filled home.
Inspiration: I have previous experience in graphic design, so pattern is a huge source of inspo for me. I love to incorporate bold patterns into our home, especially on the walls or tile elements. I am also passionate about color and drama, so a lot of my inspo comes from UK based Instagram accounts! There are so many homes DRENCHED in creative color blocking from the UK that are so cleverly executed.
Favorite Element: Our color-blocked backyard is the space that brings me the most joy in our home. It has all of my favorite colors and feels like you are transported to a Miami bungalow. I was especially thankful for the escape during lockdown!
Biggest Challenge: Not only had our home not been remodeled since the '70s, it was also all poorly executed. Every inch needed to change, at least visually. This, on top of my need for over-the-top design on a somewhat modest budget, has been quite the experience. It has really challenged me to figure out how to make the biggest impact in the most practical way, or how to work around the current built-in pieces to create a room that looks completely different. For example, in our guest bath, we didn't have the time or the budget to have a fully custom wood vanity made, and due to timing issues, the countertop had to go on before a new vanity could be put in. So instead, we gutted the original vanity down to just the bones, opened up the bottom cabinets, lined the inside with plywood, and created a new wood face frame. All it cost us was the price of wood and some hardware, but looks COMPLETELY new.
Proudest DIY: My proudest DIY is actually our recent kitchen remodel. We were lucky enough to be working off of our original remodel from when we moved in. So we already had the nice countertops and built-in bench, etc. But in order to make the kitchen feel current and more me, we made all new flat front overlay doors, added fluted paneling using half rounds, did a DIY hand-painted mural instead of wallpaper in the breakfast nook, used leftover terrazzo tile from our bathroom as an accent on our island, created a DIY channel-tufted bench pad for our breakfast nook bench, and repainted everything to be a combo of a bold cobalt or a warm pinky beige. The most clever part of the DIY project was that we did not have enough of the terrazzo tile to use as the backing for our upper cabinets, so instead, I simply printed off a picture of the tile on thick printer paper, making sure it was colored exactly like the tile in person, then used gorilla glue spray to apply it to the cabinets. It literally looks exactly like the terrazzo on the island and cost zero dollars. Our kitchen feels so much more me, and totally new now!
Biggest Indulgence: Our main bath remodel was quite the splurge. We did not want to DIY that room because we really wanted something custom, nice, and that will stand the test of time. It was the biggest pain to have people in our home for six months, but now we have a shower that I can sprawl out like a starfish in, so that alone makes it totally worth it, haha. We would not have been able to accomplish such an amazing and intricate bathroom design by ourselves, and it has really added so much value to our lives and home.
Is there something unique about your home or the way you use it? I love adding secret storage into designs, and being able to use every inch of space. We have a modern floor-to-ceiling wood slat wall at the end of a hallway that is actually a hidden sliding door to a closet. Most guests don't realize it is a door at all. The wood slat wall in our main bathroom also opens up to be our main closet and the wood slat tower on the vanity has a medicine cabinet inside. I hate doors that look like doors apparently, haha.
What are your favorite products you have bought for your home and why? Although a lot of the bigger furniture pieces are store bought, the vintage ones are the ones that bring the most impact and character. My house would not be nearly as cool without my giant shell chandelier hanging in the living room, or without my pink cantilever chairs. The blue boy painting in our breakfast nook was found by accident when I was just trying to find an ornate vintage gold frame, and it came as a set with the pink girl for only $35 TOTAL! That painting brings SO much unexpected character and charm to our nook. Side note — we also discovered that it looks exactly like my husband as a fancy little boy, so it makes it that much better.
Please describe any helpful, inspiring, brilliant, or just plain useful small space maximizing and/or organizing tips you have: If you are a maximalist like me but are limited on designable space and also need to be functional, then try to go double duty as much as possible! Add wallpaper to a fridge or door; remove a closet door to create open shelving that can be styled. Go for pieces that are more open at the bottom like a waterfall table or bench. You can add cute storage ottomans underneath for a layered look, extra seating, AND extra storage. ALSO remember smaller rooms means less square footage for remodel materials, so they are a great place to splurge on the nice wallpaper or tile you have been lusting over!
What's your absolute best home secret or decorating advice? Follow your heart, go the extra mile, and don't forget the power of scale! When designing a room, I typically start by seeing what design elements have been exciting me recently and I start there as a jumping off point! Don't just jump on a trend because you see it everywhere, do it because it makes your heart skip a beat. Trends don't last long, your home does. Typically it's about three different elements that I start with. Then I try to think how I can put all of these elements together in a way that feels cohesive and balanced. It's okay to have multiple statement pieces in a room as long as you are playing with the power of scale and balance! If you have a patterned tile but also want patterned wallpaper, then make sure one is a larger scale print and one is a smaller scale or a lighter weight, or one is angular, one is softer, etc. This will allow you to really put everything you love into the space and brings a ton of drama. And at the end of the day, if the ideas aren't sitting quite right, then keep at it until it really feels like YOU. Don't settle. And lastly, YOU GOT THIS! If you want that magazine-worthy home, all it takes is time and effort. Believe in your abilities and don't give up. I don't have any training in design; I just do everything I can to make my ideas come to life, even if it means figuring it out as I go.
This house tour's responses were edited for length and clarity.