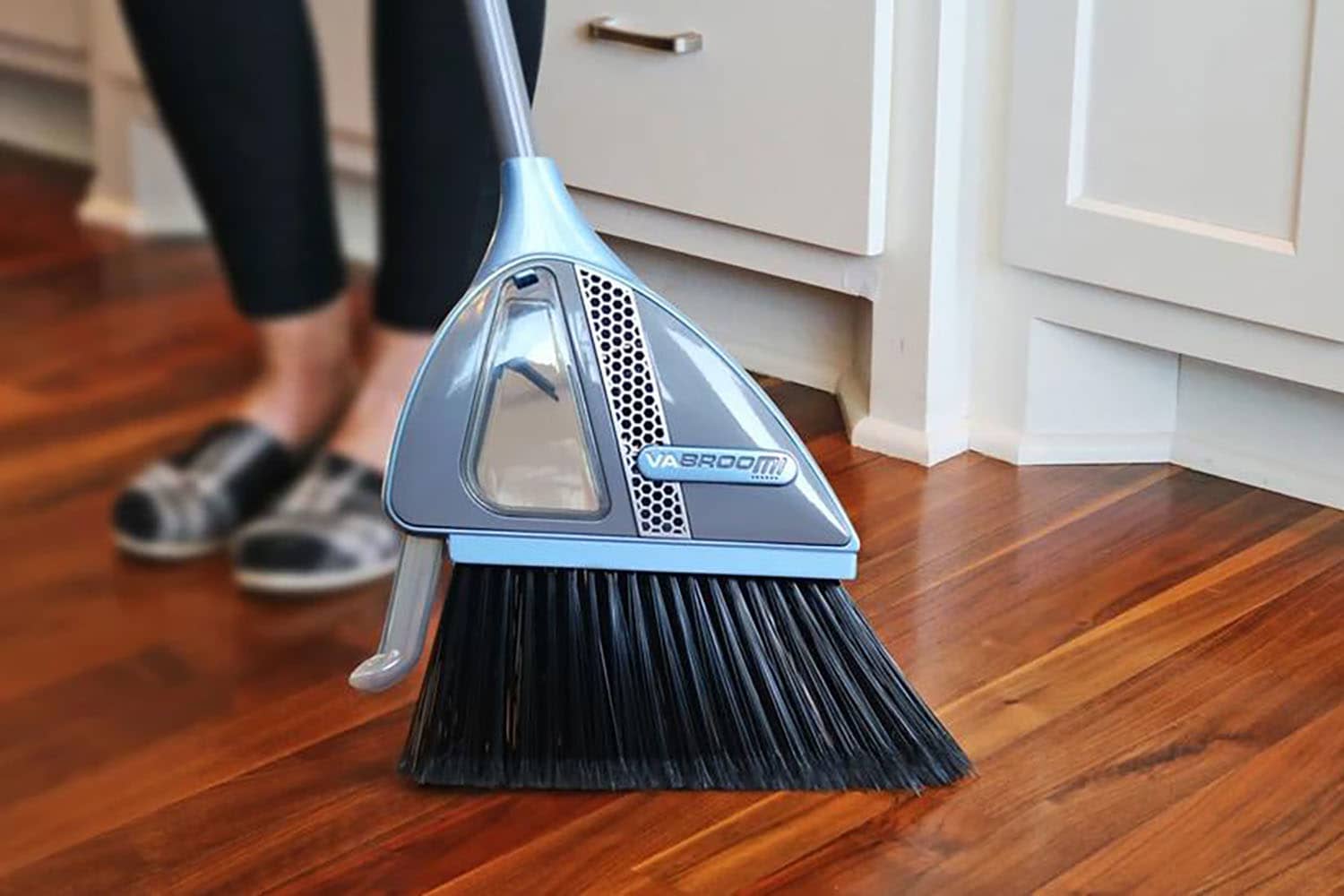 We independently select these products—if you buy from one of our links, we may earn a commission.
Call me a skeptic, but I'm always a bit wary of household cleaning products that claim to do more than one thing. In my experience, they never succeed at doing anything particularly well, and when you've got limited storage space as I do, it's hard to justify crowding my closet with another gadget. But even skeptics can have a change of heart, and for the first time in a while, I'm seriously tempted by a multi-function cleaning tool that's designed to help tackle my least-favorite chore. Meet: VaBroom, a brilliant hybrid between a vacuum and a broom that also eliminates the need for a dustpan — and it's on sale!
As it turns out, I'm not the only one intrigued by the promise of saving time and frustration when it comes to cleaning. Kitchn contributor Ashley recently reviewed the VaBroom after being lured by an Instagram ad. "I'll admit, I wondered if it was one of those infomercial-style gadgets that sounded awesome but would end up unused in a closet," she shares. "I'm excited to tell you (for my sake and yours) that everything about the VaBroom worked the way I hoped — and maybe even better."
At first glance, the VaBroom looks like an ordinary bristle broom that cleans dust and debris from baseboards, under cabinets, and across hard surfaces. But rather than having to maneuver a dustpan to capture that debris, a small rechargeable vacuum is positioned alongside the broom's head to suck up whatever you sweep. As Ashley explains, "Just tilt the broom — you don't even need to bend over in the slightest — and press the vacuum part to the floor as it sucks up the fruits of your labor." And that's why people with limited mobility especially love this device. "Thank you for helping this senior with back problems," shared one appreciative customer.
Naturally, I spent some time reading through the reviews on Bed Bath & Beyond, and based on dozens of accounts from happy customers, it certainly seems worthy of a spot in anyone's kitchen pantry or closet. As one fan shares, "I love this product," adding that it "does exactly what it says … great for litter clean up and everyday sweeping!" Others mention how well the VaBroom does with coffee grounds, dry cereal, and dog hair.
The 3.3-pound VaBroom is slightly bulkier than most brooms but certainly lighter than a cordless stick vacuum. And since you won't be using a dustpan, you can control it with both hands, whether you're cleaning up the kitchen after dinner or tidying up the mudroom. With normal use, the Vabroom will last for several days on one battery charge, and lots of reviewers even mention owning more than one, either to keep in different parts of their home or at a vacation property.
Even if you're someone who enjoys spending time cleaning, the VaBroom is a lifesaver when you're in a rush. Even better? It's on sale for just $59.99 (normally $79.99). Plus, a broom that vacuums actually sounds like a lot of fun to use — and that's something I never thought I'd say!
Buy: VaBroom 2-in-1 Cleaning Tool with Built-In Vacuum Broom, $59.99 (normally $79.99)