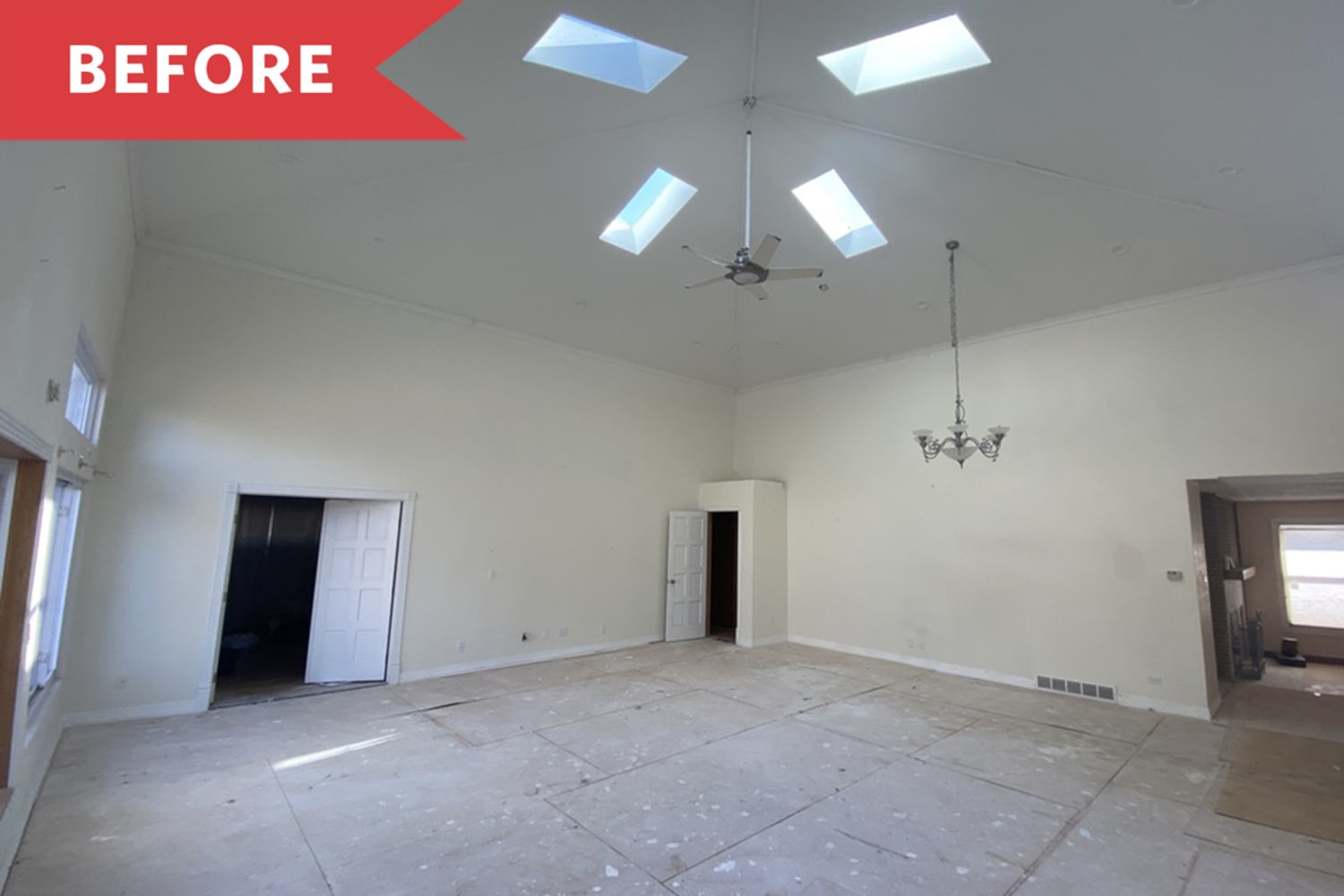 Most people crave more space in their home, whether it's for storage, entertaining, or just plain bragging rights. Though when a particular room in your home is seemingly larger-than-life — and, thus, a bit overwhelming — how to fill that extra space can be quite the conundrum.
Luckily for the flippers of a 2,609-square-foot home in Englewood, Colorado, Amanda Eufer-Lewis was on the case. The owner and lead stylist of The Den Rentals in Denver was brought in to decorate and stage the three-bedroom, two-and-a-half-bath home after it had been renovated, so she had a "wonderful fresh canvas to work with," she says. "The house and the finishes were done so well, and I wanted to keep it minimal and modern to let the house do the talking."
But she knew the "great room," a giant living space with vaulted ceilings (a style that was popular in the 1990s), was going to be a doozy to design. When you walk into the home — which was being flipped by developer Ryan Borger of Podium Properties, a team at HomeSmart — you pass through a standard entryway and see a large living room near a kitchen. But when you turn the corner, you encounter the massive great-room addition that the developer estimated was constructed about 20 years prior, Eufer-Lewis says.
"The room is so large and feels disconnected from the rest of the home," she explains. "It's a beautiful light-filled room but would paralyze buyers if left empty or if it were staged improperly." She knew she had to accentuate the room and give it purpose while making it feel cohesive with the rest of the home — or, as she explained, "without it feeling like an afterthought to the home's original design." (Which it was.)
So how did she envision the revamped room, both in terms of form and function? "A chic space that could utilize the square footage properly for entertaining," she says. "I was inspired to mimic a cool art gallery style but wanted to ensure the room still felt warm and inviting for everyday life." Eufer-Lewis wanted the great room to feel elevated and functional, eschewing "any sort of 'game room' or kid-specific-type furnishings," she notes.
Instead of considering furniture, her mind first went to artwork to contend with the seemingly endless expanse of walls. "Typically, I find artwork after, however, with this large space, I wanted to define the dining room area with a showstopper," Eufer-Lewis said. She sourced a large-scale piece from Denver artist Abbey Ratcliff. With the focal point decided, Eufer-Lewis created an oversized triptych series for the adjacent wall, keeping them neutral so as not to compete with Ratcliff's work.
After the art was chosen, she settled on the room's layout rather quickly, she says. "I knew I had to be aware of scale and careful with furnishing selections. A large room creates many issues with scale, how to make the space feel full but not compartmentalize the overall space and break it up. I'm always thinking about how the space will photograph and how to create an impactful first impression."
To create an "intimate conversational seating area," she chose a low-profile cream-colored sofa from CB2 and doubled it up on top of a large neutral area rug by Safavieh. The two sofas, each paired with a Safavieh ceramic end table, face a sculptural CB2 cocktail table in the center. Nearby, a vintage orb floor lamp from Star Power Vintage in Denver draws the eye to the wall of five windows.
"When working with large-scale rooms, it's important not to push anything against the walls — that creates an imbalance and awkward dead space," she says. For example, while one might gravitate toward a giant sectional to fill this room, "this tends to break up the landscape of the entire space, which I aim to avoid at all costs for staging. But, at the same time, you must find pieces that will not feel too small, or as I like to say, dollhouse furniture," she says. The sleek armless sofas allow the eye to rove freely around the room while also creating a distinct space adjacent to the dining area.
Speaking of the dining area, it had pretty much been defined before Eufer-Lewis began because of the large statement pendant light with a Sputnik aesthetic that the developer had installed. So, underneath the fixture, she placed a white lacquered dining table by West Elm, surrounded by black modern-farmhouse-style chairs from Safavieh that echo the black from Ratcliff's artwork.
That left one rather large bare wall, which now contained Eufer-Lewis' oversized triptych. Below, she placed one of her favorite pieces — a vintage, extra-long burl wood console table — flanked by two nubby, ivory boucle chairs from CB2 for added texture and softness. Carefully curated accessories round out the look, including vintage metal candlesticks from JKC Vintage Decor in Toronto on the dining table and a one-of-a-kind lamp from Denver artist Nathan Lee Beck on the console.
Although the project was a challenge, Eufer-Lewis feels she ultimately achieved her goal: "Overall, we set up a few different, purposeful areas within the one large space that work together harmoniously to create one complete composition."
And the proof is in the sale: After being listed, the home was under contract within four days.