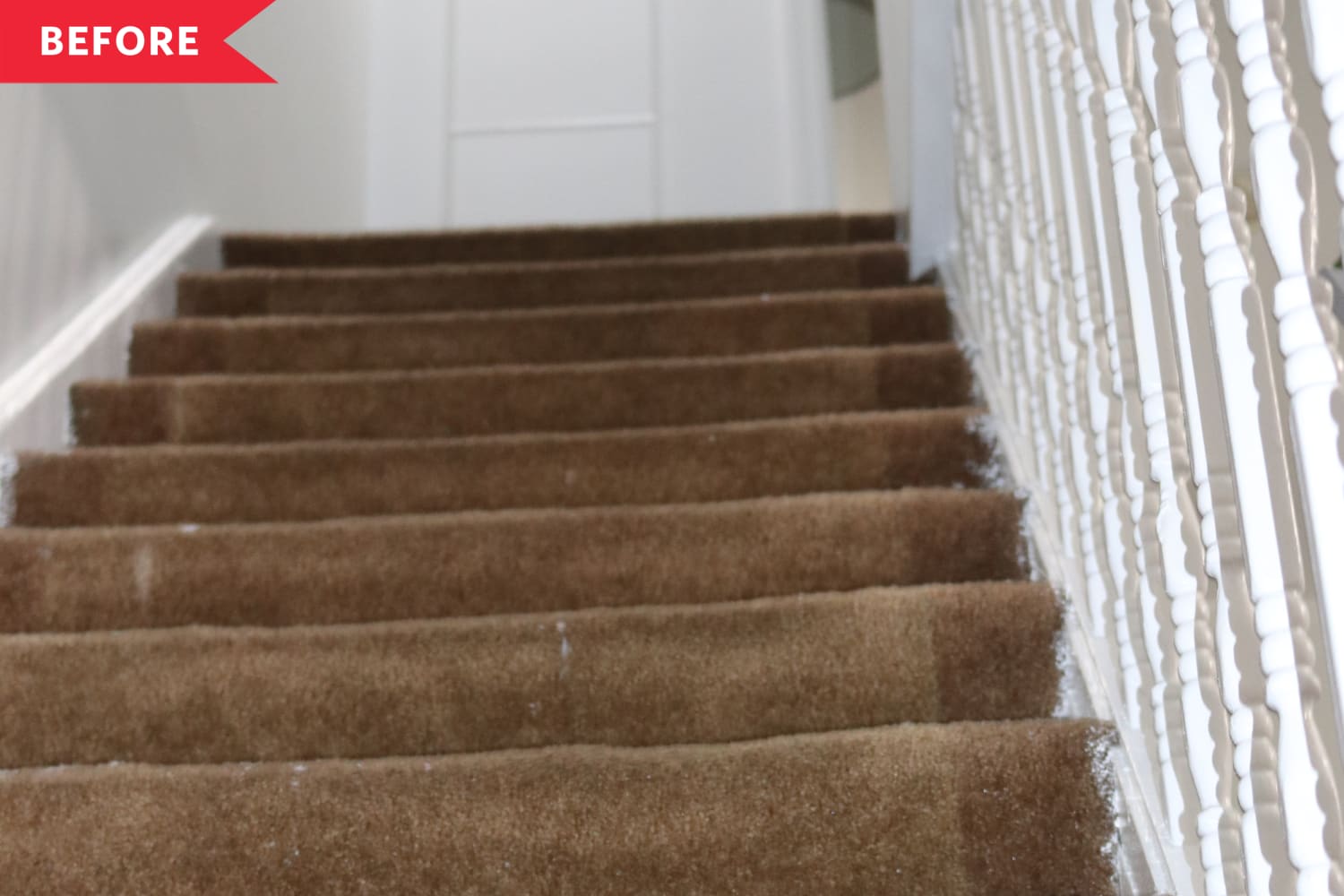 If you want a great bang-for-your buck redo, look past living rooms and kitchens and toward the smaller areas of your home that gets lots of traffic but maybe not a lot of love. Entryways, hallways, and even staircases are all great candidates for a redo that's high impact (and, depending on the size of the space and extent of the redo, affordable, too).
Let this redo from homeowner Kasey Daniels inspire you. Kasey and her partner, Carl, bought their 1899 home last year, and are in the process of making updates throughout. The stairs, Kasey says, "were very functional stairs, maybe you'd hear a creak or two when you step but in sound shape."
What they weren't wild about was the brown carpet. Kasey and Carl wanted to give the stairs a facelift that helped mix a little new with their more than 100-year-old home. But, Kasey says, "after getting a quote for the stair renovation, we were taken aback." Pros gave prices around $3,000 for the project, which is a lot more than the couple was hoping to spend. "I started watching tons of YouTube videos , and thought to myself, oh, we can do this, baby," Kasey says.
Once Kasey and Carl ripped out the carpet, they discovered that the subfloor was in pretty good shape, so they just needed to do some cosmetic work to bring the stairs into the 21st century. They started by buying new risers and treads. They cut the pieces to size before staining the treads in a light color with a slight grayish tint.
To install the new treads and risers, Kasey and Carl used construction adhesive and finish nails. They weren't wild about the look of the nails, which stuck out a bit, and called a woodworking friend and neighbor over to take a look. "He told us to use a nail set that would push the nail in where it would be less visible, and so my partner and I did," Kasey says. "Very helpful tip!"
White paint on the risers finished the look and gave the couple the vintage-meets-modern look they were going for.
All told, it cost just $350 for all the materials to pull off this DIY — much less than the thousands they were initially quoted.
"We are in love and so many of our friends and family are too. I love the idea of the modern take its placed on our stairs, the stain work came out beautifully, and they're very much functional, which was our main goal," Kasey says. "I'm extremely proud of us and can't wait to continue more DIYs as we continue settling into our new home."
Inspired? Submit your own project here.