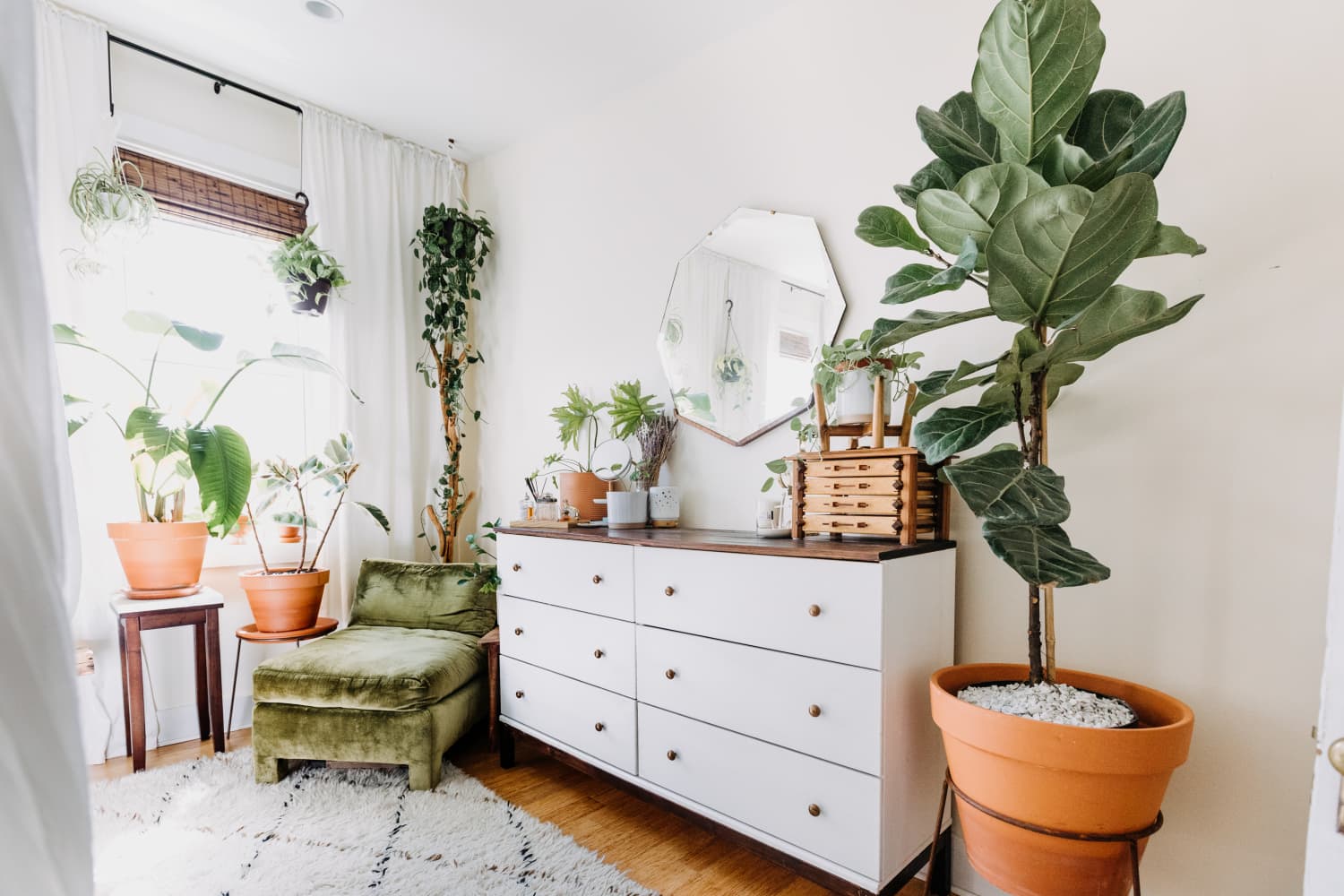 Moving can be as stressful for plants as it is for tenants. Making sure your indoor garden remains unscathed when being transported from one location to the next requires preparation and planning, but whether you're a homeowner or a renter, one thing's for sure: ensuring your plants are healthy and happy (and your lobby free of soil) can be quite the project.
Here's what experts suggest for keeping your plants healthy and happy as they move to their new home.
The two most important things to consider are time and temperature.
Sweltering or frigid temperatures can be fatal for plants, so be aware of how much time houseplants will spend in a vehicle or outdoors as you move your belongings. Will Creed, owner of indoor plant consulting service Horticultural Help, warns that while a plant can cook on a hot day, the opposite is true in the winter time.
"On a very, very cold day, even just a minute or two of carrying the plant from your home, just outside, putting it in a vehicle, just being outside, pressure can freeze the leaves," he says. If you're using professional movers, Creed suggests that plants are "last on, first off" so that they're not inside or enclosed in a vehicle for more than an hour and are protected from the elements.
Don't re-pot them before your move.
While many people believe that re-potting plants in plastic (or removing them from their pots entirely) will make things lighter on moving day, Creed maintains that plants should not be re-potted in advance. "People have strange reasons for doing that. None of them are valid," he says.
Different sized plants require different methods of protection.
While smaller plants can be protected with a plastic sleeve or bubble wrap around the pot and foliage and then transported, Creed has a different method for larger varieties to keep leaves and soil intact.
"It is possible to take a larger tree and put it on its side and lay it on the floor of the vehicle," he explains. "But if you do that … I do recommend getting some newspaper or any kind of a paper or plastic bubble wrap, putting it over the top surface of the soil and then getting some moving packing tape and taping that material in place over the top of the pot. The point of that is if the plant is tipped on its side, all the soil is not going to fall out."
Many moving companies are wary about moving plants.
Due to their delicate, perishable and often messy nature, many moving companies do not like transporting plants long distances because of the liability. However, Ryan Carrigan of Move Buddha believes plant lovers should seek out other methods to make sure their plants are moved safely. "DIY options like rental trucks and moving containers can be good alternatives to moving companies for those who really want to move their plants," he says.
Be mindful of moving your plants across state lines.
If you're moving to a new state, do your research on state laws. "Some states have different rules about moving in new plants, particularly plants that aren't native to the state," Carrigan says.
Talk to your movers about your plants before the day of your move.
Many moving companies have policies about plants. You may have to sign a waiver if your company agrees to transport them, so before the day of your move, talk to your movers (and be sure to include your plants in your move quote) about liability and what materials they'll provide to help protect your plants.