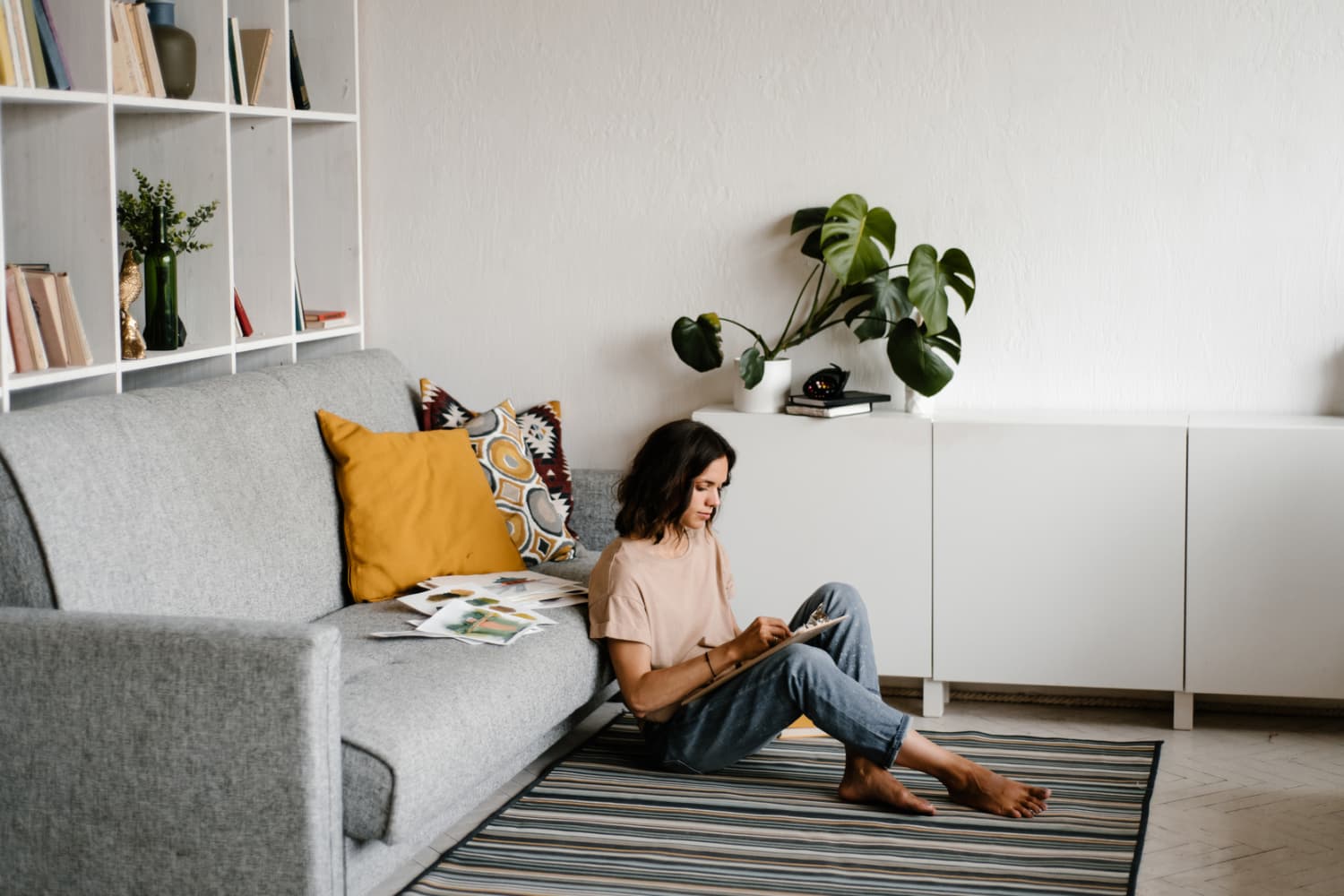 Gray has been the "it" wall color for more than a decade. In Sherwin-Willams' ranking of its top 50 colors, at least 20 different shades of gray made the list. While gray is very versatile, choosing the picture-perfect shade of gray for your home can be a challenge.
Shay Millheiser, an HGTV host on "Flipping Austin" and a successful designer, investor, home renovator, and Realtor, suggests avoiding an all-out gray palette for a house that's about to hit the market. Why? Because it's a color that doesn't photograph well — especially if you're aiming to make a place look bright and airy.
What should you do, then, if your home is tricked out in gray? Whether you're trying to sell your home or redesigning your space, here are a few tips on how to bring a dull gray room back to life in photographs.
Up the Contrast (in Real Life)
To liven up a gray space, Millheiser recommends hanging contrasting wall art and incorporating some lighter decor around the room. Mixing light-colored furniture and wall art with a couple of dark accents in a gray room can make these pieces stand out in a photograph. "That's what makes it feel pulled together, like the gray was intentional," she adds.
When taking photos in a dark gray room, make sure the room is daylit versus having warm lighting. "You start to notice shadowing more if you have a very cool wall set up with very warm lighting," mentions Millheiser.
She suggests avoiding an off-white gray wall color altogether, which can look dingy in pictures. Similarly, skip very dark grays unless you've mindfully selected pieces around that wall color to contrast and complement. If you want a barely-there gray wall paint that works, she says to try Benjamin Moore's Classic Gray. Opting for a darker tone? Try Sherwin-Williams' Gray Owl or Balboa Mist.
Pair Grays With Complementary Tones
When it comes to finding the right tones to match grays, Millheiser says it all depends on the style of your house. Gray can act as a nice background for some muted colors to stand out.
She recommends pairing cooler grays with extreme neutrals such as black and white. "Gray is great and can go with anything. It just depends on what tone you're using." With that in mind, she says if you have red or orangey tones in a room, gray may not be the best complementary color.
Go For Light, Bright, and Clean
"There's a reason hotels like to use white linens. Bright whites tend to indicate bright, white, and clean," notes Millheiser. From a buyer's perspective, people tend to see themselves moving into bright and clean spaces.
That means a dark gray wall could take away from that if it's not styled properly. A bold wall can darken a room, especially if there are dark floors, cabinets, or artwork.
"If you just want to get something together that's quick and clean, just lighten it up," Millheiser says. Shining white linens, window treatments, pillows, and accents can do the trick.