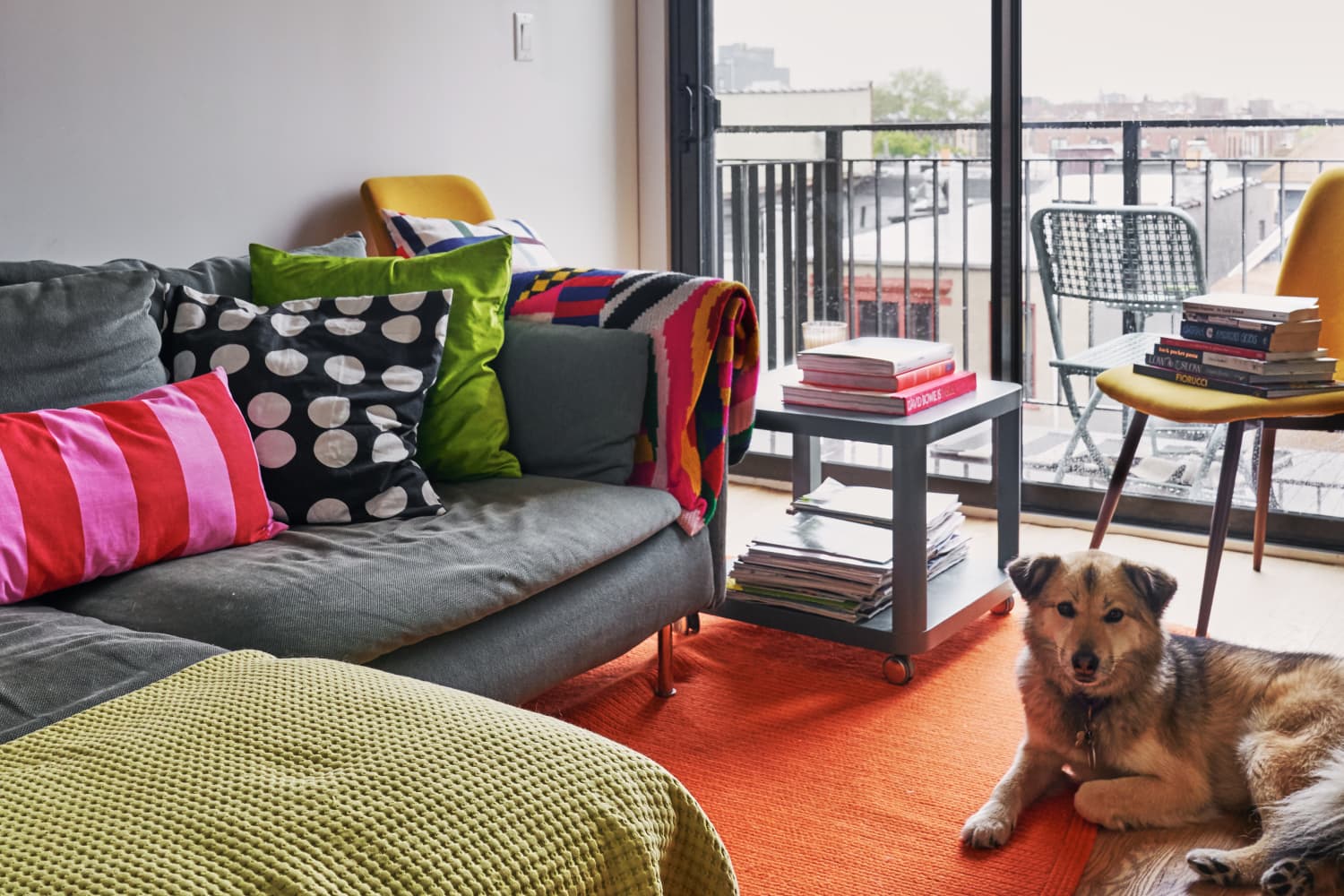 We independently select these products—if you buy from one of our links, we may earn a commission.
Name: Haley Boyko, my partner Nick Sylvester, and our three dogs, Maya, Emma, and Penny
Location: Brooklyn — New York City, New York
Size: 3 bed 3 bath duplex
Years lived in: 2 years, renting
Footwear designer and freelance illustrator Haley Boyko and her partner, Nick Sylvester, found this apartment on StreetEasy. "We were sold on this space because it was in a newer building, but still a small building with only eight tenants." Located near Prospect Park in an affordable area for the couple, they lucked out with this apartment that's actually a three-bedroom, three-bathroom, three-outdoor space duplex. Haley explains that the first floor is the dining/common area/kitchen, living room, office, bathroom, and terrace, and the second floor is their main bedroom and bathroom, along with a larger terrace and a roof deck.
With an abundance of bedrooms, they were able to use two of them for other purposes beyond sleeping. "The third bedroom is used as my office space, and then the second one we decided to turn into a separate living room," explains Haley. "My office is packed with work stuff, but also with creative hobbies of mine. I have tons of paints, canvas, a rug tufting frame/tufting guns, silicone to make my own molds, resin to cast those molds, and a handful of instruments. Both of us are super creative so we have a lot of creative activities in the house! The office room was initially supposed to be like a fun creativity room, but after quitting my job as a footwear designer in December 2020 and decided to start my own company, it has officially transitioned into being my home office space." Her company, Hello Boyko, is an apparel company she describes as incredibly colorful and whimsical and is launching this October.
Apartment Therapy Survey:
My Style: My style is pretty colorful and eccentric. I really truly believe that bright colors enhance your mood and I have always been drawn to color. I wanted to create a space that was whimsically tasteful, if that makes sense. I feel like cartoon chic is a stupid but accurate way to describe my style. Most of the art in the house is prints or tapestries that we have collected over the years along with some larger geometric paintings that I did!
Favorite Element: When we first moved in I immediately put bright yellow contact paper on all of the kitchen cabinets and loved how it brightened up our space. Over quarantine I decided to paint the door frames yellow as well and I think that quickly became my favorite touch on the space. I'd say my other favorite element is my closet! I have lived in New York for 10 years and never had a real closet. I had a tiny tiny one in my first place and then in other apartments it was just rails and dressers. This is my first real two-door closet and I was so beyond thrilled to have one. I keep it open at all times because looking at my colorful color-coordinated closet brings me so much joy. I legitimately don't own any neutral clothing and we pretty much don't own any neutral furniture or home decor either. To me, yellow is like a neutral.
Biggest Challenge: We always try to stay on a budget when we move. We brought with us a lot of the furniture from our old apartment in Fort Greene, and then bought a few new things here and there. All of our storage cabinets in the living room are from IKEA and I just spray painted them to be the colors that I wanted. I know its not for everyone, but I truly love IKEA. They are the one affordable home goods place that actually makes vibrant furniture that's affordable. I ALWAYS gravitate to the kids section of IKEA because I have rudimentary taste when it comes to homeware, but a lot of the kid stuff can easily translate to an adult home!
Proudest DIY: I do as much myself as possible, But I think my proudest DIY was the yellow contact paper on all of the cabinets as well as the terrazzo contact paper on the kitchen counter. It was a massive pain and was a pretty big project but I love how it turned out and nobody ever notices that it's contact paper. I think for anyone who is looking to personalize a space, contact paper is such an incredible thing! It comes in so so so many colors and finishes and really allows you to make a space YOU when you are a renter.
Biggest Indulgence: I have this ridiculous embroidered hot pink chair from Anthropologie that is probably the nicest piece of furniture we own. It retailed for over a thousand but I got it for around $250 on sale so I couldn't resist! The funny thing is that that is the ONE piece of furniture we didn't want the dogs on, but lo and behold, it is the most popular pet chair. So as a compromise we just put a blanket on it because the dogs run the house and we are both fine with that.
Is there something unique about your home or the way you use it? For the first time ever, we were able to sort of create separate spaces in our apartment. Classic New York is having the living room in the kitchen in the dining room, etc., and we finally have a place where we could separate it a bit by using the extra bedroom as a living room.
Please describe any helpful, inspiring, brilliant, or just plain useful small space maximizing and/or organizing tips you have: I really believe in collecting things over time. I love having a space feel comfortable and like home immediately, but I also don't think you need to rush in buying things just to fill a space. Take time and buy things that you are really drawn to. And if you ever come across a piece of furniture that you like but don't like the color, PAINT IT. It's so easy to change the color of something and make it yours to fit with your space and style.
What's your absolute best home secret or decorating advice? I wish someone 10 years ago would have just told me, "if you want to paint the room, PAINT IT!!" I was always hesitant to paint a space since it was never a "long term" home, but I think people really overreact about the permanence of paint. I think most landlords would not care so long as you paint it back. I think a few days of work changing it back is absolutely worth the potential years of joy it will bring! And as I said before, CONTACT PAPER. It is truly amazing and everyone who is a renter could use some. Such a fun, simple, and non-permanent way to personalize your space.
What are your favorite products you have bought for your home and why? My favorite products are all of our colorful art pieces as well as a few interesting and unique homeware items. We have a vibrant knitted blanket from an artist called Zoe Slachter that brings me so much joy! And also this incredible set of three mugs that make up a face by ceramic artist Mariana Silva. They are handmade out of porcelain and are truly some of my most favored possessions.
This house tour's responses were edited for length and clarity.