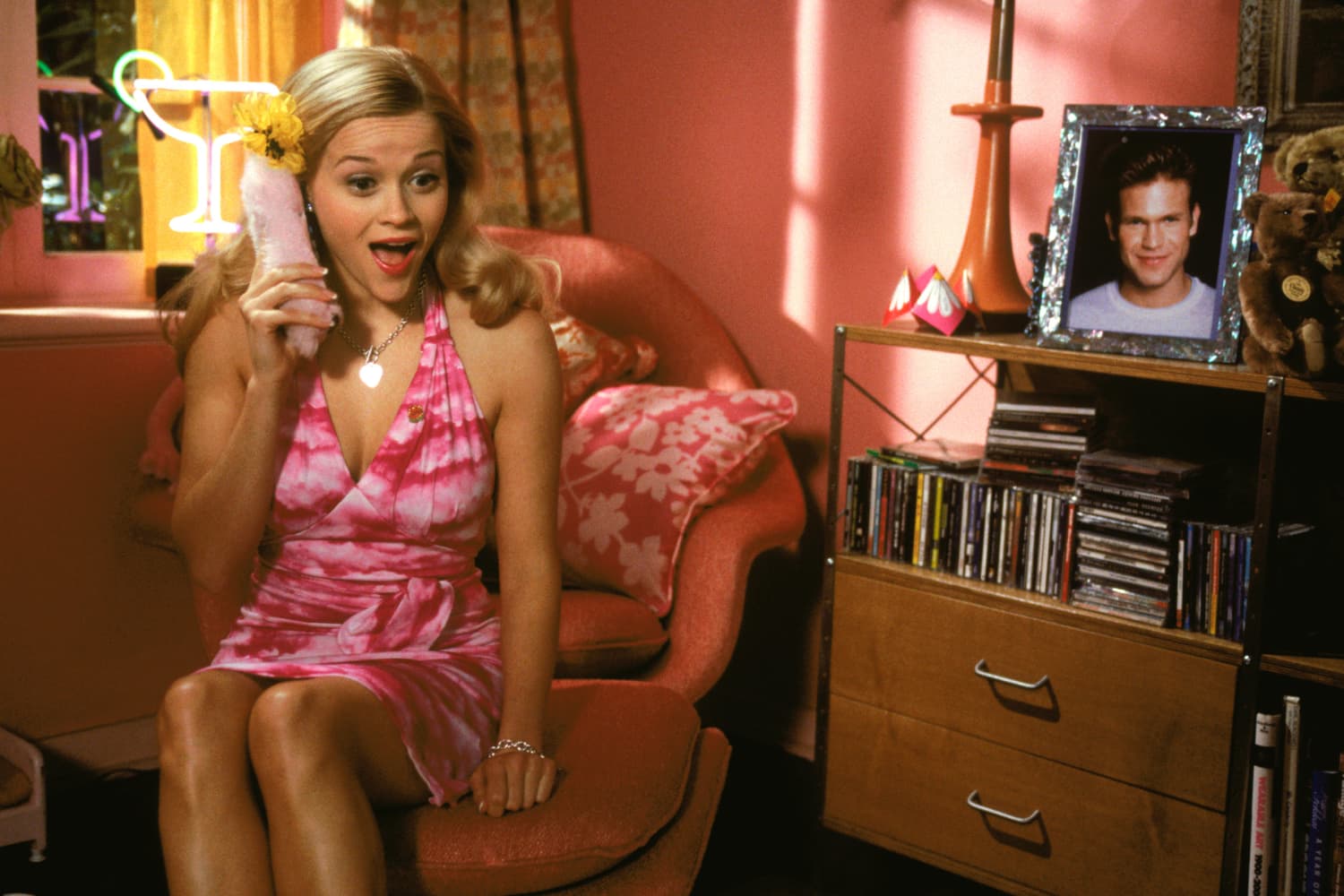 Beneath its perfectly pink surface, "Legally Blonde" has a heart of gold. The 2001 cult classic quickly solidified itself as one of the most inspirational comedies of the early aughts, boasting a women-led cast that ultimately led to the feminist icon that the universe knows and loves today: Elle Woods.
Played by Reese Witherspoon, the sorority president-turned-Harvard Law student has been serving up positivity and inspiration for women for the last two decades. And a lot of that empowerment happened in Elle Woods' dorm rooms, which are focal points throughout the film. Whether she was heartbroken in her sorority house in Southern California, or studying hours upon hours to bring justice at Harvard, both rooms represent a tremendous amount of growth, personally and professionally.
To mark the film's 20th anniversary, Missy Stewart, who worked as the production designer for "Legally Blonde," spoke with Apartment Therapy about the inspiration behind the dorm rooms and how their designs hold up twenty years later. Plus, she gave the inside scoop on the creative process of designing the entire set, and all the work that went into it.
Apartment Therapy: What are the big differences between Elle's dorm in the sorority house versus in law school?
Missy Stewart: Elle's experience at the two colleges were always intended to be a study in contrasts: the sunny, carefree Southern California lifestyle as opposed to the staider New England environs of Harvard. We [went with] California mission style for her fictional sorority house, Delta Nu. Once we chose that location and centered her life there, the campus and dorms followed, emphasizing on the sunny days and greenery, with a colorful palette reflecting that, inside and out. In California, Elle's colorful and very pink wardrobe suited the surroundings and even sparkled.
At Harvard, she was literally the oddball, who stuck out due to her costume choices and made her journey to acceptance more dramatic. In contrast, the aerials over Harvard and Cambridge, which were the introduction to the second act, show the brick and Federal architecture of New England. Here, we kept the palette more subdued, reflecting the existing campus. In building the dorm and hallway, we decided on a more muted palette of grays and dark woods, based on the actual Harvard dorms.
AT: What was the design inspiration behind her dorm room style?
MS: For her dorm room, we took inspiration from some classic early '60s designs, but updated them in Elle's signature color, pink. This was a bold choice at the time as the Saarinen womb chair came in less vibrant colors, and upholstering it really made it more surprising and personal. Because she was a fashion major, we drew from these sources and others: the desk and bookcase were Eames, seminal California designers, and we mixed in some Marimekko fabrics and patterns for pillows, drapes and accessories.
Her journey brings her as a West Coast transplant, with all of her colorful, seemingly frivolous belongings (which of course belie a more sophisticated character), to an unwelcoming atmosphere. People constantly underestimate her character, and she always surprises them, eventually winning them over. Her personal aesthetic choices, which were surprising, fun, intelligent, and warm, definitely exhibited that.
AT: What was the biggest challenge when designing Elle's dorm rooms?
MS: The pink was sometimes tricky, as it needed to be deep enough to stand up to the lighting, yet not too present, and it competed with skin tones. We did numerous camera tests.
AT: How did you go about sourcing all the items?
MS: We sourced all over Los Angeles, from design showrooms to thrift stores, prop houses and other rental resources available to film designers. I always gather a lot of fabric and wallpaper, and my set decorator usually gets me photographs of furniture from showrooms and rental houses and vintage places.
We custom made the headboard for the bed, and all the drapes and some wallpapers. Again, the intention was a bold but feminine version of '60s. We custom mixed her signature pink wall color, as what was available at the time was very washed out and muted.
AT: What creative process did you go through to design the set at large?
MS: My process is kind of the same on every film as we're on such a quick timeline. I read the script and talk with the director, and we form an approach that has to do with the character and their journey. With "Legally Blonde," it was clear that it was going to be a study in contrasts between Southern California — where she was from and where it was sunny and cheerful, really bubbly and optimistic — and when she got to Harvard, which was a little more cynical.
Before "Legally Blonde," I had worked on "Good Will Hunting", so I was really familiar with the Harvard architecture. We decided to build both the dorm rooms, and the concept was that when Elle moved to Harvard in the second act, she would take all of her California stuff with her — her personality, belongings, dog, and all this frilly, pink, girly stuff, because that's who Elle was. It was the first comedy I'd ever designed, so I decided not to be afraid of color and to load it on, in the California scenes especially.
I make mood boards for each character and each scene. The mood boards for the California dorm rooms had a lot of striking pinks and greens, with leafy elements. The greenery of the outside was always coming into the sorority house, almost like placing her in a rich, jungly atmosphere.
We knew that Reese was going to be wearing a lot of pink and then, once she arrives at college, it sort of tones down and by the time she gets to the courtroom scenes, she's back to being very pink again. We purposely made the third act courtroom scene very sombre. You may notice that there are little bits of green in there, too, which is a throwback to California, but we also knew the pink would look really great against it.
AT: How did working on Legally Blonde compare to other titles you've worked on?
MS: Because of the success of "Legally Blonde," I got a lot of calls to do other comedies that were female-centered, generally. "Monster-in-Law" was a great movie to work on, with Jane Fonda and Jennifer Lopez. "Win a Date with Tad Hamilton" was also quite fun. Working on comedies can actually be quite challenging because you have to keep it real, but you also have to make the houses more fun. Ultimately, it's the story and the character that you build on to make a world that seems plausible but also a fun journey.
AT: Did you have a favorite decor item in either of the dorm rooms?
MS: I really liked the big pink chair by Saarinen; it said all you needed to say about her character: comfortable and stylish. And it made a bold statement, just sitting there.
AT: How can someone in 2021 get a similar look for their dorm room?
MS: Anyone wanting to design a room should always pick one item they really love, and center the room on that. Don't be afraid of color and texture and mixing things up. There is no right or wrong, and a strong sense of self will translate into something surprising. Don't copy, just follow your instincts. A good sample board of colors and fabrics, with some inspirations is a good starting point.
AT: What would Elle's dorm room look like in 2021?
MS: If Elle was starting college today, the updated version would include her commitment to the environment, issues of equality, and she would probably be vegetarian. Animal rights and human rights would be competing in her career quest as a lawyer, plus mentoring other young women. Her room would be full of recycled and sustainable products, wood and plants, vintage pieces, and very green — greens in the palette, and green in philosophy.
AT: Are any dorm room trends seen in the film now dated and are there any design details that can translate to today?
MS: A lot of things in the movie were kind of tacky on purpose, and I was surprised that translated as well as it did, because now, of course, that's a style of its own. Something that's tacky can be great if it's intentional.