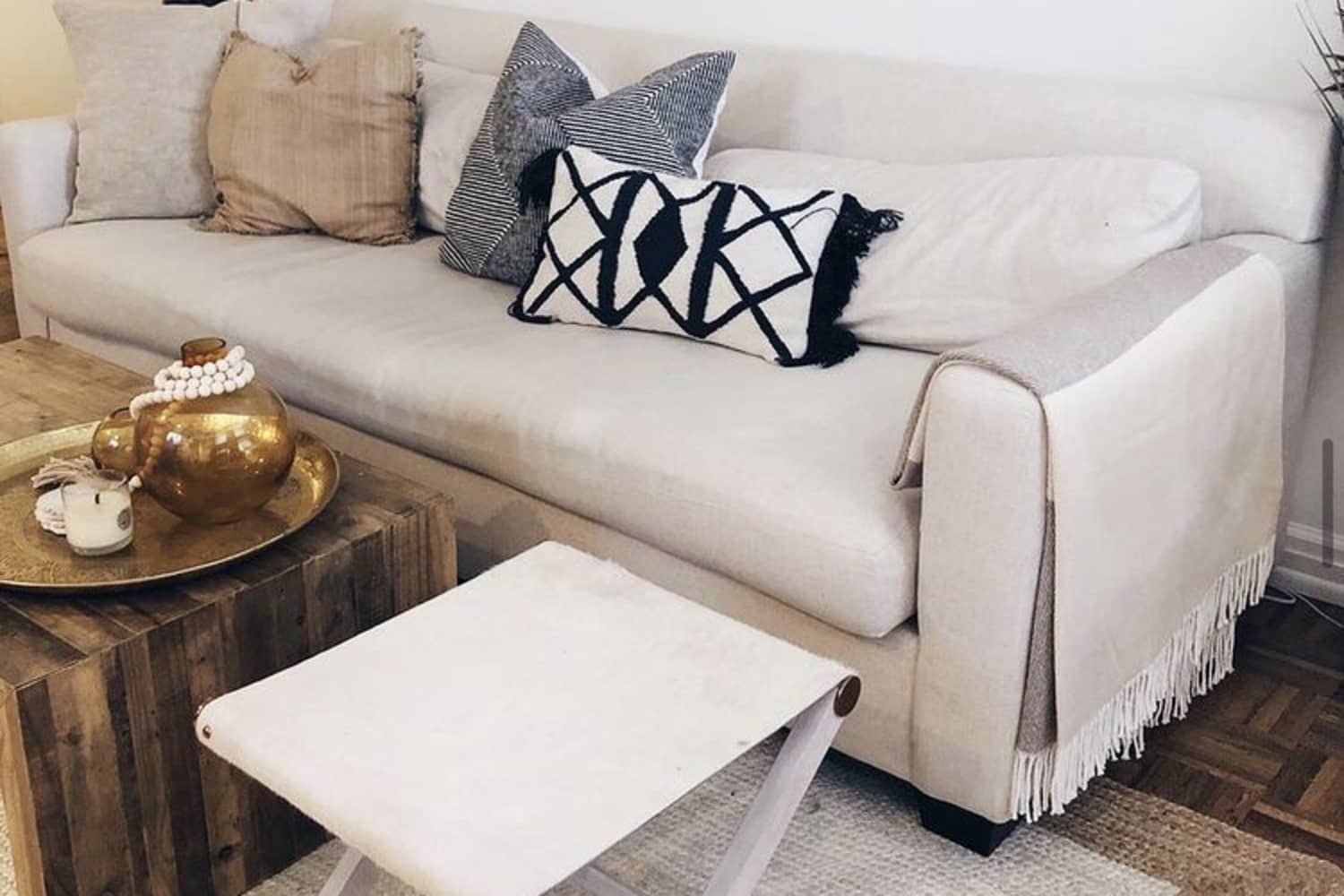 We independently select these products—if you buy from one of our links, we may earn a commission.
Name: Kelcey Harris, started solo now live with my boyfriend
Location: New York City, New York
Type of home: Apartment
Size: 437 square feet
Years lived in: 3 years, owned
Tell us a little (or a lot) about your home and the people who live there: After seven years of living in NYC I was ready to buy. I knew I wanted a studio (and by "knew" I mean that's all I could afford). When I walked into this apartment I got all sorts of feels (I totally played it cool). It didn't have everything on my wish list, but the charm and character outweighed all that was missing. I was single at the time, and the space was perfect in my mind for one person.
With 437 square feet, I knew I needed to keep things light and bright, but I wanted the furniture and decor to feel welcoming, versus stark. The apartment came with fantastic built-ins and a Murphy bed in a steel gray/blue so I used that as my accent color and kept the rest fairly neutral. Although the apartment is all one big room, I've been able to create unique spaces throughout that are defined by rugs, decor, and the use of walkways. Mixing materials and patterns add depth to the space without making it overwhelming. The driftwood coffee table next to the lacquered dresser, or the subtle textured wallpaper paired with a bold black lamp… leather and marble and rust-colored glass, oh my! These elements add interest and have created a warm, inviting space for me to call home.
Eventually my boyfriend moved in and 437 square feet started to feel much smaller. When Covid hit, I honestly thought I was going to lose my mind here. What once was my adored home, soon started to feel like a claustrophobic shoebox. Imagine: Two people on the phone all day (one of which doesn't have an inside voice and speaks Hebrew) where they eat, sleep, relax, cook, workout, etc. I'm surprised we still talk let alone are together. But we figured it out. We built spaces for work and created rules to keep us in a routine. It is absolutely amazing how adaptable and resilient we are as humans.
I am always seeking new experiences — to meet new people, travel to new places, developing new ideas, and I never say no to a good time. I love to laugh and to be around people but I recognize that in order to give 100 percent, I need my solitude too. Time to reflect and just be. My home is a reflection of what I need in order to feel energized and be the best person I can be: a space where I can relax and feel safe.
Describe your home's style in 5 words or less: The design is primarily Scandinavian, with touches of boho and mid-century, gives off a cozy and approachable feeling.
What is your favorite room and why? Not many to choose from, but I honestly love the view from the entryway into the main room. I love the design but more importantly when I am standing there taking my shoes off, I know I can take a breath because I am safe and home.
What's the last thing you bought (or found!) for your home? The last meaningful thing I added was actually a gift from my mom. It's honestly my favorite piece in my home. It's an acrylic painting that she bought for herself when she was 16. The first piece of art she ever bought with her own money from a thrift shop in Buffalo, New York. The painting is by an artist named Veronique painted in 1965.
Any advice for creating a home you love? Don't rush! Think about about what you need from your home — a space to create? Relax? Entertain? Start from there and take time to find pieces that really speak to what it is you need. If all else fails, call me I'm happy to help!
This submission's responses and photos were edited for length/size and clarity.