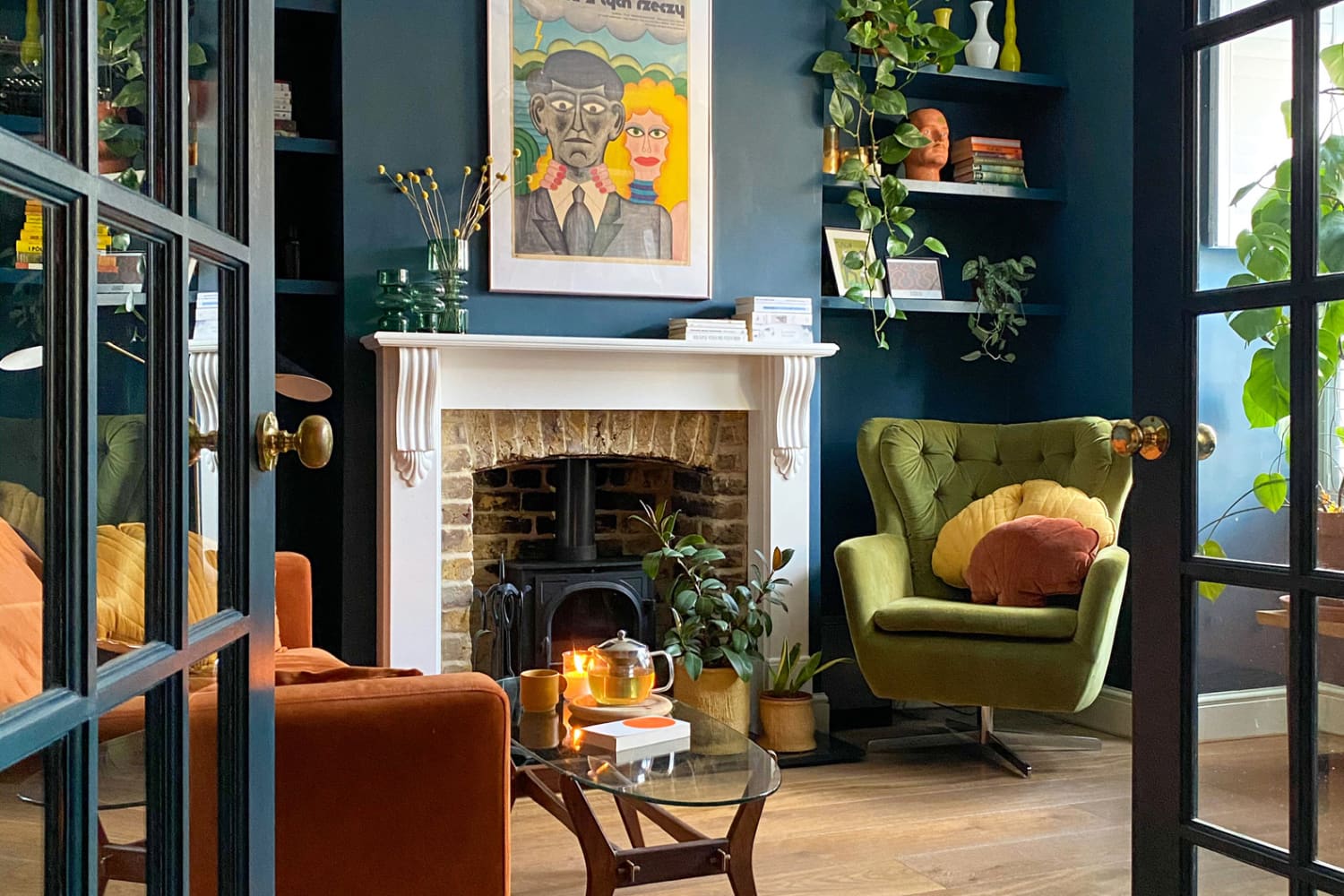 We independently select these products—if you buy from one of our links, we may earn a commission.
Name: Ola Zwolenik, my husband Michal, and our dog, Żółty (means yellow in Polish)
Location: South East London, England
Size: 1012 square feet
Type of Home: Edwardian Terraced House
Years lived in: 4 years, owned
We always knew we wanted to find a period property with a lot of character, but also a potential to make it our own. Once we narrowed the area down to a small part of South East London, we found our home within a few months. It's a rather quiet neighborhood, mostly with young families, but still a walking distance to the town center, with all the shops, restaurants, and transport links to central London.
We didn't fully appreciate the house or the neighborhood before we both started working from home over a year ago. You also start noticing that some things or solutions don't really work for your family's needs. It pushed us to start new projects that we would have probably left for a more distant future. We are converting our loft and adding a new bedroom with some office space as we speak. Exciting times!
Apartment Therapy Survey:
My Style: Colorful eclectic with elements of mid-century modern, traditional British, and Art Deco
Inspiration: Anything! From seeing an old poster to traveling and experiencing different styles and cultures. There are just too many things I love. Too many beautiful patterns, colors, and styles to ever consider being a minimalist.
Favorite Element: I love the period character of the property. We just recently installed Victorian mosaic tiles and I'm completely obsessed. I was able to customize the design and add some color, so it's period appropriate, but also represents my playful style.
Biggest Challenge: The biggest challenge was probably our kitchen. The previous owners remodeled it in 2012, but we really didn't like the white, high-gloss cabinets and the most hideous glittery backsplash. It wasn't reasonable for us to renovate it completely, after just five years, so we decided to paint the cabinets and the walls to add some character and make it ours. We still plan some more drastic changes, but not for another year, at least.
Proudest DIY: It would have to be our powder room. It was done on such a tight budget, but I'm very happy with the result. We added some paneling and a very bold Art Deco-inspired wallpaper, but it's the vanity makeover I'm the most proud of. It was a white, high-gloss cabinet that I was able to transform with some half dowels and dark paint. It even went viral on TikTok and Instagram, which I didn't expect at all.
Biggest Indulgence: I do love thrifting and finding a good bargain, but with some designer items you just can't stop yourself. Vitra bikini chairs for the dining room was one of the biggest expenses. Also the orange Nesso lamp from Artemide.
Is there something unique about your home or the way you use it? It's just a colorful madness. I love experimenting with color blocking and don't really believe in many boundaries design-wise. Every room serves a different purpose and there is no reason to limit yourself to one style or color palette.
What are your favorite products you have bought for your home and why? I have a huge collection of original vintage Polish posters and I'm always on a lookout for more. Most of them are from the early '70s and their style is very unique. Not many people know about the Polish School of Posters and its amazing legacy, which I think is rather sad. Krajewski, Ihnatowicz, and Flisak are just some of my favorite artists and they make my walls stand out, probably more than any wall color could.
Please describe any helpful, inspiring, brilliant, or just plain useful small space maximizing and/or organizing tips you have: Try to use every little nook. Especially with period homes, you have so many alcoves and weirdly shaped rooms. It's what makes them special, but also can limit your options. Alcove shelves are a must. I also built a small alcove desk in our guest bedroom. Painted it in this really bold blue, which is also a statement.
What's your absolute best home secret or decorating advice? Stop decorating for future owners or tenants. There are many ways to show your personality without decreasing the home value. Wall color is such an easy fix. Just be brave and do what makes you happy.
This house tour's responses were edited for length and clarity.