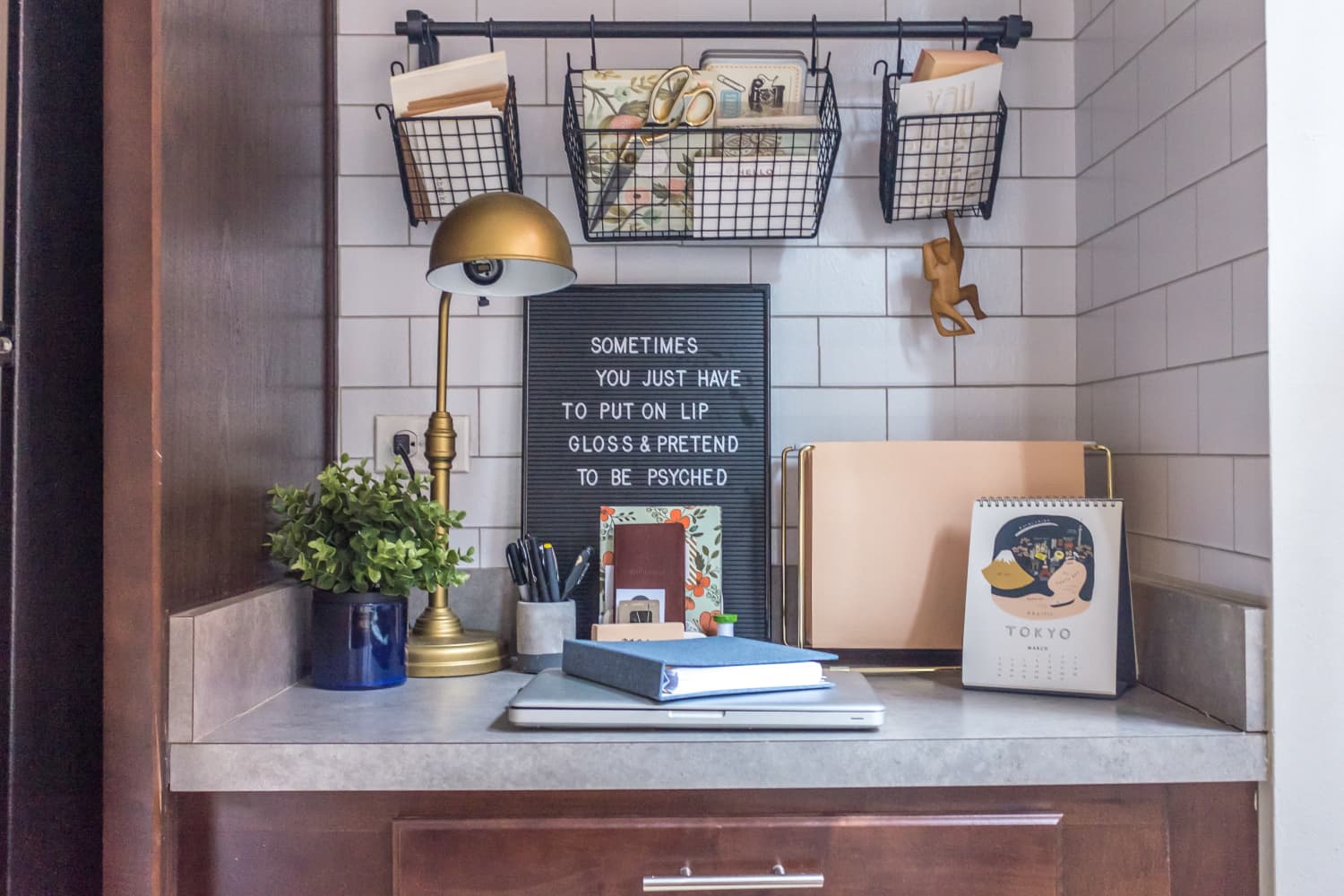 Life is a series of negotiations, and your career is no exception. "When you are negotiating a job offer, you have to look beyond base compensation and consider the value of everything that may be available to you," says career coach Kenitra "Keni" Dominguez. "It's all up for grabs, and you have the best shot at succeeding in obtaining what you want before accepting a job offer."
No matter what career path you're on, knowing how to negotiate with a potential employer is key to getting ahead in the workplace. Unfortunately, communicating your wants and needs with a hiring manager can be daunting, to say the least — and it can feel even more confusing when you're doing so from remote. "Negotiating can be challenging because it's a skill that we have to develop and requires self-advocacy," Dominguez tells Apartment Therapy. "Women of color experience additional challenges when negotiating, because racial and gender biases contribute to inequitable compensation. The playing field is not even for us, making it difficult to obtain the same results as our peers."
Whether you're negotiating a job offer over Zoom or via email, there are certain negotiation tactics that experts say can yield results when bargaining remotely. Here are six steps career coaches and staffing specialists say you can take to make your negotiations go more smoothly.
Before you can successfully negotiate any type of job offer, David Wiacek, a certified career coach and the founder of The Career Fixer, says it's imperative to research the average salary rates for the position, as well as the value of your experience and skills in the industry. "I often hear from clients that they didn't negotiate a job offer because they were unsure of the standard market rates and didn't know how much to ask for," he explains. "Doing industry and market research is important because it can give you a baseline or average of what this type of role, in this type of industry, and in this type of company, should command in terms of salary."
To ensure you're prepared to negotiate at a moment's notice, Dominguez recommends creating a brief outline of discussion points prior to a virtual job interview or follow-up meeting. "Consider creating a cheat sheet to help you think through what talking points most likely will come up, and make a response for each," she advises. "This way, you'll be prepared to communicate your salary requirements, start date, and any other important perimeters of the job offer during the negotiation process."
Take notes (and use them to your advantage).
Whether you're negotiating via video chat, email, or over the phone, Wiacek says taking notes is crucial. "Write down anything important that you've learned about your company or specific team during the discussion — e.g. challenges that the business or team is facing — and be clear about how you are uniquely positioned to hit the ground running and address those challenges head-on," he explains. "Not only will this demonstrate that you have been fully engaged throughout the interview process, it will make it easier to justify your worth when negotiating a salary."
If a job offer was mentioned during a video or phone call, Dominguez recommends using the notes you took to email a recap of the discussion to the hiring manager. "Note any decisions that were made, dates that were confirmed, and any follow-up questions that you have in writing," she explains. "It's also important to mention any expectations related to how you will work that were discussed."
Be prepared for the first offer.
Some hiring managers may provide you with a verbal job offer to get the ball rolling, but Wiacek recommends getting it in writing (via email) as soon as possible to minimize any chance of miscommunication. "You might say something like: 'Thank you so much for this wonderful first offer. I always find it useful to take a couple of days whenever I make a big life decision, and I want to make sure I give this offer the careful attention and time it deserves. Could you email me the terms of the offer for my review?'" he says.
Once you're received an initial job offer in writing, Wiacek says that unless they've provided you with a firm deadline, you usually have a few days to respond. "Companies will occasionally provide a deadline for your decision — sometimes it's 24 hours, sometimes a week, and usually somewhere in between," he says. "If you're actively interviewing elsewhere, it's perfectly acceptable to inform the hiring manager or recruiter that you are in final rounds with several other organizations, and that you want to make sure you give their offer, as well as any competing offers, the careful consideration they merit."
In most cases, Wiacek says the first salary offer is usually the lowest, but many companies will raise the amount for the right candidate. "Asking for a 10 to 20 percent increase is absolutely reasonable and usually won't ruffle any feathers," he explains. "Rather than just asking for more money, start by asking if there's any flexibility in terms of the compensation for this role — this is a more tactful and open-ended way that gives the other side some time to regroup and restructure the package, if possible."
When crafting a counteroffer, Wiacek says it's crucial to communicate to the hiring manager why you merit a higher salary. "Make it clear that you understand your own worth," he explains. "That you not only know what the market rate is, but also that you are an exceptional candidate who goes above and beyond and delivers tangible results — and provide concrete examples to back it up."
Consider other forms of compensation.
Along with a higher salary, Paul McDonald, a senior executive director for staffing and recruiting agency Robert Half, says you can also negotiate any non-monetary benefits that are valuable to you. "Vacation time, flexible hours, and other similar perks can be extremely significant, so don't forget to factor those into any back-and-forth conversations with the employer," he advises. "Perhaps there's little flexibility with compensation, but there's probably more room with non-monetary incentives — so ask for them."
This includes asking your potential employer if you can work remotely full-time. "Make this request less about what you want and more about what you need to succeed in your role — and provide concrete examples of how working remotely has made you more productive," Dominguez advises. "If they're hesitant, you can provide them with a few hybrid options, like coming into the office two to three days a week instead of five, to offer some flexibility for a creative solution."
If a potential employer won't budge on base pay or any non-salary benefits, Wiacek says it's ultimately up to you to decide if the job is the right fit for you. "If the numbers don't add up or meet your needs, it's important to know when to walk away from a job offer," he explains. "For example, if you're used to commanding a certain salary and this new job offers you markedly less, no amount of free snacks or work-from-home flexibility will make a difference."
There is one caveat, however, that Wiacek says might be worth considering. "If you're making a major career pivot into an area where you have little to no experience, you may be looking at a pay cut, but you can still maximize your offer by interviewing confidently and asking for a little bit more," he explains. "Weigh the benefits of personal satisfaction, health, and happiness in the new career. Sometimes clients who make a major career shift find that their newfound passion and energy translates to faster career progression, so that any initial pay cut is made up for with promotions."