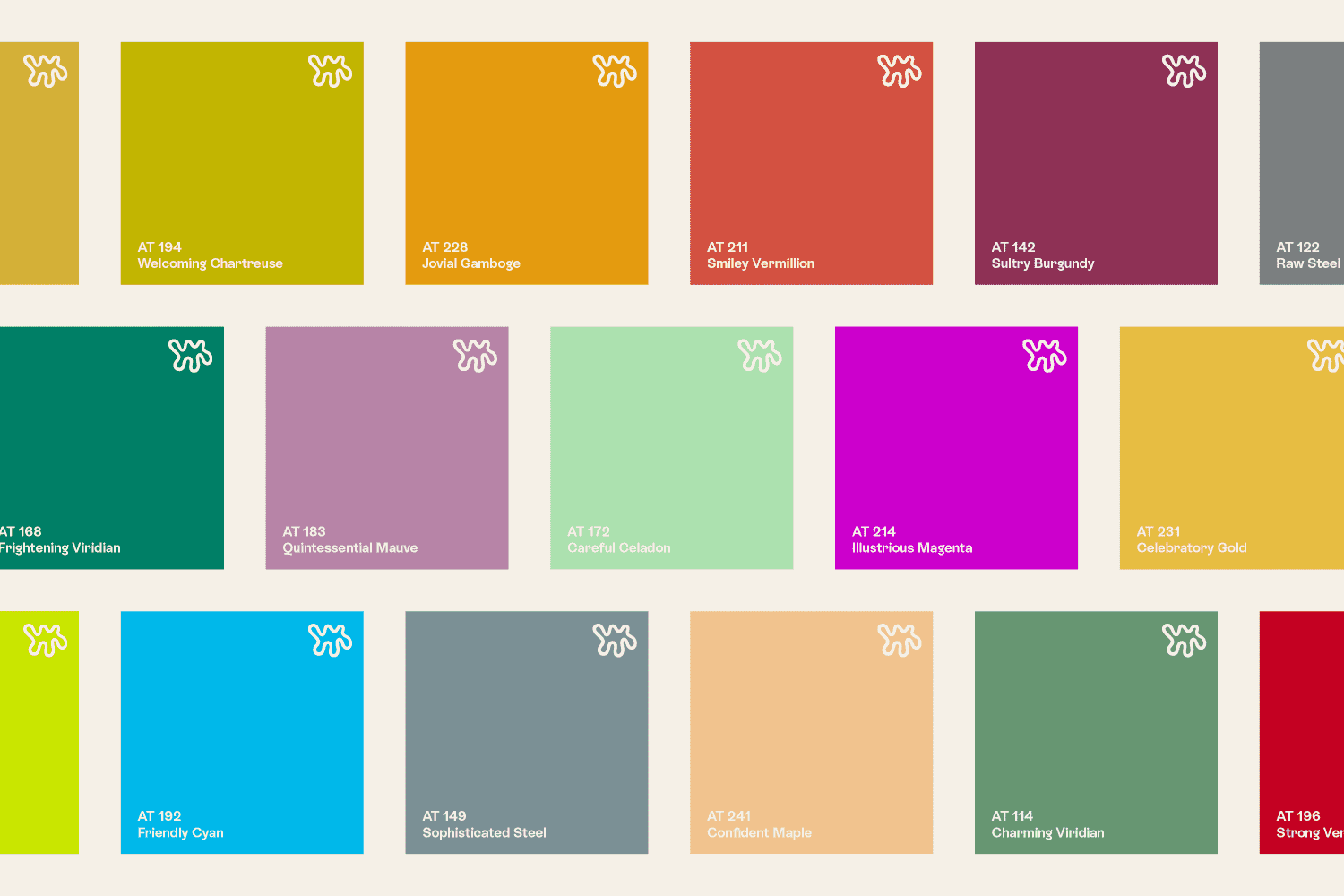 Wander over to the rack of paint chips in any hardware or paint store and you'll be greeted with a wonderland of colors in every shade you can imagine (and more you probably can't). And while it's undoubtably fun to take in all the hues, half the joy of perusing and choosing paint colors is reading their names. Some are straightforward — like the creamy, super pale yellow of Behr's String Cheese, which is an exact match for the string cheese in my fridge right now — while others are a little more conceptual (think: Sherwin-Williams's Dignified, which is a rich, sophisticated shade of navy blue).
There's a lot of work that goes into choosing these color names, but the first step in almost every case is finalizing the actual color. At Behr, the Color Marketing team selects the hues based on trend insights and everyday inspirations like travel destinations, art, food, and more. "The scope of influences is really broad, but we also tune in to how we are living in our homes these days and the activities we are enjoying — like gardening, cooking food, getting outside — and reviewing fashion trends to curate colors we are confident people will love and find comfort in," says Erika Woelfel, vice president of color and creative services at Behr. From there, three to four members of Woelfel's team work on creating the actual names, which go through a few rounds of revisions before being finalized.
At Benjamin Moore, the naming process can sometimes be open to any employee at the company, says Hannah Yeo, manager of color marketing and development. After a first pass of names to pick favorites, the color marketing and development team vets the candidates to make sure none are too similar to Benjamin Moore's existing library of 3,500 colors. The sheer number of color names that already exist in their portfolio can make naming tricky, especially when it comes to the colors with more selections. (Green, Yeo says, is the widest range with over 700 hues; black has just over 60.) Collection themes can help guide the naming process. "For instance, each of the 144 colors of the Colonial Williamsburg collection reflect colorful artifacts and historical documents from Colonial Williamsburg," Yeo says. "The names stay true to where they were found or used."
Both Woelfel and Yeo agree that an important factor in naming colors is choosing something that feels timeless, relatable, and gives consumers positive associations — rare is the DIYer looking to paint their walls "mud pit," but "Fallen Leaf" (from Benjamin Moore) has a ring to it.
And while color experts are masters of selecting and naming all colors, Woelfel says she still plays favorites. "For me, blues and greens are easiest to name, since they are my favorite colors and they both have so many natural references," she says. But her favorite paint color names have a wide variety, and include Green Meets Blue, Wild Mustang, Inked, and Graphic Charcoal.
So naming actual paint colors is a long and complicated process, involving lots of research and vetting. But what if it didn't have to be? What if you, dear reader, could use a simple formula to create not only your own paint color but also your very own paint color name unique to you? Great news: Apartment Therapy has come up with an easy, zero-research-needed naming system to give you — yes, you! — your very own paint color name.
Like Behr and Benjamin Moore, let's start with your color first. You'll choose it based on your birth month. Then, you'll use the first letter of your first name to find the other half of your winning combo paint name.
Find your color name using the first letter of your first name:
Finish your color using your birth month: