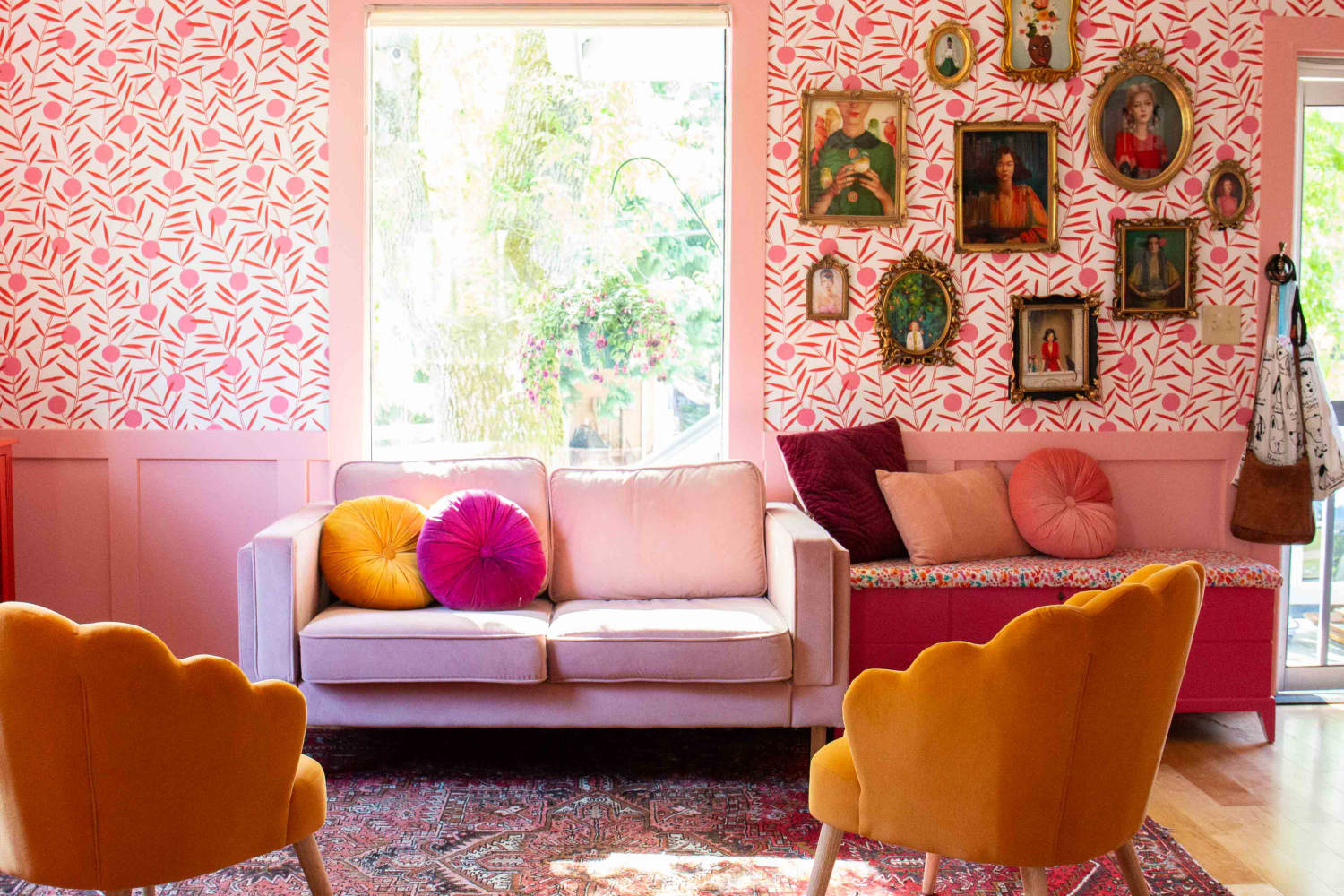 We independently select these products—if you buy from one of our links, we may earn a commission.
Name: Marita (mama), Farah (kiddo), Nara and Honeybee (dogs), and Luna, Tuna, and Oona (cats)
Location: Greater Seattle area
Size: 1,000 square feet
Years lived in: 1 year, owned
Marita says she encountered more than a few raised eyebrows when she started wielding a paintbrush in "unusual" ways after she moved into her newly-purchased historic cottage near Seattle. But as a self-described recovering minimalist, she was clear-headed about her vision. From day one, she was going for happy, fun, and colorful, drawing inspiration from her four-year-old daughter Farah, as well as the colors she loved as a child. To that end, Marita has been painting (and re-painting!) walls, appliances, and furniture in her home (aka The Rainbow House) for the better part of a year.
"The Rainbow House is a historic cottage built in 1900 and is one of the oldest standing structures in our neighborhood," Marita describes. "This house has been our safe space after some serious life changes that left me as a single mom with an uncertain future. I've done a lot of soul searching in the past two years and I think all of that work and self-discovery has manifested in this colorful, historic home!"
Marita wanted a home that made her happy, and you feel that when you walk in. The bright, bold pinks in the living room are balanced beautifully with the deep green of the open kitchen right next to it. And she has such a great mix of solids and patterns — an entire wall of pink, patterned wallpaper in the living room is grounded by furniture in solid pale pink and mustard yellow. The Janet Hill Studio vintage portraits hung by the front door add a nice touch of maturity, while still being playful. Since Apartment Therapy house tour photoshoot, Marita has repainted the bathroom blue, painted the refrigerator hot pink, spray painted the washer and dryer orange, is currently making some tile decisions, and more — it doesn't take long to realize the best thing about The Rainbow House is that it's always changing, but will never be done.
Apartment Therapy Survey:
My Style: I would describe my style as the embodiment of childhood magic: colorful, happy, and fun! This house is all about re-discovering my inner child. I look to my four-year-old daughter for inspiration each day, the way she thinks about the world, and the way she combines colors in her own art. Remember when you were a kid and you got excited to paint your room some ridiculous color or pick out new bedding? You probably gravitated toward your favorite hues, textures, and characters. Where did that little kid go? When did we trade all the fun stuff for adult conformity?
Well, I'm over it! I call myself a minimalist in recovery. I lost sight of my inner child in a previous relationship, which culminated in designing and building a Scandi modern house from scratch. The house was beautiful, but it didn't represent me as a person. When I suddenly became a single mom, I didn't feel at home in that space any more. I sold the house and started to collect little objects that made me happy. When I was finally able to buy another house, I put all those objects together and saw warmth and happiness in all the things I had collected. The whole thing sort of spiraled out of control from there. Now we have over 50 paint colors in the house and we just keep adding!
Inspiration: My inspiration mostly comes from my daughter. She is four years old and she loves bright and happy things. I consult her a lot on the design decisions. She picked the pink for the bathroom, the yellow for the bedroom, and the wallpaper for the living room. I also display all of her art in the art gallery leading up to the playroom. I want her to come home each day and feel happy! I also want her to stay connected to her inner child. I want the magic of childhood to be displayed in every nook and cranny of this little house.
Favorite Element: The front room, which is the entryway and also the dining room and the living room and the library and the music room (small house problems), has to be my favorite. It makes a huge impression when people walk in, and when we get home it just feels so welcoming and uplifting. I think the Hygge and West wallpaper just makes this space. The wallpaper has a bright and dynamic nature and I can't look at it without smiling!
Biggest Challenge: I think my biggest challenge has been designing the house for me and my four-year-old daughter and not anyone else. The previous owners live next door, and they had put a significant amount of time and money into renovating the house. And they did a great job! There was nothing that needed to be changed, but the design didn't fit my style. I felt guilty for painting over perfectly good cabinets or painting over rooms they had only just been painted. I had a moment when I realized, you know what, this is my house, and I can do whatever I want! And now that I've started following my heart I feel like I've discovered who I am, and who I was meant to be. I've grown as a person just by giving this space some love. And I love my neighbors dearly — they are so excited about what I've done with the house and they even come over to mow the grass on the curb or shovel snow on the walkway. I'm so thankful for them!
Proudest DIY: I am so proud of the mural in the playroom. I asked my daughter what she wanted for Christmas and she said "can you paint a rainbow in the playroom?" I wanted to put my own spin on a rainbow, so I went to my local paint store and ordered 30 sample cans of paint. I started painting with Ashley Mary's work in mind, and decided to add a lot of polka dots and also some hidden things like bees, fruits, and sunshine. This space is entirely for my daughter, and I think the mural reflects the idea of a fun, kid-centric space. My dad and I also built a rock climbing wall in the playroom with holds that my mom found from Offer Up. Building the wall was a great father-daughter bonding activity for me and my dad! My dad is constantly helping me with projects and my mom is always sending me new ideas to push my creativity. My mom has also been known to take my cabinets apart, bring them to her house, and give them a fresh coat of paint. It is certainly a family affair and I'm so thankful that my parents get excited about these projects too. Now my brother is planning to buy a house and I'm crossing my fingers that he will let me help design some of the spaces!
Biggest Indulgence: The biggest indulgence was certainly the wallpaper. I was hesitant at first because wallpaper feels so permanent. I'm a chronic painter — I've already painted the staircase six times! And if you change your mind about wallpaper it's a total nightmare. I installed the Rifle Paper Co wallpaper in the kitchen in a small spot so I could get a feel for the material. It wound up being my favorite project and I just kept going. Now I have plans to incorporate even more wallpaper in the future! Wallpaper in the bathroom? Yes, please! Wallpaper on the ceiling? Stay tuned!
Is there something unique about your home or the way you use it? We don't have a bathtub which hurts my heart a little bit because I love a good bath. When we moved in I remodeled the kitchen and put a gigantic single-basin sink in the kitchen for my daughter to bathe in. Oh, the joys of being four! It might look completely ridiculous but it works for us right now. And when she grows I'll always remember her taking bubble baths in that sink. When she bathes in there all of the animals sit next to her and the seven of us occupy about the same three square feet of space.
What are your favorite products you have bought for your home and why? My favorite products for the house have been all the small things that have made the space come alive. I love the paper flowers from Unwilted Flowers because if I forget to water them it's not a big deal! I also love the candles from Grafton Yard; I feel like the signature scent of my house is their citrus, which is so energizing and happy. The portraits of ladies by Janet Hill in the entry space feel like the patron saints of the house. Whenever we leave for the day my daughter waves at them and says, "bye, ladies!"
Please describe any helpful, inspiring, brilliant, or just plain useful small space maximizing and/or organizing tips you have: It's no secret that I am a terribly messy person. Maybe it's because I am a single mom and I work full time and I have 11,000 animals. But cleaning is not always my highest priority, and laundry is the absolute bane of my existence. Then I heard from Oh Joy (@ohjoy) that she washes her linens once a week and has a rotation of bedding. She describes it as giving your bed a new outfit each week. This is motivation for me to actually do the laundry — to dress up my bed in a different outfit! I have several different linens all in different color palettes and I'm thinking of collecting more to complement the changing seasons. In summer we have yellow, pink, and orange linens on rotation, but I could see incorporating jewel tones in the fall and more blues in the winter.
What most people get wrong about using color in their home: I don't think anyone can do anything wrong in home design. It's your home and you get to decide what to do! Maybe one thing people get wrong about color is they shy away from changing things because they already committed to a certain gallon of paint. If you have the means — do it your way and change it. It's your space and your life! Choose happy!
What are the biggest tricks/secrets to using color in decor? I've found that I tend to use color in a very monochrome way. The front room is all pinks and other warm hues (yellow and orange), the kitchen is all greens, the bedroom is all yellows… My best friend walked in and said "wow, you really use pink like a neutral." I think that's a great way to begin adding color. I'm not sure I have the talent to mix a bunch of different shades and hues and have the colors work together. Instead, I like to commit to one color and just go all out. So if you are thinking of experimenting with color I would pick just one to start with and see where it takes you!
What's your favorite wall paint color of all time: How could I possibly pick? Perhaps the yellow/orange color in the bedroom, which is "Golden Nugget" by Benjamin Moore. Whenever I call them for another gallon I say "I'd like the Golden Nugget, please," and the guy says "What a funny sentence!" There's just something about this color, almost like a school bus. It's sort of yellow and sort of orange and it's 100% delightful. It feels like waking up in the sunshine.
Finally, what's your absolute best home secret or decorating advice? Don't feel guilty. Do you. Change stuff you don't like! I've repainted the stairway six times because I haven't found the perfect color yet. I don't stress it, I just keep experimenting. At the end of the day it's you who is doing the work and reaping the benefit. Painting makes me happy, color makes me happy, and change makes me happy. Who cares what other people think. I've gotten pushback for buying antique wood pieces and painting them. I've gotten DMs saying I should never paint anything that's natural wood. That's okay — you keep your natural wood but mine is going to be neon orange!
DINING ROOM (AKA THE NUMMY NOOK)
This house tour's responses were edited for length and clarity.