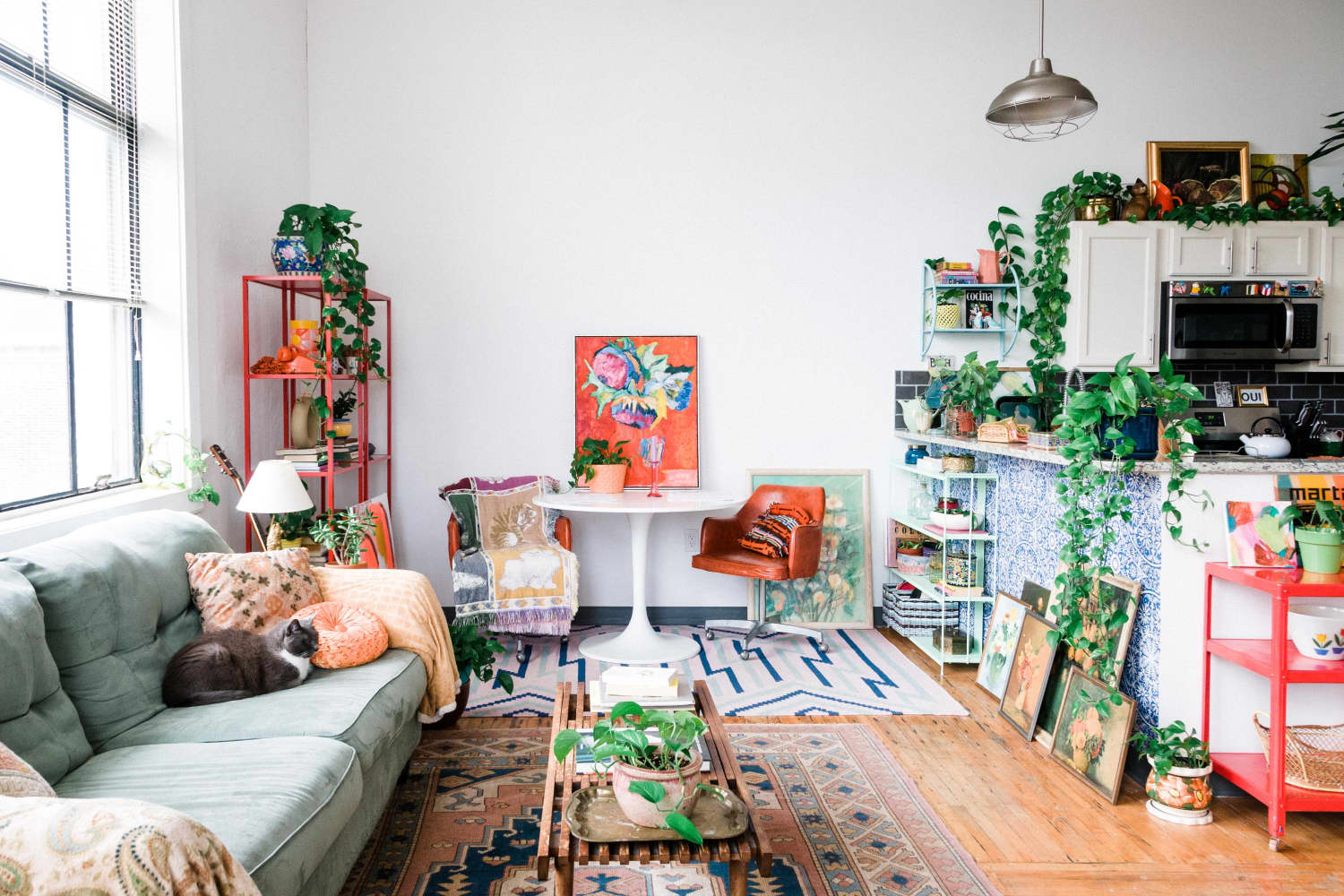 We independently select these products—if you buy from one of our links, we may earn a commission.
Name: Mallory Brooks, my partner, Mike, and two cats, Socks and Pepper
Location: Atlanta, Georgia
Type of home: Apartment
Size: 800 square feet
Years lived in: 5 years, renting
Tell us a little (or a lot) about your home and the people who live there: I live in a converted former 1920s-era school with my partner, Mike, and two cats, Socks and Pepper. I've lived here for five years (two with Mike) and I was immediately drawn to my apartment for its unique features and history as a classroom — it retains its original hardwood floors and has large, paned glass windows. It's bright and airy, yet also cozy and charming (plants LOVE it!). The building still feels like you're roaming the halls of a school, which remain lined with lockers.
I'm a photographer, artist, and small business owner and Mike is a creative director, writer, and musician. Our space is filled with a colorful, eclectic mix of vintage and modern decor —and over 100 plants! Fortunately, Mike loves my aesthetic so I've been able to keep most of what I originally had while blending his pieces into the mix. My love for color, travel, art, plants, and vintage items is reflected everywhere, from the art to the objects to the furniture. My style is a mix of old and new, so we have thrifted/inherited pieces mingling with modern IKEA staples. Plus, most of the art is my own! Our home is also what inspired me to take a leap and start a business, Abe Home Goods, to share my style and help others create a space of their own that they love. Ultimately, the apartment is a place that reflects two creative people and their inspirations.
Describe your home's style in 5 words or less: Colorful, eclectic, inviting, plant-filled
What is your favorite room and why? My favorite room is the main living area, which is really three rooms in one (kitchen, dining, and living rooms). In particular, I'm obsessed with the jungle that's grown above our kitchen cabinets. I put a few pothos plants up there a few years ago and they just took over! Another favorite in the space is the gallery wall that I call the "wanderlust wall" because it's filled with my photography and art I've collected on my travels and it reminds me of my favorite places.
What's the last thing you bought (or found!) for your home? I'm constantly sourcing vintage and secondhand items for my shop, and inevitably, I end up being unable to part with some of those items, so they find a home in ours. But, one of the most recent additions, however, was a credenza of Mike's that we painted a peacock blue to hold the TV. It was crafted from salvaged lockers by a local shop, Kaboodle; we love how it gives a nod to the apartment's former life as a high school.
Any advice for creating a home you love? Design your home for you; fill it with the things that you love, not solely because something is trendy. If you really love a piece, you can make it work. I also suggest filling your walls and shelves with lots of art, especially from small and local artists if you can. Art and vintage items can add personality and help your space better express "you". And finally, a home should never be finished nor be perfect; it evolves with us as we live!
This submission's responses and photos were edited for length/size and clarity.