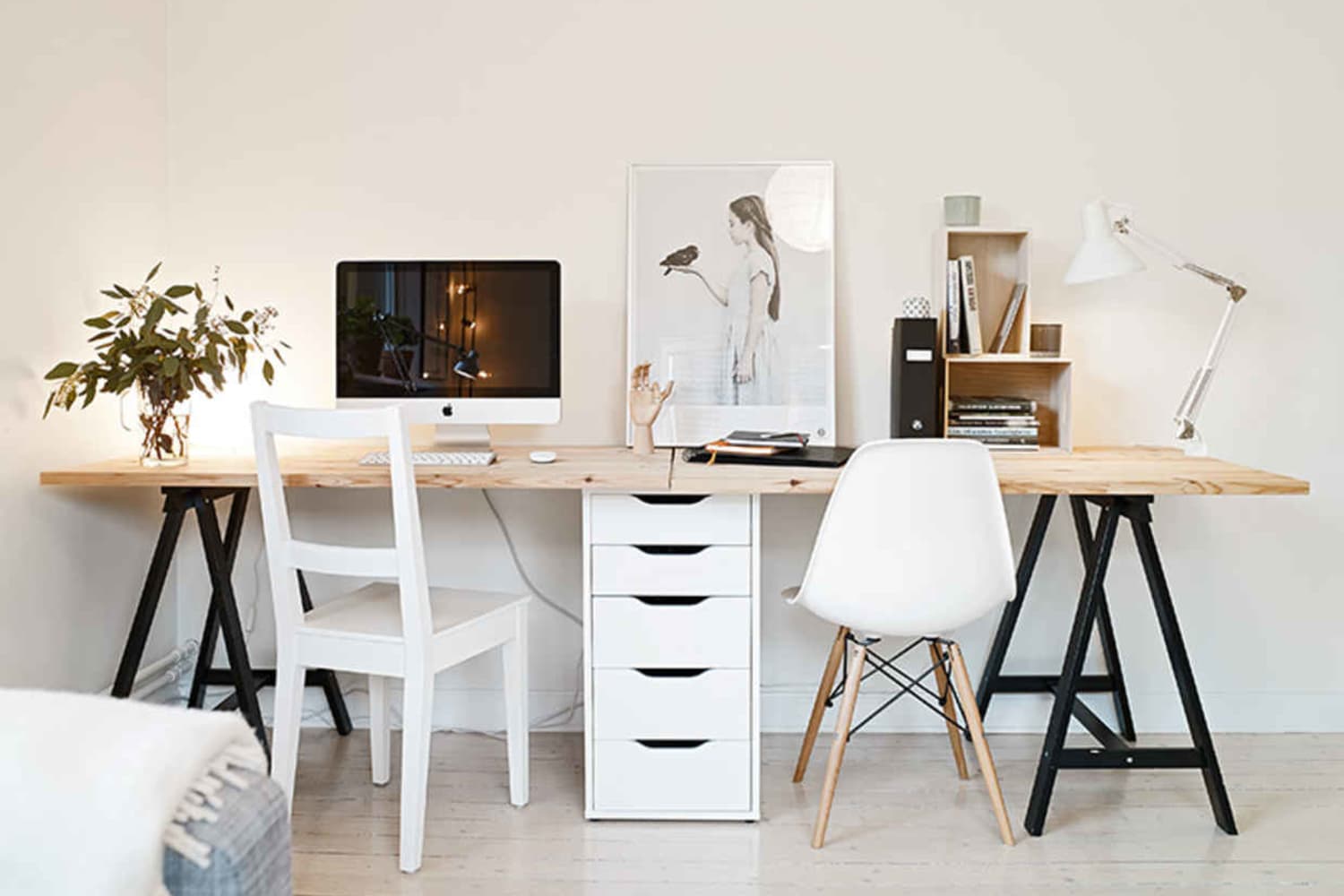 We independently select these products—if you buy from one of our links, we may earn a commission.
PSA: You deserve better than settling for your kitchen countertops as your "office" space. With so many of us still working from home, a home office space has become a must. But if buying a brand new desk keeps getting put on your budget backburner, there are tons of DIY ideas that can finally make your oft-imagined office space a reality. And if you don't consider yourself the craftiest person, don't sweat it—there are a variety of options for you here, too.
Up ahead, ideas for painting, constructing, and revamping yourself a desk.
1. DIY Custom Plywood Desk/Bookcase
Anne Louise Marquis' boyfriend DIYed this awesome plywood bookcase/desk combo for her Brooklyn condo one weekend. It may not be a project for beginners, but the results offer not only a workspace, but also a place to showcase books and house a TV.
2. An Under $50 Desk Redo
Mary Weafer of Weafer Design found a $25 desk on Craigslist which she revamped for her daughter. She painted it white, added new gold drawer pulls, and used light teal as an accent color for a totally refreshed look.
3. Table and Bench DIY Desk
A farmhouse-style table can easily be repurposed into a desk, as Laura Barthelmess of Refunked Junque did. It offers ample space for spreading out your materials, or for allowing two people to comfortably work at the same time.
4. Eclectic Queen Anne Leg Desk
Jodi Bond of House on a Sugar Hill put together this super sweet desk all with a few supplies from Home Depot. After assembling the table, the color came from a few coats of Rust-Oleum spray paint. Getting creative with your desk's color and shape makes for the perfect accent piece.
This three-cubby, plywood desk built by home decor and DIY blogger Erin Spain is industrial and utilitarian chic. We love the addition of an acrylic chair and matching metal lamp.
6. Simple and Bright Wall-Mounted Desk
Floating desks, like this dreamy minimalist version from Julie of Lavender Julep, save space without cramping your style. Keeping the desk simple and decorating around it allows you to make changes when you get bored of your current setup. All it takes is a piece of wood and brackets to create a platform that'll bring you years of use.
7. Chalky Finish Paint and Wax DIY
Found the perfect desk, but can't stand the color or finish? Well, that's an easy fix. Stephanie from My Seattle Farmhouse upgraded this desk with chalky-finish paint and a wax finish to make it better suit her bedroom. If you're not keen on building a desk from the ground up, simply give an old item a new life.
Painting an accent wall to go with a DIY desk instantly elevates the space. Amanda Smith of @dreaminofafarmhouse shows how a double desk can be made from a wood platform and drawers—making a double workspace (or homework station) that looks super cool.
10. Storage Cabinet DIY Desk
This minimalist desk involves a sheet of glass or plexiglass resting on top of two slender wooden sawhorses. Add more functionality with a storage cabinet underneath.
14. Chic Minimalist DIY Desk
For a cohesive look, pair vintage sawhorses with a salvaged wood top, à la the desk above from Vintage Piken for KK Living.
Additional reporting by Carolin Lehmann