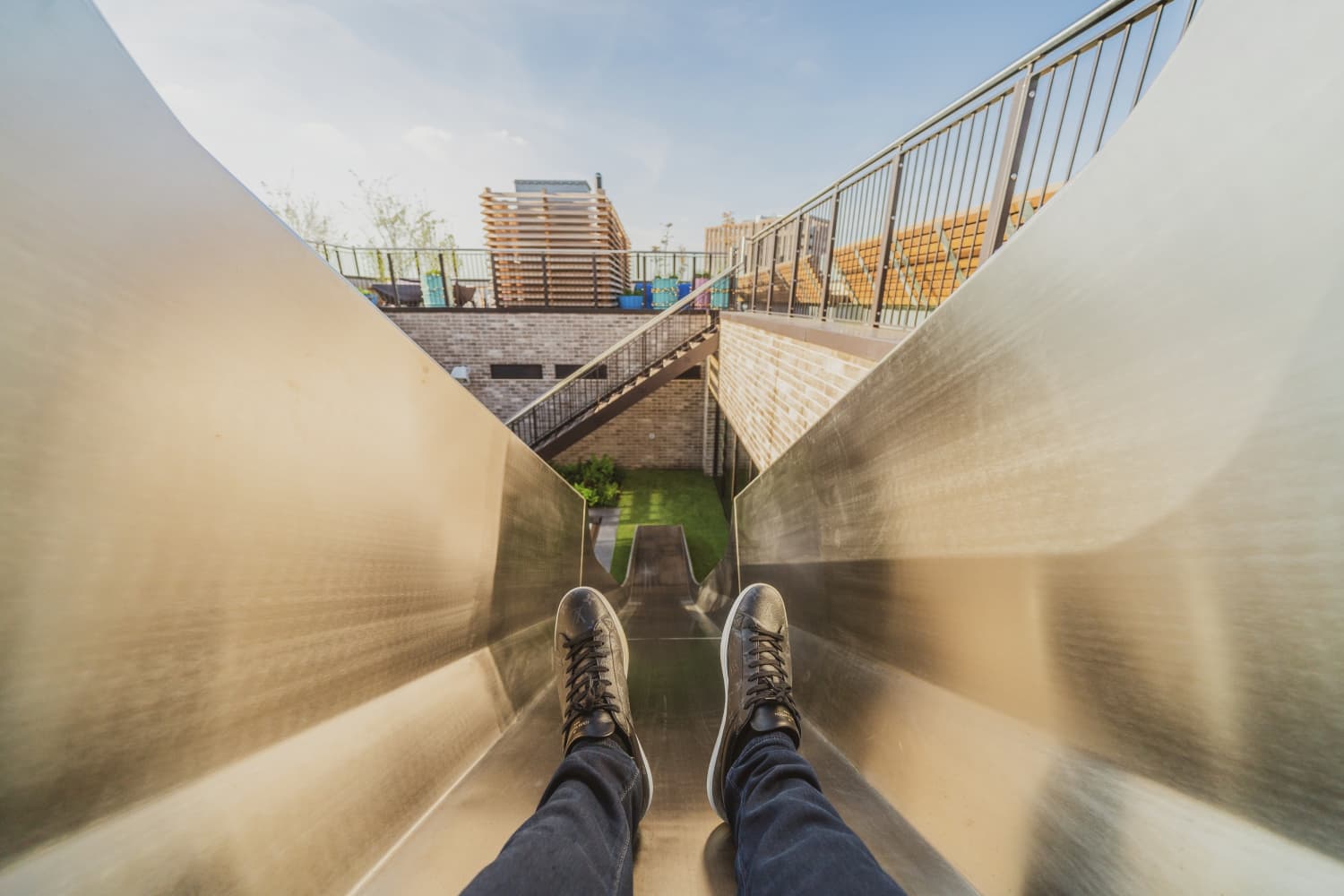 From Quintain Living, The Robinson is the latest built-to-rent apartment building in London's Wembley Park. The quirkiest building to date, The Robinson prides itself in its "anything but conventional" homes as eccentricity takes center stage.
One of the standout features of the building is the giant slide. Open just in time for summer, residents can add a little bit of playtime fun to their day as they slide from the main roof terrace to the courtyard that's 7 meters below.
While the slide certainly adds an element of playfulness and quirkiness to the building, it doesn't just stop there. The building's social spaces take bold inspiration from British pop culture.
In the lobby, the colorful striped post boxes are inspired by British fashion designer, Paul Smith, and the poles are all wearing Dr. Martens. There are also space-age chairs that float beneath a glittering disco ball, making every walk in and out of the building a party.
In the main resident's lounge, there are many unique and unexpected elements in the space, including a multi-layered art wall and a Damien Hirst-inspired London taxi that has been converted into a coffee bar.
The John Lennon-inspired peace garden is the perfect place to head after a long day working from home in the custom-made camper vans, complete with power, lighting, and WiFi.
Also outside is the Mad Hatter's Tea Party Garden. The whimsical space features crystal-style chandeliers, festoon lights, and giant brightly colored flowerpots.
The Robinson offers studio to four-bed apartments and prices start at $1824.57 (£1320)/month.