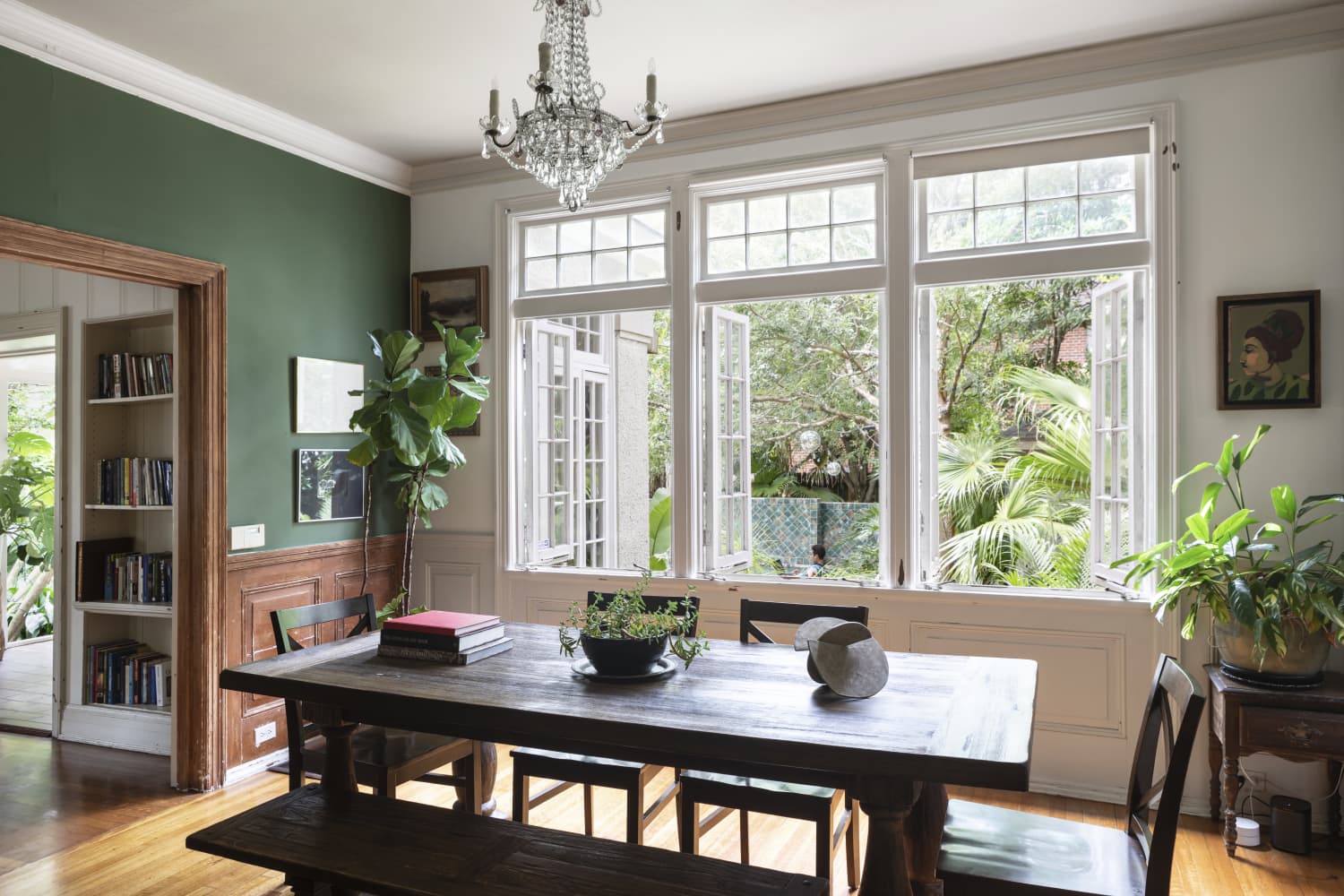 We independently select these products—if you buy from one of our links, we may earn a commission.
Name: Diogo DeLima, Michael Hahn, and their dog Trigger
Location: New Orleans, Louisiana
Size: 2400 sf
Years lived in: 7 years; rented
Mellow Brazilian music is playing throughout Diogo and Michael's New Orleans home on a sunny summer day. Open windows offer a view of live oaks, banana trees, and palms everywhere you turn. The verdant surroundings, along with house plants in every room, blur the lines between inside and out.
In a city where most people seek refuge from the heat inside of sealed, air-conditioned spaces, feeling a breeze inside a home—however slight—is a welcome change. Diogo, who was born in Brazil, explains that the windows were painted shut when he moved in seven years ago. Along with stripping the paint from the wood walls with a scraper and heat gun, he made all of the windows operable. "It would be a tragedy to have these beautiful windows without function," he says. "To feel the heat brings you closer to nature; you're accepting it."
Before Diogo moved in, the 100-year-old Spanish Revival home looked like a frat house. There were couches everywhere, different colors on the walls in every room, and the yard was a wreck. "The owner didn't love the house," he says. "Nothing was taken care of. I saw potential, but the vibe just wasn't right. There was contradictory energy between the things in the house and architecture."
Diogo set out to give the neglected home the love and attention it deserves and seven years later, there's an enchanting quality to the place. Friends come and go freely and have nicknamed the house "tropical seclusion". "People here feel very at home and free," Diogo says, "it reminds them of vacation places." The lush, beautifully landscaped backyard is the perfect setting for parties. In fact, it was were Diogo and Michael first met in 2017. Michael attended a party with a mutual friend, then romance eventually led to marriage. "At least three other couples we are friends with have met right here in this yard," Michael says with a smile. "The walls come down and people lose track of time when they are here," he adds.
Michael, an engineer, is the perfect creative collaborator for Diogo, a choreographer and contemporary dancer. When they started living together, they decided that instead of buying furniture, they would invest in tools and build the things they needed. Together they have designed and built a platform bed, the frame for their sofa, and all of their outdoor furniture. They describe their method as focused, efficient, and fast. "Constantly working on a project is part of making a home. Once you've put a lot of hours into it," Michael says, "it makes it feel like home. We've really enjoyed the process."
The men describe their style as organic, eclectic, and masculine. The decor, they say, is a cohesive mix of their values. "To us, home is a sacred place. We pour good energy into it, design spaces intentionally, maintain it constantly, and fill it with friends, family and love—and, it works! The result is a space that gives back! It has a warm feeling that at once inspires and makes you feel welcome."
Apartment Therapy Survey:
Inspiration: Places around the world that we have visited that have a feeling of home
Favorite Element: Natural light and plants. The Spanish Revival architecture features open spaces with lots of light. When plants are added, it creates a feeling of relaxation and of being outside while indoors.
Biggest Challenge: The biggest challenge for us was to honor the architecture of the home while making it unique and ours—we wanted our style to be elegant, yet relaxed—to create a place which is beautiful, but still feels like home and which feels immediately welcoming to everyone.
Proudest DIY: Hand-crafted furniture in our house: the platform couch, bed frame in master suite, and outdoor furniture.
Biggest Indulgence: PLANTS
Best Advice: Make your home your own—truly find the things that reflect who you are and which make you feel good—try new things and see how they fit! Let your home grow and change as you do.
What's your best home secret? Brazilian hospitality goes a long way. Simple gestures like making coffee or offering fresh fruit help people feel welcome and at home.