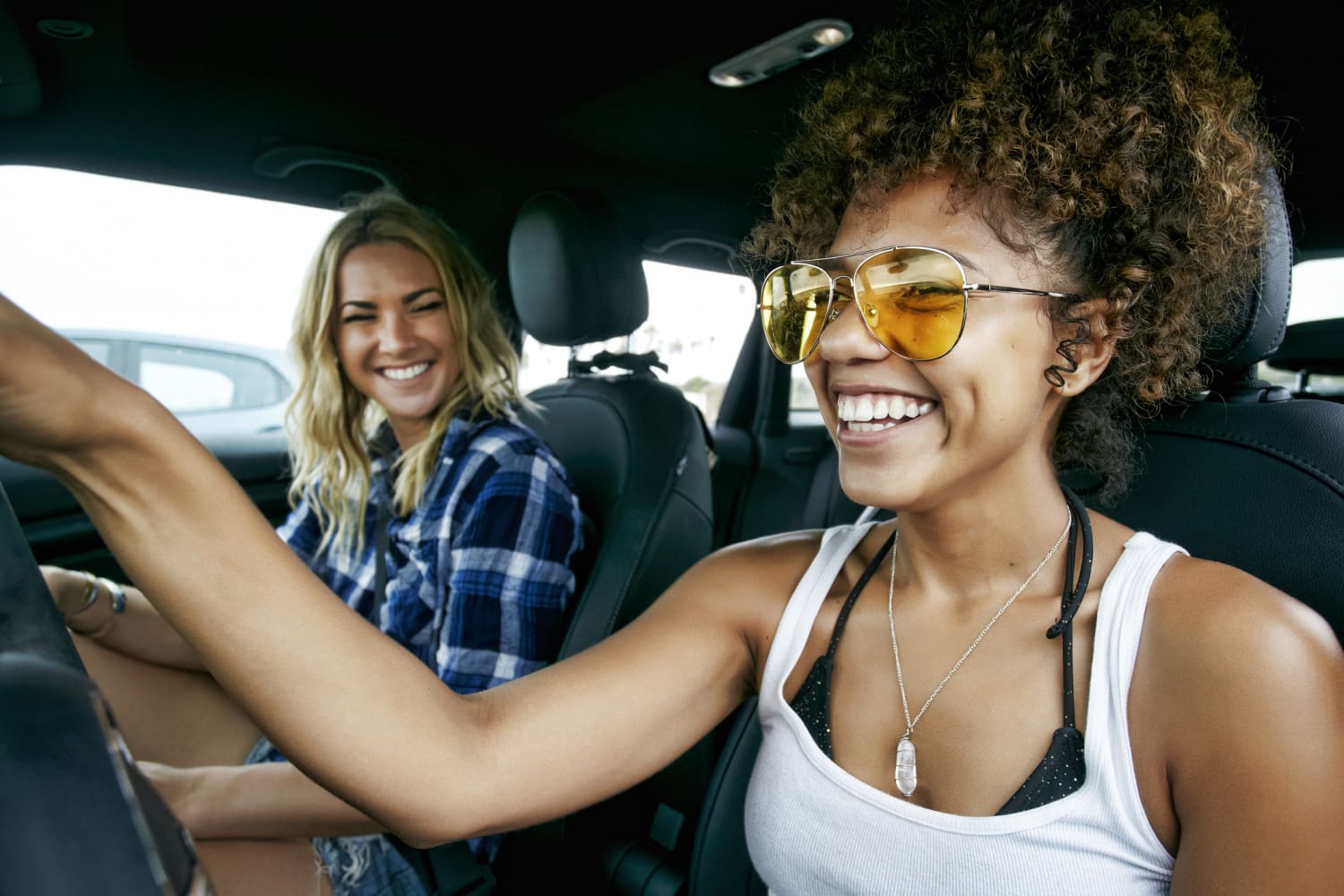 We independently select these products—if you buy from one of our links, we may earn a commission.
Summer is here, and there's no better time to hit the open road than these next few months. From meditative solo car rides to family-friendly road trips or choose-your-own-adventure drives with your crew, there's something so fun (and kind of retro?) about allowing the road to steer you in whatever direction feels right at that moment.
First up on the to-do list, though: packing your car to the brim with road trip essentials that will make your ride seamless, stress-free, and actually stylish. Think: gear that helps you organize the chaos of a week's worth of luggage, items that keep your car from turning into a giant trash bag, safety must-haves for those "just in case" moments, plus some cute stuff just because.
If you're tired of fishing around for your bag from the front seat, one arm waving behind your back like some sort of game of pin the tail on the donkey (or, more like, "Where did I put that phone charger?"), then I'm here to say: I see you, and I'm here for you. Enter: These (pretty chic) car bag hooks. Simply latch them around the bars on your headrest and hang your bag over the back of the seat. Not only will you always know where to find it, but you'll avoid the annoying issue of everything chaotically spilling out all over the floor during a sharp turn.
Buy: AMVOYOA Purse Hooks for Car, $12.99 from Amazon
Forget tacky cardboard trees that elicit a migraine almost instantly. (Seriously, what are those supposed to smell like anyway?) There's a much better and prettier way to upgrade your car's scent: this cute wood diffuser. Made from natural rosewood, you simply add a few drops of your favorite essential oil blend into the center of the "blossom" and allow it to seep through the rest of the wooden surface. Clip the piece onto the air conditioning vent of your car, and boom: instant on-the-go spa.
Buy: Blossom Wood Diffuser for Car, $16 from Vorda
Make sure Fido has a safe place to perch with this pet booster seat designed especially for your favorite fur baby. Designed to be easily installed into any car, it helps small pups (up to 30 pounds) see out the window better and keeps them to one spot in the back seat. Bonus: If you're a pet parent to a serious shedder, this will stop at least a bit of that fur from making its way onto your car's upholstery.
Buy: HDP Deluxe Lookout Dog, Cat & Small Animal Booster Car Seat, $40.99 from Chewy
For remnants of the day's adventures, pull out this bite-sized Bissell handheld vacuum. The bagless style is super compact (it weighs less than two pounds) and charges on the go using a USB port, so it's the perfect secret weapon against beach sand, hiking dirt, food crumbs, and any other dirty delights your travels dredge up.
Buy: BISSELL AeroSlim, $39.99 from Target
Keep your little ones (and all. Their. Things.) organized with this playful pouch designed to hang onto the back of a seat. With designated pockets for things like sippy cups and tissues, plus plenty of room for road trip lifesavers like — gasp — technology, it will most certainly reduce the number of times you're forced to turn around and attend to the demands of tiny humans.
Make your car cuter and easier to clean with these acrylic pressed floral car coasters. Available in 2.8-inch and 2.5-inch sizes (the measurements of most car cup holders), these handy accessories easily slide in to protect your ride from soggy cups and spilled drinks.
Corral all those empty drink cups and fast-food wrappers in one neat location with this handy car trash can. Designed to hang onto the back of a seat, it's leak-proof, waterproof, and guaranteed to keep your car at least a little bit more presentable after miles on the road.
Buy: HOTOR Car Trash Can with Lid and Storage Pockets, $12.99 from Amazon
Add a bit of homey cheer to your ride with this clever, clippable vent vase. You can fill it with water and drop in real blooms, but if you're a bit of a stop-and-go driver, you might consider forgoing the liquid and switching to faux stems. Either way, it's a charming and sweet way to add a special, vacation-worthy touch to your trip.
No matter how comfy your car, you're bound to start feeling a little sore around hour nine or 10 of sitting. Help soften the blow (literally) with this seat cushion from mattress company Purple. It uses the same technology as their sleepers (think: hypoallergenic foam and their patented "grid" shape) for an upgraded vehicle perch.
Buy: Foldaway Seat Cushion, $39 from Purple
There's no worse road trip woe than springing for a jumbo gas station iced coffee only to find it doesn't fit into your cup holder. (Well, maybe there are a few worse things — a flat tire comes to mind.) Ensure your car is ready to accommodate whatever size of caffeine you need with this cup holder expander. The smaller base fits into your car's existing holder, while the top mount accommodates everything from a Starbucks Trenta to your beloved Yeti.
Buy: PFCC Car Cup Holder Expander, $19.99 from Amazon
Leisure Co's all-weather fleece blanket may just be the handiest thing you pack for your road trips this summer. Made with a completely waterproof outer shell, this cozy throw is perfect for spur-of-the-moment picnics, beach days, bonfire cuddles, or just staying warm when your road trip partner blasts the AC.
Buy: All-Weather Fleece Blanket, $36.99 from Leisure Co
This impossibly cute silverware bundle (available in three sorbet-colored shades) eliminates the need for wasteful plastic cutlery during your next fast-food excursion. Since you're probably going to stop at more than a few roadside joints on your next trip, we're guessing it'll come in handy.
Buy: Pocket Utensil Set, $15.99 from Zoku
OK, this AAA-approved safety kit may not be the most stylish thing, per se, but safety definitely is. So pre-road trip, set your mind at ease by packing your trunk with the kit, which is chock-full of important accessories like jumper cables, a flashlight, cable ties, a first aid kit, ponchos, and more.
Buy: Lifeline AAA Premium Road Kit, $25.59 from Amazon