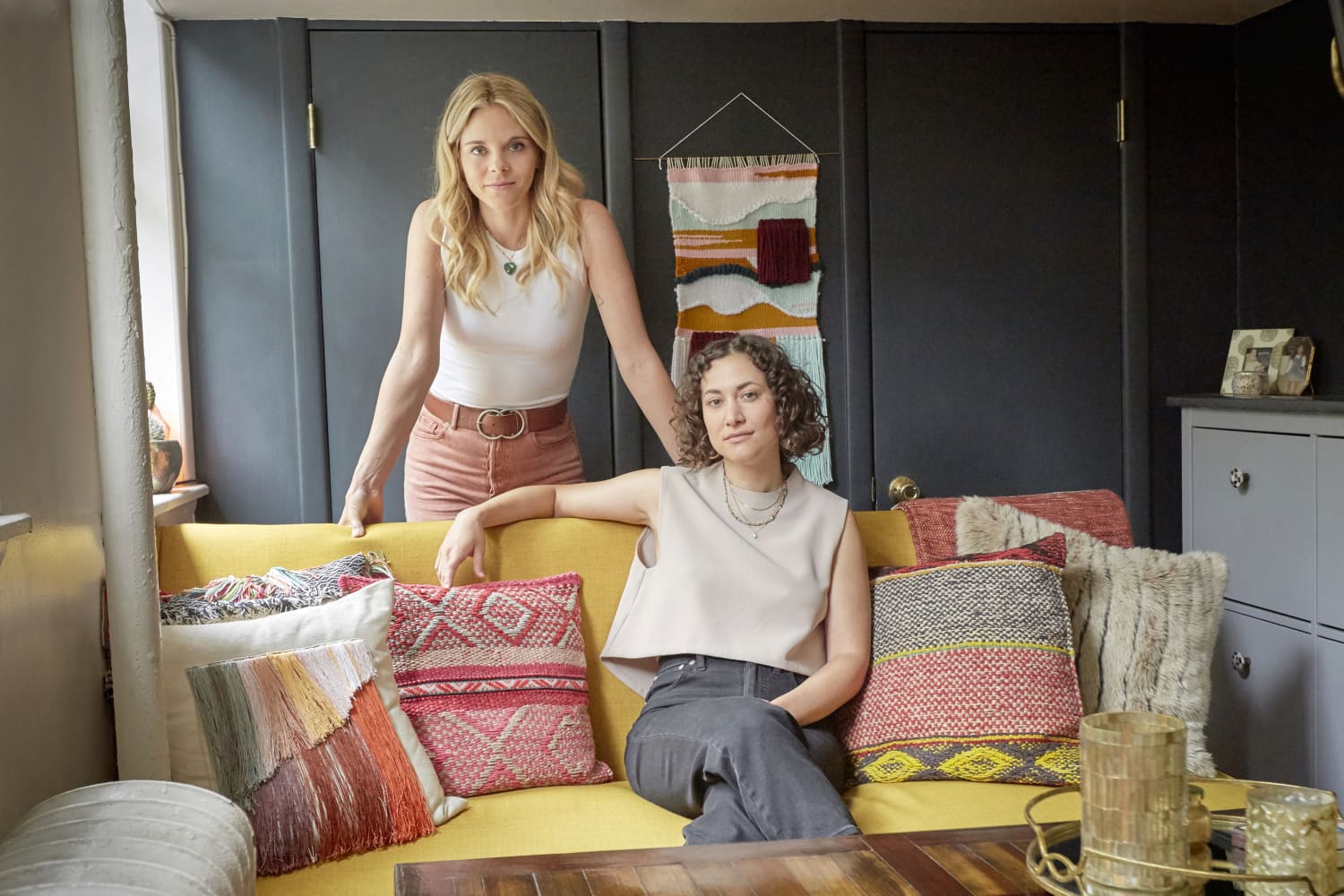 Name: Courtney and Jules
Size: 248 square feet
Type of Home: Studio Apartment
Location: New York City, New York
Years lived in: 2 years, rented
Courtney and Jules are the winners of this year's Small/Cool Teeny Tiny bracket with their West Village studio apartment; it's a cozy, organized home in an incredibly small 248 square feet. Rather than being limited by their small square footage, they've maximized every inch, adding color and warmth through both functional and stylish decor, and creating a home that is both highly personal and lovely to look at.
Our Small/Cool 'Teeny-Tiny' Winners' 248 Square Foot NYC Studio
There are plenty of examples of how Courtney and Jules have optimized everything in their rental. Their favorite DIY — an IKEA shoe cabinet-turned-dresser thanks to a paint job, new mother of pearl knobs from Etsy, and metal sheets of aluminum from Home Depot — serves the dual purpose of being a slim storage space in a compact area while also being a visual focal point. A vintage piece in their living room, an old mail filing cabinet from the Brooklyn court house, stores all their odds and ends like pens and paper, games, cords, medicine, and more.
You have to get unconventional when dealing with a small space; for example, the couple keeps their pans in the oven when not in use. The small kitchen footprint does mean cooking a meal requires a bit more planning and strategy than it might in a larger size space. And even though it can take a little longer to hunt down the perfect item, they've invested in objects that are both aesthetic and functional, like the great set of knives on display in the teeny kitchen.
"I think in downsizing, it really has been a 'if you don't love this it has to go,'" Jules says in their video tour.
The couple hasn't let their small home restrict how much color they bring into the space; a dramatic wall paint makes the seating cove and loft feel extra cozy, and a yellow sofa and red chair bring in bold bursts that enliven the space. Art and objects that remind them of their time spent on a West Coast desert road trip combine for a dreamy home that's just the right mix of personal and functional.
". . . I feel like this tiny little space, even though it's just one room, is everything I need. I love coming home," Courtney says.
Apartment Therapy Small/Cool Survey:
Favorite Element: Our favorite thing is probably the overall treehouse, bungalow vibe, this oasis in the middle of the city!
Biggest Challenge: The biggest challenge of the space is definitely the size, but more importantly, making that size work for two! It's not necessarily the living space, as the apartment tends to feel larger than it is, but the storage in this particular setting. We've tried to optimize however possible with only keeping what we really love, but changing things within the space to account for every single inch (built-ins with clever coverings to meet the aesthetic, a storage coffee table, drawers upon drawers in our "entertainment center").
How did you use color in your space? We both separately value and employ color in a variety of ways day to day, so when we decided to merge into one household, it was important that we keep our prized individual pieces — pillows Courtney collected from South American travels, a wall hanging made by Jules — as well as introduce new ways to add to that color, a tricky feat for a single room. We each independently, but not surprisingly, decided on the mustard futon (a big priority given visitors of days' past), giving us the added pop against the charcoal-blue wall, and were thrilled when it so effortlessly blended all of our pieces.
Describe your space: Situated in the heart of the West Village, we feel beyond fortunate to have stumbled upon this space. Courtney loved living here first, but when Jules moved in, the space only improved, both aesthetically (by desire) and functionally (by necessity). We love that despite the madness of the city, it feels like a safe haven, cozy and warm. We're learning to live with less, optimize more, and really embrace the notion that despite minimizing, we can live in artistic and uncompromising abundance.
Did you DIY anything in your space? And, if so, what's your favorite DIY? Most of the space is a DIY, beginning with removing built-ins, carpeting the loft, changing the kitchen cabinet color and hardware, and painting every wall. In addition, the thing we're most proud of is the IKEA Hemnes shoe rack that, after endless searching, seems as if it was made especially for our tiny, awkwardly sized wall. Once white with silver hardware, we painted the Hemnes to reflect our color palette, resurfaced the top with metal edging, and adorned the piece with mother of pearl knobs to provide us with a dresser, one thing we desperately needed when creating our first shared home.
How do you make your small space work for you and feel bigger than it really is? With one person living in 248 square feet, it's important to optimize space, and with two people, it's imperative. We store our books in the fireplace, custom cut aluminum sheets to conceal our storage shelves of luggage and other infrequently used personal items, use another shelf as our "bar cart," maintain the organization of every drawer of a repurposed vintage storage cabinet from the Brooklyn Courthouse, and use a dual-purpose cedar chest built by Courtney's dad for linens and more. There isn't one inch of this place without purpose!
What's your absolute best home secret or decorating advice? Our absolute best home secret or decorating advice is to take your time making a space that works best for you (and pleases you)! Don't rush into anything for the sake of filling space, some goodies are unexpected, and can be found in the strangest of places!
Thanks Courtney and Jules!
This house tour's responses were edited for length and clarity.