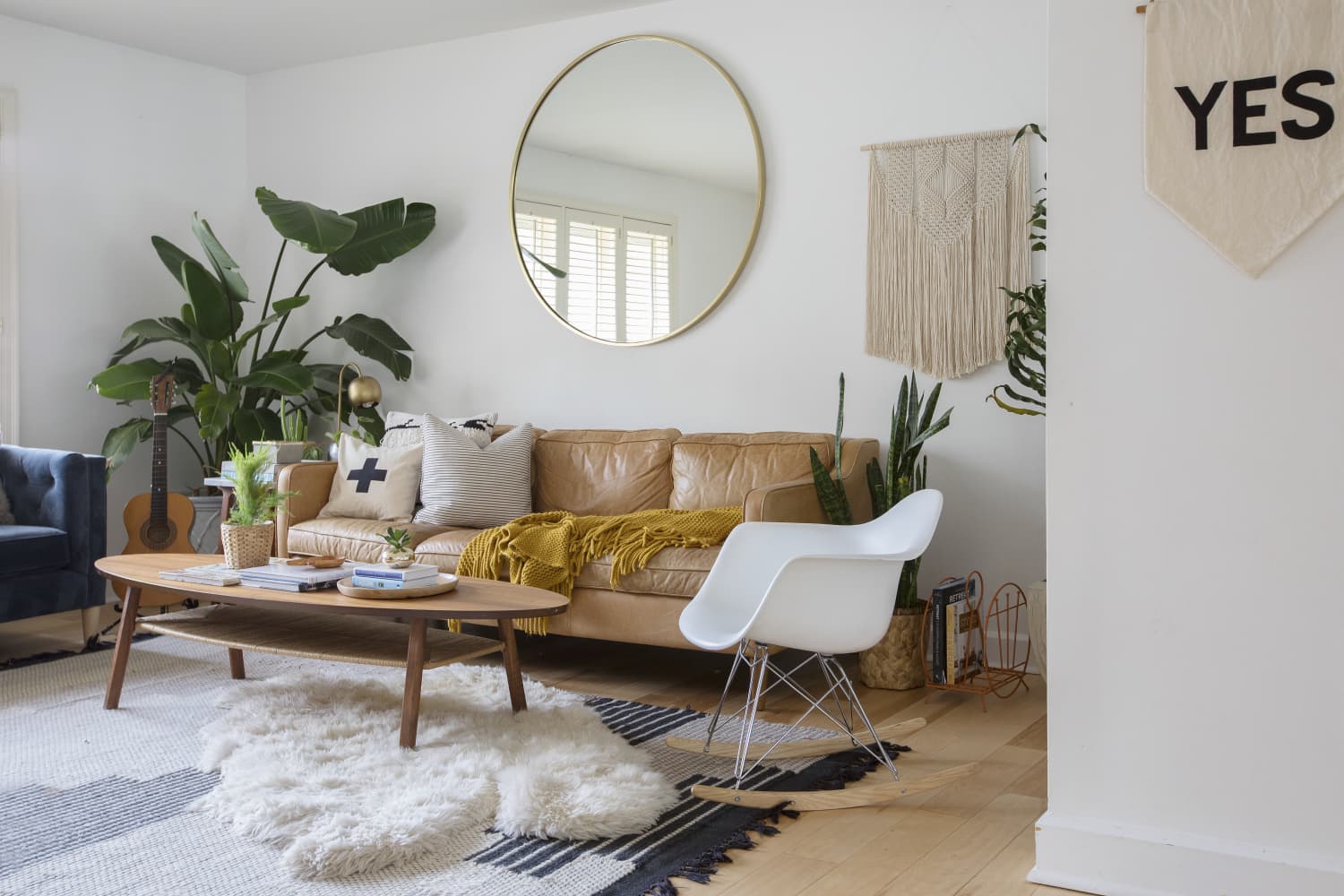 Anyone who's ever tried to buy a large-scale mirror — or sometimes even just a small one — knows that the cost can be a bit unwieldy. But there's a quick and easy solution that still gets you a great piece for your living space at a low cost: buying one secondhand.
Home stagers and other real estate professionals contend that mirrors are the one living room accessory you should always buy used. Not only are they often in pretty good shape, but used mirrors can be a fraction of the cost of what you might pay for a new larger format mirror. Here's what you need to know.
Why You Should Buy a Secondhand Mirror
Aside from saving money (which is probably the best thing about buying used), you'll also be saving the environment by keeping an old mirror out of a landfill.
Stacey Herman, founder of Stripe Street Studio, also notes that a lot of secondhand mirrors are pretty unique and come in discontinued styles — which means if there's one you used to like, you may be able to find it again. Plus, she says, restoring a mirror is "a fun family bonding project… creating memories is important, and you'll have something to cherish once it's restored."
See What the Internet Might Reflect
When you're buying a mirror secondhand, make sure to do some research online. Find a mirror similar to what you're looking for and check the prices — and then look for secondhand ones that are about 30 to 50 percent less.
"Leaning mirrors can cost $600 to $1,200, especially when they are recognizable styles like the Instagram-popular Anthropologie mirror or from a pricey brand like Serena & Lily," says Annabelle Brownell, a real estate agent with Torii, an app-based real estate company. "By purchasing a mirror secondhand, like on Facebook Marketplace, you can save a good chunk of money. It's a great way to have champagne style on a beer budget."
You can also check eBay, Craigslist, and any garage sale groups in your neighborhood for great deals.
Take a Good Look at Yourself
Just because you're buying something secondhand doesn't mean the quality needs to suffer. Pay special attention to the glass itself.
"When you are shopping, look for mirrors that have a clear reflection without distortion," says Angela Deniston, a strategic real estate advisor at Real Estate Bees. "Also, check for any chips or cracks — once the surface is compromised, it should be repaired or replaced to prevent further damage."
She also suggests watching for quality indicators: the thicker the mirror, the better; it should be nice and flat; and the back should be rigid so it doesn't warp. If you find a great piece of glass but don't like the way the frame looks, you can also always just repaint it to better match your style and create a piece that will stick with you for a while.
"A well-maintained mirror will stand the test of time," Deniston says.