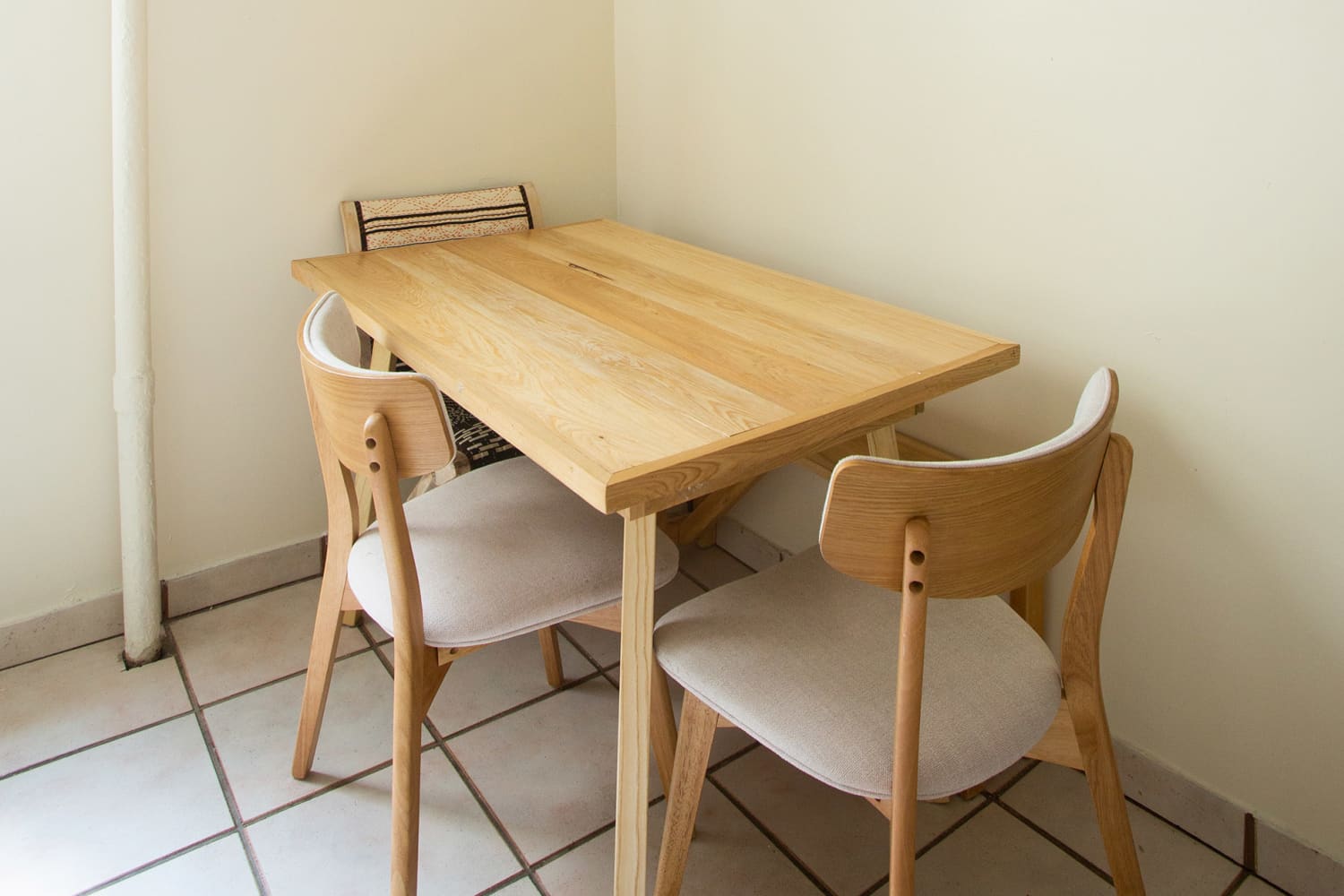 As a New York apartment dweller, Apartment Therapy contributor Erin Johnson knows how to make her space multitask: Her kitchen is also her office since she prefers spreading her work out at a table over working at a desk. Because she spends so much time at her kitchen table, she wanted the room to feel extra special and energetic. The walls were currently a blank canvas, and she knew just how she wanted to fill them: a geometric mural.
Murals are a great way to get creative with color, and they're excellent at adding just the kind of visual drama that Erin was looking for. (They're also easy to change or paint over.) We asked her how she went about it.
Tell us more about why you chose a mural.
"Because my kitchen table is also my desk, I need to love, love, love being in my kitchen. It needs to be a place I'm drawn to and feel good in. I knew that a mural would get me excited to be in this space. And geometric murals just look cool."
How did you find inspiration?
"I used the Apartment Therapy Vision Boards, powered by Sherwin-Williams®, which recommend paint colors based on any AT image. It helped me notice that I was drawn to straight lines and pastels, a popular color trend that also makes me feel nostalgic. They're peaceful and energizing at the same time."
How did you decide on the colors?
"I wanted them to flow well into the color I'd painted my living room, Comical Coral SW 6876. I used the Sherwin-Williams ColorSnap® Color Consultation, where I was able to speak live with a consultant for color advice. When I landed on my mural colors — Green Trance SW 6462, Demure SW 6295, and Silver Peony SW 6547 — I knew everything would flow. I also ended up using another suggested color, Coral Clay SW 9005, in my bedroom!"
How do you feel about the final result?
I love my mural so much! I've Instagrammed it so many times, and I can't wait to feed my friends in front of it, too.
Do you notice a difference while working from home?
It's made working from home much more enjoyable, because I love being at my table in front of it. If I need a little brain break, I just look up and it makes me smile. The colors give my brain cells a gentle little kick and then I'm back to being productive.
What would you say to someone who wants to try a similar project?
It really doesn't take that long. The hardest part is deciding on a color. And it's all worth it when people enter the apartment and say, "Wow!" Honestly, when I enter the apartment I still say, "Wow!"