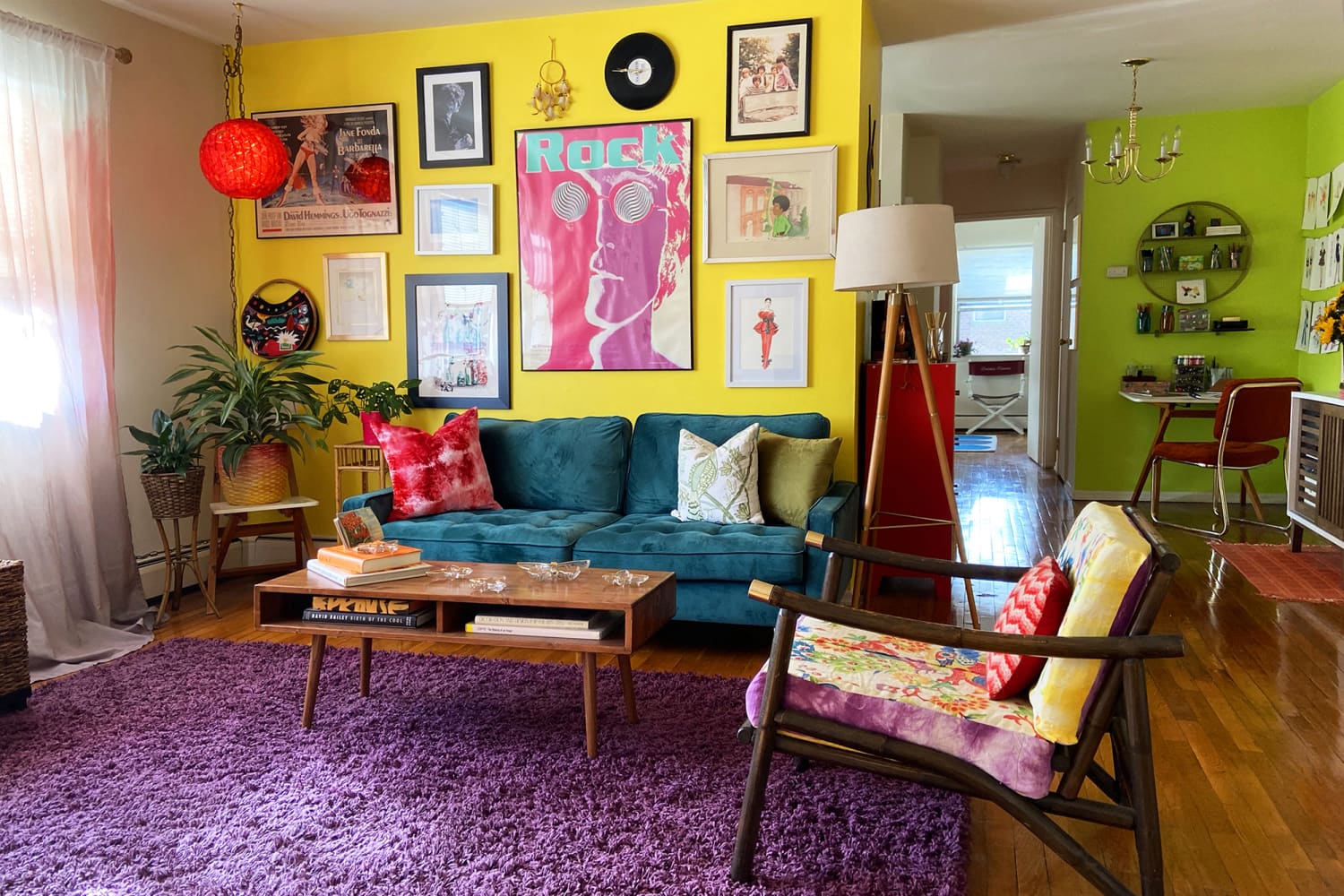 We independently select these products—if you buy from one of our links, we may earn a commission.
Name: Stacey Appel and my cat
Location: North New Jersey
Type of home: Apartment
Size: 760 square feet
Years lived in: 4 years, renting
Tell us a little (or a lot) about your home and the people who live there: I have a background in wardrobe styling and have always been into interior design. But when I was hired as a visual merchandiser, it made me see space and sightlines in a completely different way. So when I moved into this apartment, I took a very different approach to assembling the rooms. In the past, I would just eyeball placement of gallery wall pictures and furniture. Now I measure EVERYTHING! I've also picked up a lot of carpentry skills at work, so I am not as intimidated hanging a floating shelf or rewiring a vintage lamp. The majority of the things in my apartment are secondhand (either thrifted or handed down).
Since I was a teen, I've adored '60s and '70s fashion and interiors (and pop culture in general). My favorite movie is "Cactus Flower" from 1969, starring Goldie Hawn. Her pad in that film is fun and colorful with lots of textures and patterns, a little psychedelic — it's hugely influential on how I did my own living room. I also love Mary Richards' iconic apartment on "The Mary Tyler Moore Show," which has also inspired me. I have a huge collection of interior design books and magazines from the 1960s-1980s and I reference them often.
Describe your home's style in 5 words or less: Colorful, DIY, secondhand, '70s, arty
What is your favorite room and why? My living room, because I'm very proud that I actually painted the walls, which I'd never attempted in any other apartment. I'm really happy with how they look when I stand at the front door. I purposely wrapped the yellow color from the gallery wall around the corner to echo the way I painted the green wall back at the art nook (something I did to visually create a separate space without a physical room divider).
What's the last thing you bought (or found!) for your home? I bought a print by one of my very favorite artists, Sophie Griotto. I do illustration and like to decorate my space with art that motivates me to create and experiment. Sophie is so inspirational that one look at that print and I'm ready to paint!
Any advice for creating a home you love? Take your time, don't try to decorate the whole space at once. Choose pieces that feel good to you, not what everyone else is doing on Instagram. You'll know it's the right couch or right lamp if you feel the warm fuzzies deep down and a little voice in your head that goes, "That's the one!"
This submission's responses and photos were edited for length/size and clarity.