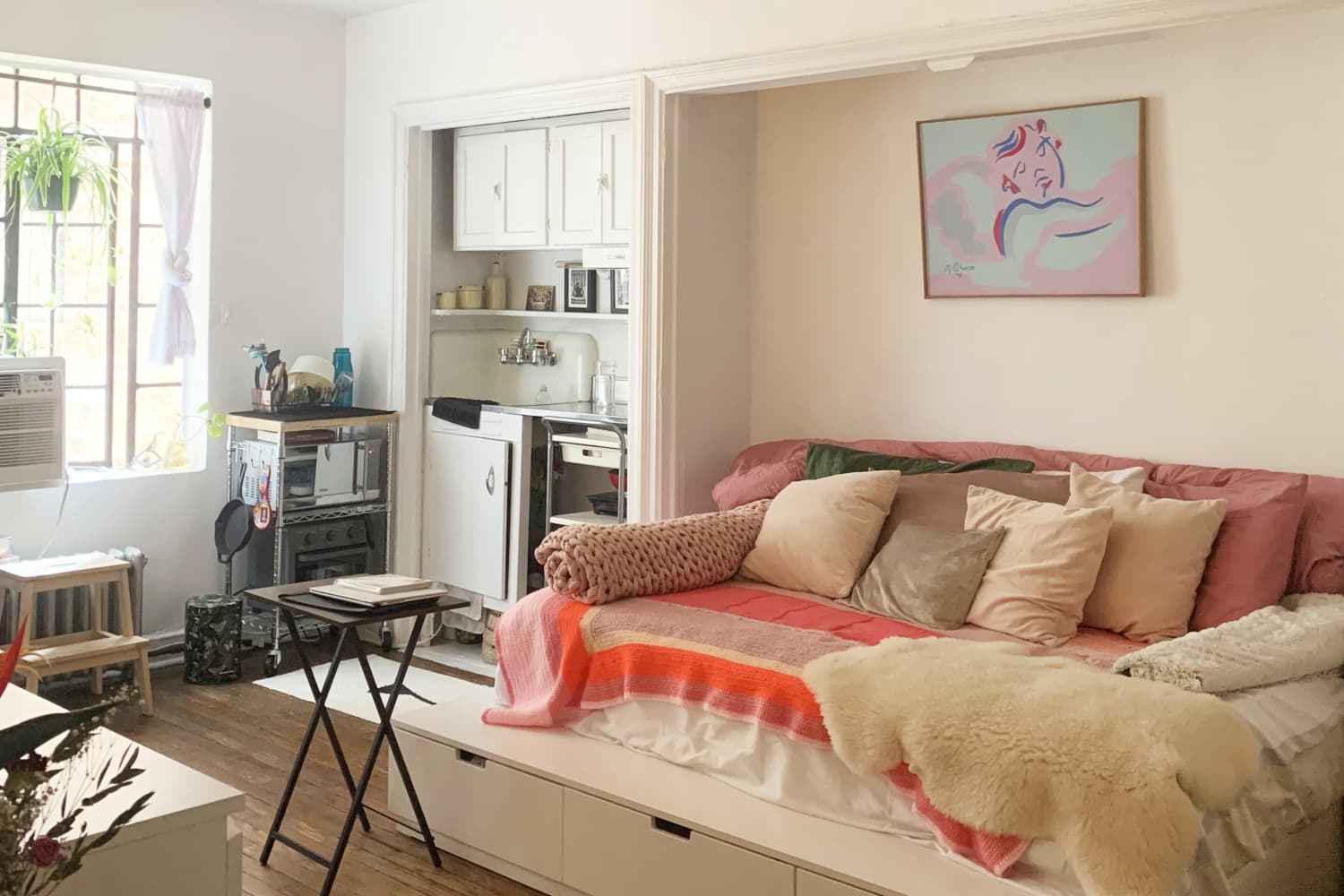 We independently select these products—if you buy from one of our links, we may earn a commission.
Name: Barbara, with some plants and a little bike
Location: Midtown, Manhattan, NYC
Type of home: Studio
Size: 170 square feet
Time lived in: 4 months
Tell us a little (or a lot) about your home and the people who live there: I live in an ultra small 170-square-foot studio in Manhattan, a hidden, elevated part of Midtown. On one side you have a view of the United Nations and Long Island City, on the other side you can look down a street and see all the way straight up to the other river. Because we're high up, we can see all the buildings better as well. I moved here from a very large two-bedroom about four months ago and have been adjusting to living so small. I picked this apartment because of the proximity to everything. I wanted to be closer to work and school. I am a full-time student and I work full-time so living somewhere that allowed me to not have to travel very far to either of those places was very important. I've never lived in Manhattan before and although the smells, sounds, bustle, and grime turned me off as a commuter, as a now resident, I've grown to appreciate the thick patina of vibrancy Manhattan has, even if it's paved in a little sludge. I love it.
I am half Mexican and half white and the family that I grew up in, is from Puerto Rico so I have a sort of confused sense of identity that finds its way into my home through objects. The white side of my family is mostly Irish Catholic and because of that, I have an affinity for religious medallions, symbols, and Byzantine artwork. I collect Catholic and Christian symbols and art pieces despite not being religious. All the summers I've spent in Puerto Rico with my abuelos have made me love and appreciate plants. I've collected them for many many years. I have a growing collection and I think of them as pets. My color palettes at home are mostly inspired by movies. I like to buy the colors or similar things that I see in my favorite movies like "Volver," "The Double Life of Veronique," or "Amelie." If I see a lamp or bedding that I like, I'll try my best to find it and get it for my home. One of the coolest apartments I've ever seen in a movie was from "Take This Waltz" with Michelle Williams and Seth Rogan.
Describe your home's style in 5 words or less: Tiny, eclectic, intentional
What is your favorite room and why? My apartment is essentially one small room. Besides the bathroom, which I'd say is my favorite place. I always have a candle on, I love to buy nice smelling soap, and I spritz my towels with Lush Perfume. It always smells good and my neon sign makes it feel like a nightclub. My favorite part of it is my pink shower curtain that I got from Quiet Town Home.
What's the last thing you bought (or found!) for your home? Because I have no couch and only my bed, I use a million pillows to turn my bed into a couch every morning so that when I come home I don't immediately want to go to sleep after my long days at work and school. I roll up my blankets to make couch arms and I layer in as many pillows as possible so that I can sit up and work or watch a movie. The last thing I purchased were these dog bed pillows from 5 Below, which is similar to a 99 cent store. They work just as well as regular pillows and were an amazing 5 dollars.
Any advice for creating a home you love? Don't fill your space with things just to have them; make sure they give you a sense of belonging or joy. Marie Kondo your stuff! It really makes a difference in how you feel.
This submission's responses and photos were edited for length/size and clarity.