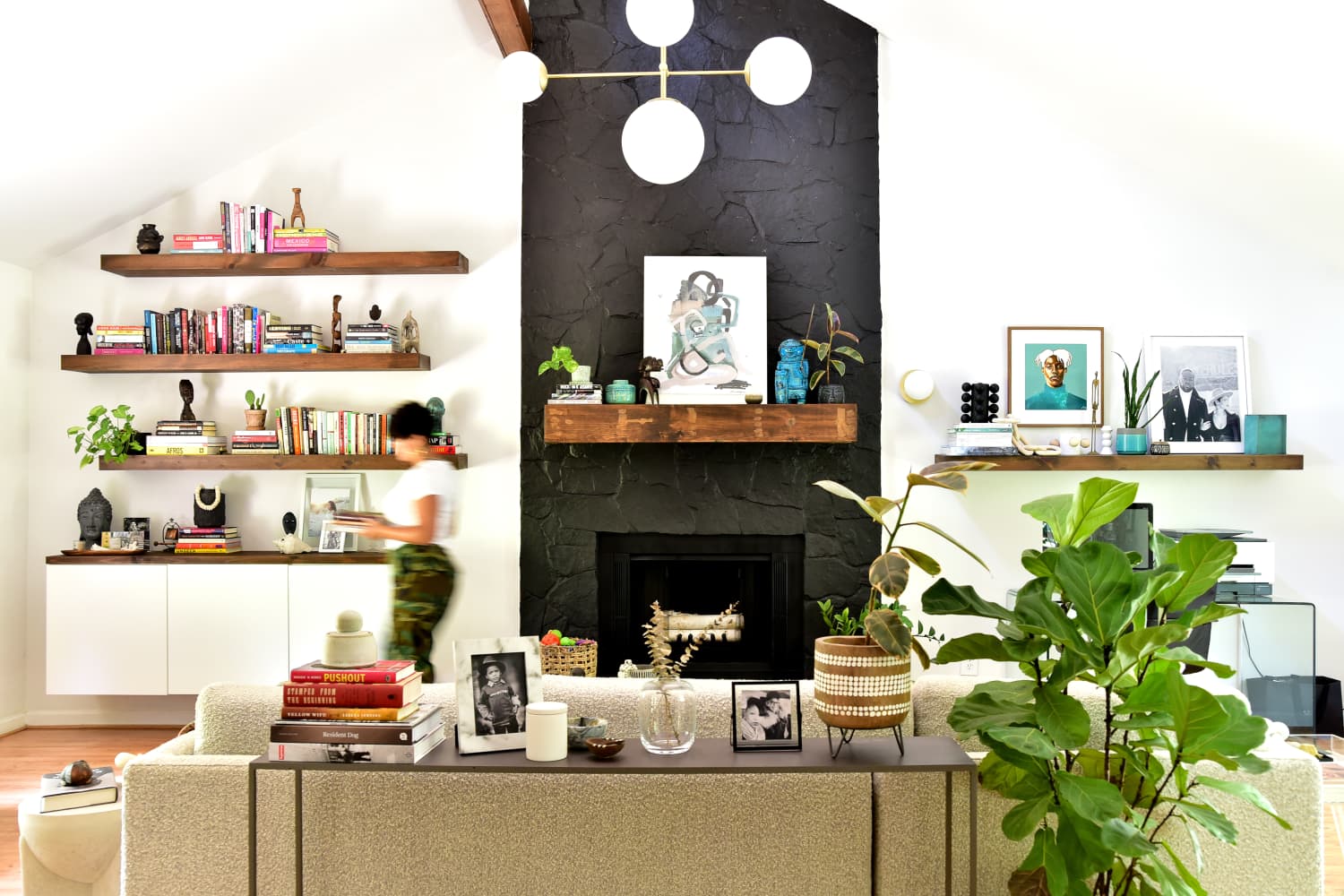 Name: Marie, daughter Zavia, son, Tayvonne, and youngest, Jakai. And two awesome dogs, Raleigh and Rocky.
Location: Raleigh, North Carolina
Size: 1750 square feet
Type of Home: Ranch house
Years lived in: 5 years, owned
When Marie, who works in finance, bought her home five years ago, it was in rough shape. [B]ut I fell in love with the bones, the backyard has this lovely creek in it, and I knew I could make it my oasis," she explains. "I have redone almost every single room, the bathroom, and the kitchen, as well as finished the basement and added a cute patio with a cedar hot tub. I've done many of the home improvements myself to save money and I just love how perfect my home is for me and my family."
Apartment Therapy Survey:
My Style: Eclectic, modern and layered with a global feel
Inspiration: I get inspiration from so many places, but mostly from when I travel. I see things differently and love to incorporate found objects from places I visit.
Favorite Element: My most favorite element is my African masks. I have an entire wall dedicated to them, and I call it my diaspora wall. When I see that wall in my home it just makes me happy and it gives me a connection to a land my ancestors were stolen from. It keeps me grounded.
Biggest Challenge: My budget. I swear I have expensive taste so I have needed to be more creative in what finishes I selected because I have had to basically renovate the entire home with my savings. So instead of marble — which I adore — in my kitchen, I went with quartz. Small changes like that really extended my ability to renovate the entire home.
Proudest DIY: My gym is my proudest DIY. I did everything myself. The hardest part was installing the wallpaper because it was the sticky kind, which is not as forgiving as traditional paper so that was a trial.
Biggest Indulgence: My cedar hot tub was my most expensive one-time purchase and it was totally worth it. It really gives me the natural tropical vibe I was looking for.
What are your favorite products you have bought for your home and why? My most favorite product is my Breville espresso machine because I am an avid coffee drinker and this just makes such amazing lattes that I have actually saved money.
Please describe any helpful, inspiring, brilliant, or just plain useful small space maximizing and/or organizing tips you have: I will say that because my home is small I have to be more intentional about what I bring into my home. I have started to do this thing where I have to take something out of my home if I bring something new in. It really makes a new purchase intentional.
What's your absolute best home secret or decorating advice? Art!! Buy the art. I truly believe that filling your home with art gives it its own personality and separates great homes from good.
This house tour's responses were edited for length and clarity.