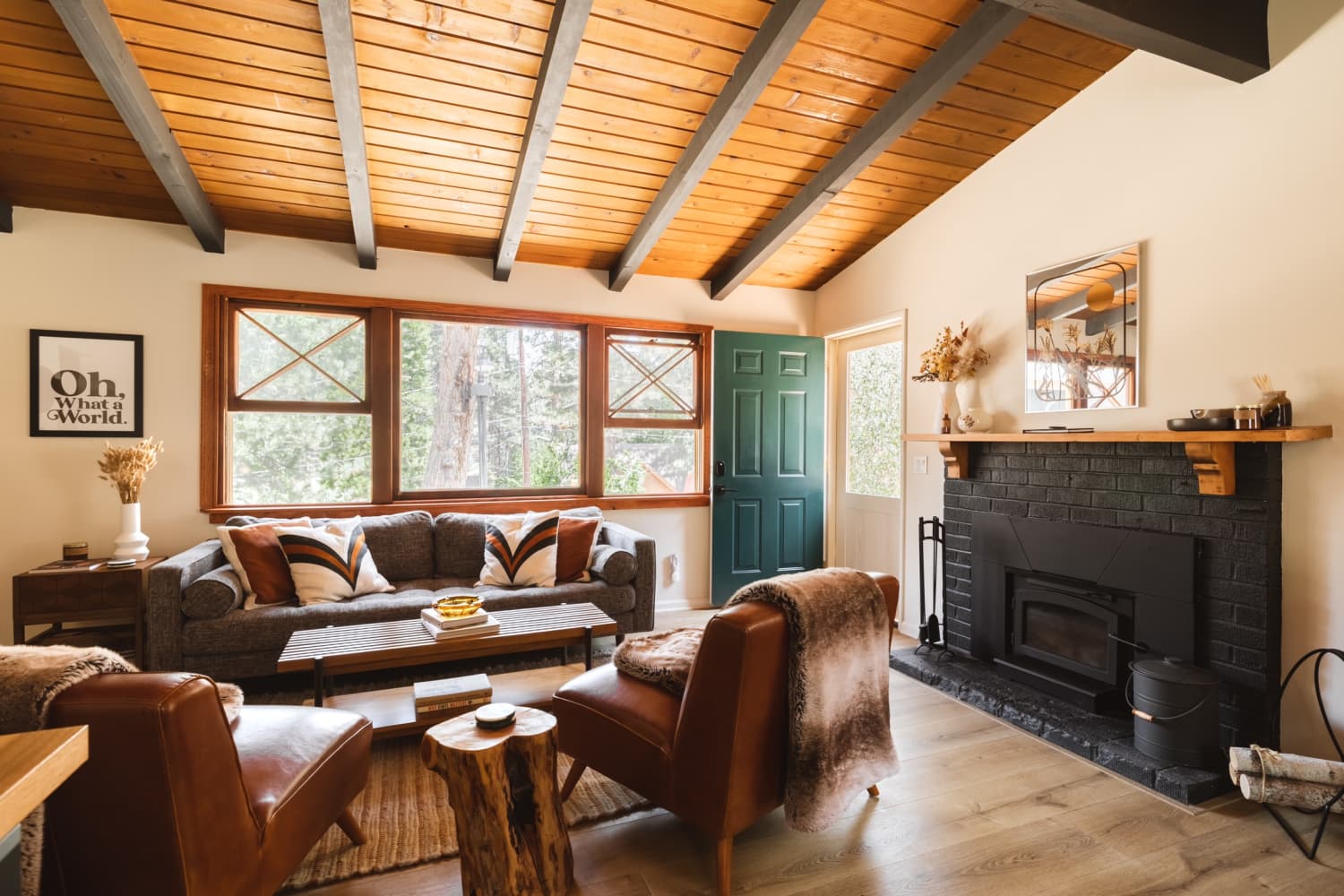 We independently select these products—if you buy from one of our links, we may earn a commission.
Name: Trent Vierra and my partner, Wesley Gray
Location: Big Bear Lake, California
Type of home: Cabin
Size: 600 square feet
Time owned: This is our second home and our vacation rental. We have owned it for just over a year now.
Tell us a little (or a lot) about your home and the people who live there: Harvest Moon Chalet is located in Big Bear Lake, California. We are perched on a quiet hillside forest super close to all the amazing outdoor amenities of our community. Our home is a cozy, Maltby-style log-sided cabin built in 1960, which gives it a quaint, early mid-century charm. In those days, mountain homes were simply built to help keep focus on the natural beauty we all go up to the mountains to enjoy. We've always kept simple, nature-inspired, and cozy at the forefront of our design, from bringing out the natural beauty of the cognac wood ceiling with contrasting dark beams, to our warm, autumnal mountain day inspired color palette; from cozy, textured touches throughout, to making a simple vintage mirror that unassumingly hung in the original cabin the new star of the show.
The focus here is truly on the outdoors and one of our best features is the massive front deck that looks out onto our forested hillside property. Having that open space brings nature right to the chalet and inspires us for future additions, like a tucked-away forest bathing sundeck nestled into the hillside. Oh, and we have a custom, original @verygaypaint mural on our storage shed to bring some art and beauty to what was once the most uninteresting (but practical) part of our property. We had been looking for a mountain home getaway for months and as the pandemic started in early 2020, we found ourselves having more time to finally find the right home, in the right place, for the right price, at the right time. Harvest Moon Chalet is first and foremost a second home for us and in using it as a rental property, we were really inspired to create an experience for our guests that is based on all the things we love to experience best when we visit.
We set out to create a space that people could come to in the mountains that was modern and simple, with natural and vintage touches that fit the vibe of a cabin in the woods. We seek to embody Kacey Musgraves' "slow burn" mentality. Light a candle, put on a record, and cuddle into a blanket, savoring each sip of your favorite beverage as the classic, warm sounds soundtrack a memory that'll one day be activated by the signature scent of the candle. We were inspired to create a place that was warm and cozy, reminiscent of the golden nostalgia of fall and of fading mountain sunsets. A place where ALL guests can feel safe, especially guests in our own community who may not feel that a trip to a small mountain town is for them. We want to change the idea of what visiting a cabin in the mountains can be like.
People often ask, "why Harvest Moon?" It's a very multi-faceted answer and is a story that we absolutely love sharing. Naming a cabin can be one of the hardest things. For us, we wanted something unique that spoke to the uniqueness of that space and community. The name was originally inspired by a vintage 1970s mirror that unassumingly hung in the original cabin and now hangs center stage above the fireplace. During our initial walk-through, we were really drawn to the mirror. Its wheat and moon motif, in signature '70s warm tones, was evocative and instantly made me think of one of my favorite Neil Young songs, his 1992 classic hit "Harvest Moon." After that walk-through, we drove back down the hill and discussed possible names. Harvest Moon really stood out. We put on the song. The song, while from the '90s, evokes Neil Young's classic country-folk sounds from the early '70s. It sounds like a crisp night in the mountains, just as summer ends and fall is in the air. It is hanging out under the stars and moonlight with the one you love most. Its melody gorgeously floats like the scent of warm pine on the wind. THAT was the vibe we wanted to go with for the chalet, so Harvest Moon it had to be.
Harvest Moon, being the nickname of the first full moon of fall, also invokes the autumn season which, if you couldn't already tell (haha), is our favorite season. The rich, warm tones of fall tie right into the rich, warm tones of the '70s, an era we love and one that ties directly to the mirror. That then became a driving design inspiration for the chalet. Rich, warm neutral tones of amber, gold, and cognac complemented by darker blues and grays. Harvest Moon also coincidentally gives reference to the area of Big Bear we are in, Moonridge, a name inspired by the way the moon gloriously rises over the lush ridges of the forest that surround our neighborhood.
We were inspired to create a space where ALL feel safe and welcomed, especially those who may not feel that a trip to a small mountain town is for them. As two gay men who that grew up in small towns out in the high deserts of California (me in Lancaster) and Arizona (Wesley in Prescott), we understand the hesitancy one may feel to visiting more rural areas, even here in California. We want to change the idea of what visiting this kind of place can be because we love this mountain community and want to share that with everyone else. Being out in the forest up in the natural beauty of the mountains is the best thing for your soul and spirit. Growing up in the high desert is also reflected in the design. There's a certain Western rustic-ness in the more nature-inspired details, like leather finishes throughout. We are also both huge lovers of autumn, the best season in the high desert (and the mountains) because the heat of summer is over, the leaves change, and a certain crisp chill comes into the air. You can see that love in the color palette and decor.
Describe your home's style in 5 words or less: Simple, nature-inspired, cozy, mountain modern.
What is your favorite room and why? My favorite room has to now be the bathroom because of our recently redone shower. We first did a "light" renovation in the bathroom during the initial renovation of the chalet. We replaced the toilet, vanity, fixtures, flooring (it used to be shag carpeting IN THE BATHROOM), and shower walls, as well as getting the old tub reglazed. We knew that long term we wanted a new and more modern walk-in shower instead of the old tub. After this past winter, we decided to pull the trigger and get the shower done. I had this crazy idea to do a '70s, golden hour sunset-inspired shower that was done in a color block ombré. We worked with Fireclay and ordered these beautiful matte glass square tiles. We debated between square and the more modern stacked rectangular tile look, but ultimately the square gave more of that classic '70s look, which paired nicely with the more modern touches like the matte black fixtures and glass partition wall. We kept the same charcoal hexagonal tile floor we had already done as, for whatever reason, hexagonal flooring always reminds me of a '70s ranch home, and in the charcoal black color, it's like a more modern version of it. The shower really feels like a luxury, high-end hotel experience now. The window brings in this gorgeous natural light that reflects off the matte glass tile, which really makes the whole space feel bigger and more beautiful.
What's the last thing you bought (or found!) for your home? So. Much. We recently got the new shower tile from Fireclay and glass partition of course. We also have refreshed our home with a beautiful new slatted wood coffee table from West Elm (as well as a couple new vases from them) and great new leather strap dining chairs from Amazon Home. We also added a great new Marshall speaker. Oh, and we've ALWAYS been huge P.F. Candles fans (they recently just featured us for their Comfort Zones series), so we are always buying and getting those products for our home.
Any advice for creating a home you love? Best advice for creating a home you love is to not be afraid to take design risks. If it is something that you love and you have a good feeling about, then go for it. Also, don't be afraid to reference your design influences and inspirations and use them as starting points for your own creative output. You obviously love those spaces and places for a reason, so let them serve as inspiration and influence. Just remember to put yourself into it with your own unique spin.
This submission's responses and photos were edited for length/size and clarity.