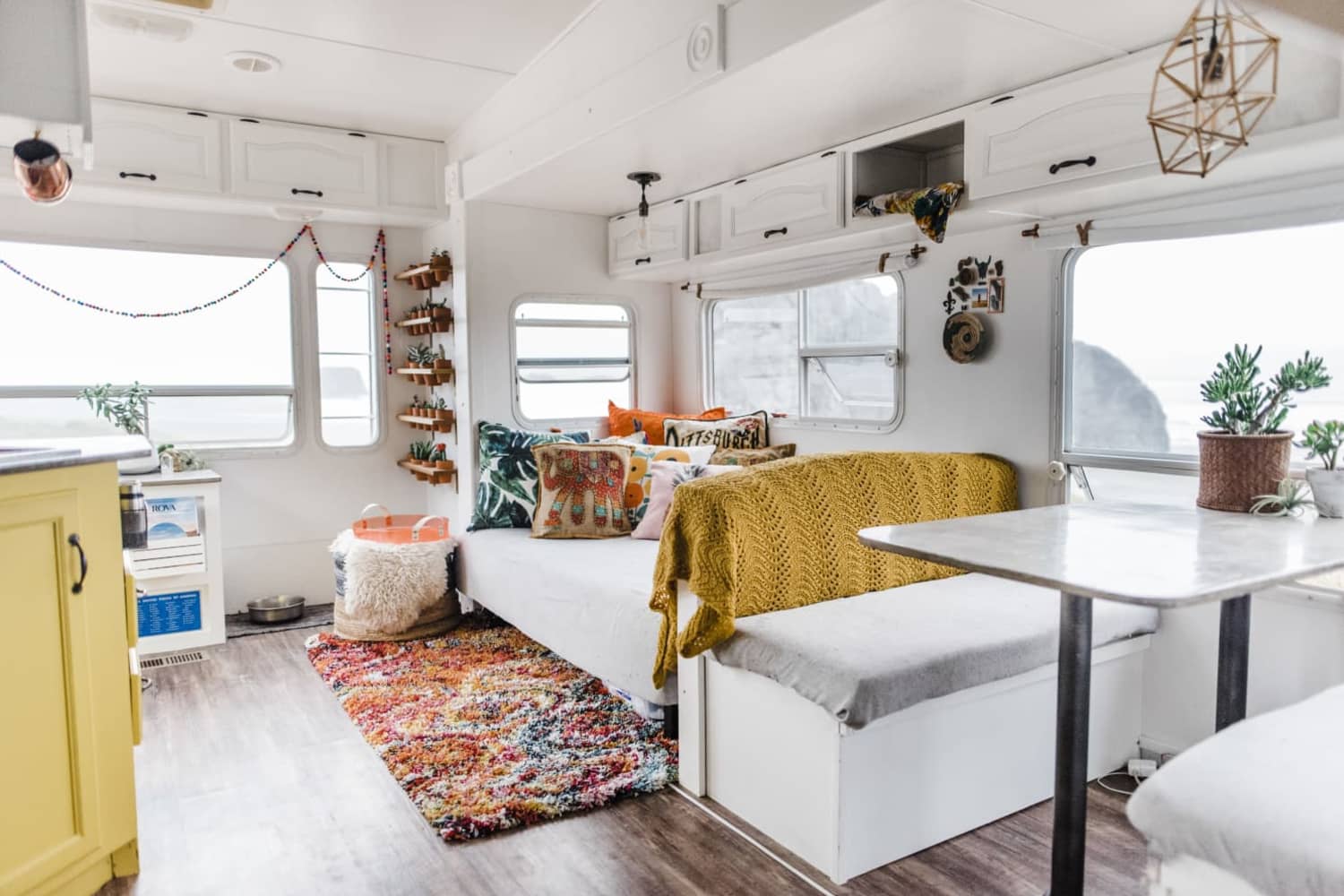 The idea that "bigger is better" doesn't always hold true — especially not where homes are involved. From tiny houses to efficient apartments, there are plenty of ways to make the most of minimal square footage, without compromising comfort or utility. And although small-space living is often considered a newer "trend," the truth is many people have lived in smaller homes for generations, whether due to cost, preference, or any other number of factors.
While the pandemic may have inspired a need for more space — such as a home office, gym, or other utility you suddenly brought into your home — you might have also felt a pull in the opposite direction. Once you add affordability and ease of maintenance, it becomes a no-brainer to downsize. Here are five unexpected ways to tell that small-space living might be a good choice for you, according to people who have done it:
If you want to spend less time cleaning (and more on the things that matter to you)
Cleaning can certainly be fun — or at the very least, fulfilling — but it can also be a pain. And as the math goes, if you have less space in need of cleaning, you'll likely spend less time cleaning it. That can free your schedule up for other pursuits that give you joy.
Take it from the Wayward Home founder Kristin Hanes and her partner have practiced small space living for the last five years, and have lived in a Chevy Astro Van and a 41-foot boat. Hanes decided to embrace the small-space lifestyle when she lost her 15-year job as a radio news reporter, and quickly found that she has extra time to enjoy her interests because she spends less time cleaning than she did in the past.
"Cleaning up our Chevy Astro and our sailboat takes way less time than a traditional, large house," Hanes told Apartment Therapy. "We don't have to worry about things like dusting blinds, scrubbing showers and toilets in multiple bathrooms, cleaning ceiling fans, deep cleaning the kitchen or scrubbing acres of floors." The Haneses still have chores, but their to-do list often doesn't require too much of their time because of the amount of square footage they need to cover. As a result, they have the luxury of spending time doing what interests them, whether that's reading, exploring museums, hanging out with friends, or other hobbies.
If you want your furniture to work double-time, or to only focus on the necessities
In a small space, multitasking furniture and storage space can make a world of difference. A coffee table can potentially become a desk or an ottoman can be a place for storage. Sure, you can designate certain pieces to certain tasks — but if you're a multitasking pro in other spaces of your life, why not have a home that reflects that mentality?
Living in a space with a smaller footprint also heightens the need for regular, intentional decluttering. This means asking yourself pointed questions about what you value and what you choose to bring into your space. "When you live in a small space, every item has to be a necessity. We don't have room to collect junk," Hanes says. "I am constantly giving away stuff and each new item I buy has to be thoroughly vetted. This not only saves us money, but from the headaches that come with having too much stuff."
If you don't know how to start a decluttering, start small by asking yourself whether you're truly going to wear that dress or hat hanging in the closet, or by focusing on a certain season. Clearing out your space before you go on summer vacation or before fall starts may help you get real with yourself about how many warm- or cold-weather essentials you really need.
If you like spending time with loved ones, and don't mind sharing your space
When there is limited space, you are in constant and close contact with family members, and there is ample opportunity to connect. Hanes explains that because she and her partner are rarely apart, "It's easy to connect and have conversations on a regular basis. I love having him nearby when I'm cooking dinner, for example. He gets to smell the food being cooked and helps me when I need it."
Though there's plenty to be said for boundaries and alone time, Hanes and her partner have also found that they've grown used to the togetherness that small-space living necessitates. When they house sit in a large home, they dislike that she's in the kitchen and he's in the living room. "We feel too removed from one another's lives," she tells Apartment Therapy.
Sometimes a small space can feel confining, but agreeing to set boundaries and having a discussion about how your habits can impact another family member might be a good start. It might also be a good idea to designate a specific area for each person so that there is space every person can call their own.
If you have a habit of misplacing important things (hey, it happens!)
You can be super organized in the biggest of houses, and entirely forgetful in the tiniest of tiny houses — those habits aren't specific to your square footage. But in Hanes' experience, having a smaller space required her to get more intentional about organizing to begin with. She confesses that when she stays in a large space, she constantly forgets where she places her daily essentials, like her jacket, purse, or phone. "There are just too many rooms to choose from and too many spots where something can get lost," she says. "In our sailboat and our van, every item has a place. This helps us stay organized and not misplace things."
If you're looking to cut down on your bills (and moving is both feasible and not more expensive in the long run.
It's no secret that home prices have been steadily increasing. And whether you're looking to buy a home for the first time, switch up your living space, or simply rent a comfortable space, it might feel like the only thing you can afford right now is smaller than you expected. Why not look at staying within your budget as a net positive?
"Living tiny has allowed us to consolidate our monthly expenses and minimize our overhead," John Kernohan, a co-founder of the United Tiny House Association who has lived in a 340-square foot cabin with UTHA cofounder Fin Kernohan for the last 10 years. From their perspective, the Kernohans believe small-space living helps their financial security, and helps streamline bills. "We don't have credit card debt or monthly payments," John added.
Zero debt or minimal monthly payment isn't the case for all, but that doesn't mean you can't take proactive action to lower your costs. There are ways to lower your mortgage payment, methods to control your debt, and tools to try to stick with a monthly budget. Just because you have the space doesn't always make it worth the cost — so if you're considering downsizing, and it saves you money in the long run, it might be well worth the cost.