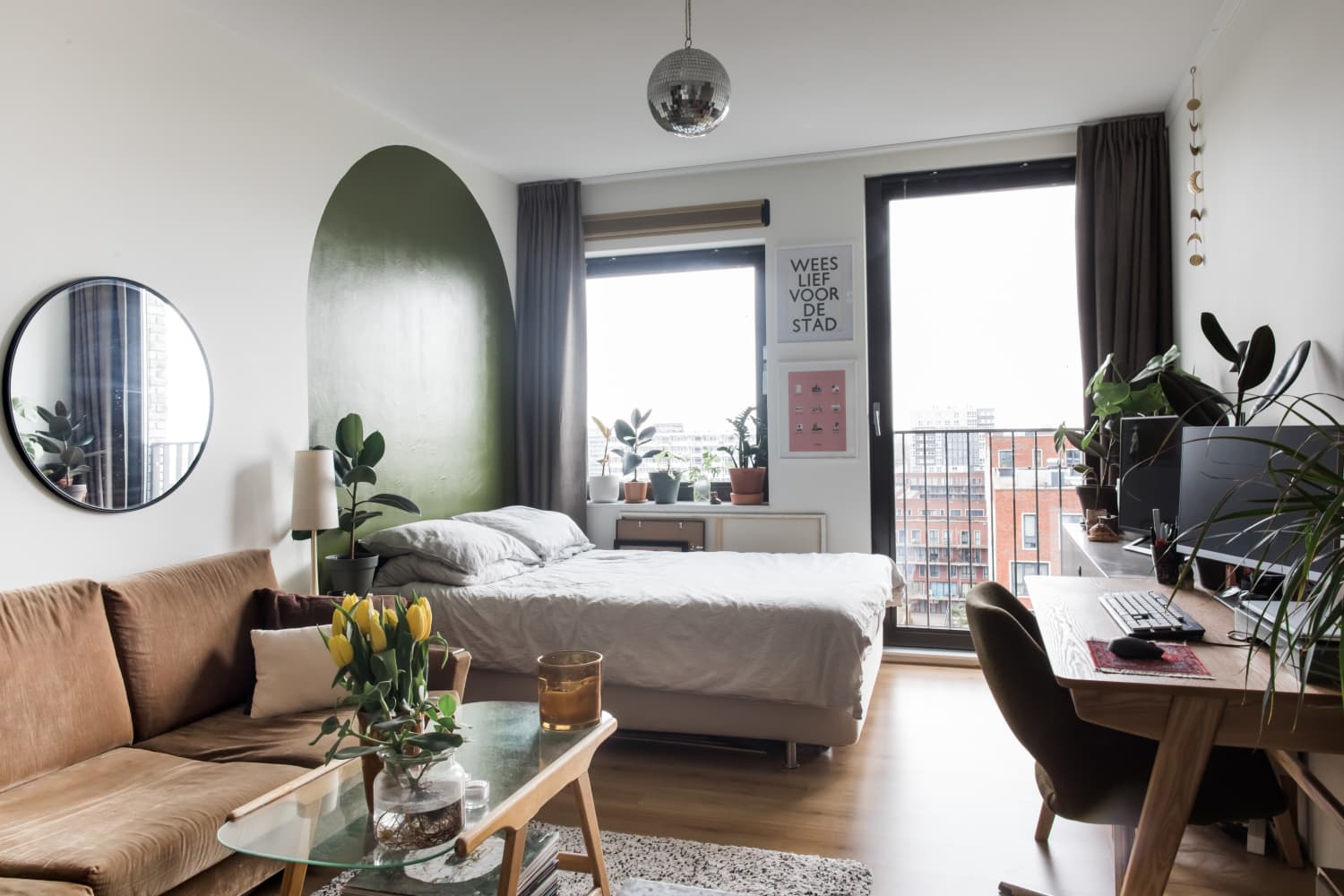 People successfully living in stylish small spaces show the world how less can actually be more. There are tons of smart lessons to be learned and lots of small space design tips and tricks to take from folks who make it work in petite homes. For some, going small isn't a sacrifice, it's a way for them to simplify their life, save money, or live in a coveted neighborhood.
If you're considering downsizing, but aren't ready to sacrifice your style, I've got news for you — you don't have to! Check out these clever and super stylish homes that are all smaller than 350 square feet.
1. This small studio uses paint to distinguish between living areas.
For Karst Rauhé, being low on square footage isn't a problem at all. "I work, eat, sleep, and live in 290 square feet," he says. He makes all those functions work smoothly in his studio apartment in Amsterdam thanks to "rooms" he created by separating spaces with DIY painted arches. Paired with slick vintage furniture like a '60s Danish dresser and quirky details like a disco ball that bounces light all around the room, and this home feels much bigger than its actual size.
2. A 187-square-foot school bus's rock wall is just one of the clever ideas within.
Spike and Elizabeth Stone are entrepreneurs, scientists, and artists who share their school bus-turned-home with their two kids, Pepper and Violet-Parsley. For the past year, they've been living in a 48-passenger school bus they converted into a cozy rolling home. The bus is complete with a bedroom, dining area, and a modern kitchen with butcher-block countertops. The space is light, bright, and full of space to live, learn and play. It's even got a rock climbing wall!
3. This bus has a piano, kitchenette, large bedroom nook, and closet, all rolled into one.
Caleb Brackney lives in a 220-square-feet school bus with his dog, Ivy. The dark and moody decor makes this converted skoolie super chic and stylish. The kitchen has painted cabinets with a funky hexagon backsplash and warm wood countertops. Caleb's work desk doubles as a music station with a pull-out keyboard and a hook to hang his guitar. He even figured out how to put a hammock when he just wants to hang.
4. Multi-functional furniture and smart storage makes 100-square-feet look chic, nice, and neat.
Gracie Brett turned this 100-square-foot apartment into a clean, classy, and cozy home. "My apartment is SMALL," she admits. So, the most functional piece she has is the couch that seamlessly converts to a full-sized bed at night. Then by day, it folds up to be a perfectly sized love seat. Another smart choice was her purchase of a counter-height table for the kitchen. "It's great because it adds much-needed counter space for cooking, has storage shelves, and is a dining table. It also divides the kitchen from the living area really nicely."
5. This 294-square-foot studio shows how minimal furnishings can make a small space feel larger.
Kristen Rosario took a minimalist design approach to her studio in Chicago. She opted for sleek end tables instead of bulky nightstands and all white sheets with no headboard. The kitchen is small, yet cozy, and full of art on the open shelves. The TV stand looks like a work of art, too, with only three legs and no bulk — it's also a huge space saver!
6. Determined to live by the beach, this renter transformed her teeny studio.
Lily Fuentez made it work in her 140-square-foot Venice Beach studio with a super tiny budget. "As a fundraiser for a cancer charity, my pay is slight," she says. "But I was NOT going to let that keep me from fulfilling my dream of living by the beach." With the perfect location secured, Lily decided to make this place her home, which did require her to stretch her DIY skills a bit, like creating a cute kitchenette in a former closet.
7. This 300-square-foot condo proves that "tiny luxury" is absolutely a thing.
Everywhere you look in this 300-square-foot condo, it looks lavish. Mitch Johnson and Winston have lived in this micro condo for four and a half years with their Jack Russell Terrier. For Mitch, going tiny was a way to minimize costs, but he didn't have to tone down his style. Striking the right balance of items to fit in the space — and not make it look cluttered — was a struggle but he definitely succeeded. He says, "I think my quality of life has improved by going small."
8. This 326-square-foot studio employs light decor and a big mirror to make it feel spacious.
Jenn Tranbarger decorated her entire studio in New York from scratch and she did an amazing job. "Although it is the smallest space I have ever lived in, it might also be my favorite," she says. Her studio is decked out with a dresser that doubles as a TV console, a full-length mirror, and a gold bar cart that flows perfectly with the rest of her decor.
9. This 330-square-foot modern beauty is packed with renter-friendly improvements.
Emily Wickstrom says she compromised on square footage in favor of the two things that mattered most to her — sunlight and location. Her 330-square-foot apartment in Boston is small, but still modern, chic, and doesn't miss a beat. Even though she's a renter, Emily hasn't been afraid to make temporary improvements for the sake of style. She swapped out the silver kitchen pendants for one large rattan one, and switched out the knobs on her cabinets to give them an instant upgrade.
10. This tiny house's DIY makeshift kitchen is just one of its clever features.
Emily David's colorful 210-square-foot tiny house is full of so much character, it almost feels like walking through a quirky museum. Emily considers her style to be eccentric, crafty, cozy, and modern, and rightfully so. She created a kitchen by placing a mini-fridge and cabinet side-by-side, then laying a slab of wood on top. Now, she has a refrigerator, storage, plenty of counter space, and the cutest little baby blue convection oven.
11. This 72-square-foot van is a wanderer's dream home on wheels.
Emily Soon says she loves the curb appeal of her van house (and honestly, so do I!). When you open the sliding door, you immediately see her kitchen and the living room/dining room combo. You even get a "peek-a-boo view" of her little bedroom nook. "It's a welcoming view to come home to," she says. Her van is a self-designed, professionally-built van conversion with all the modern touches of a house, just on a smaller scale.