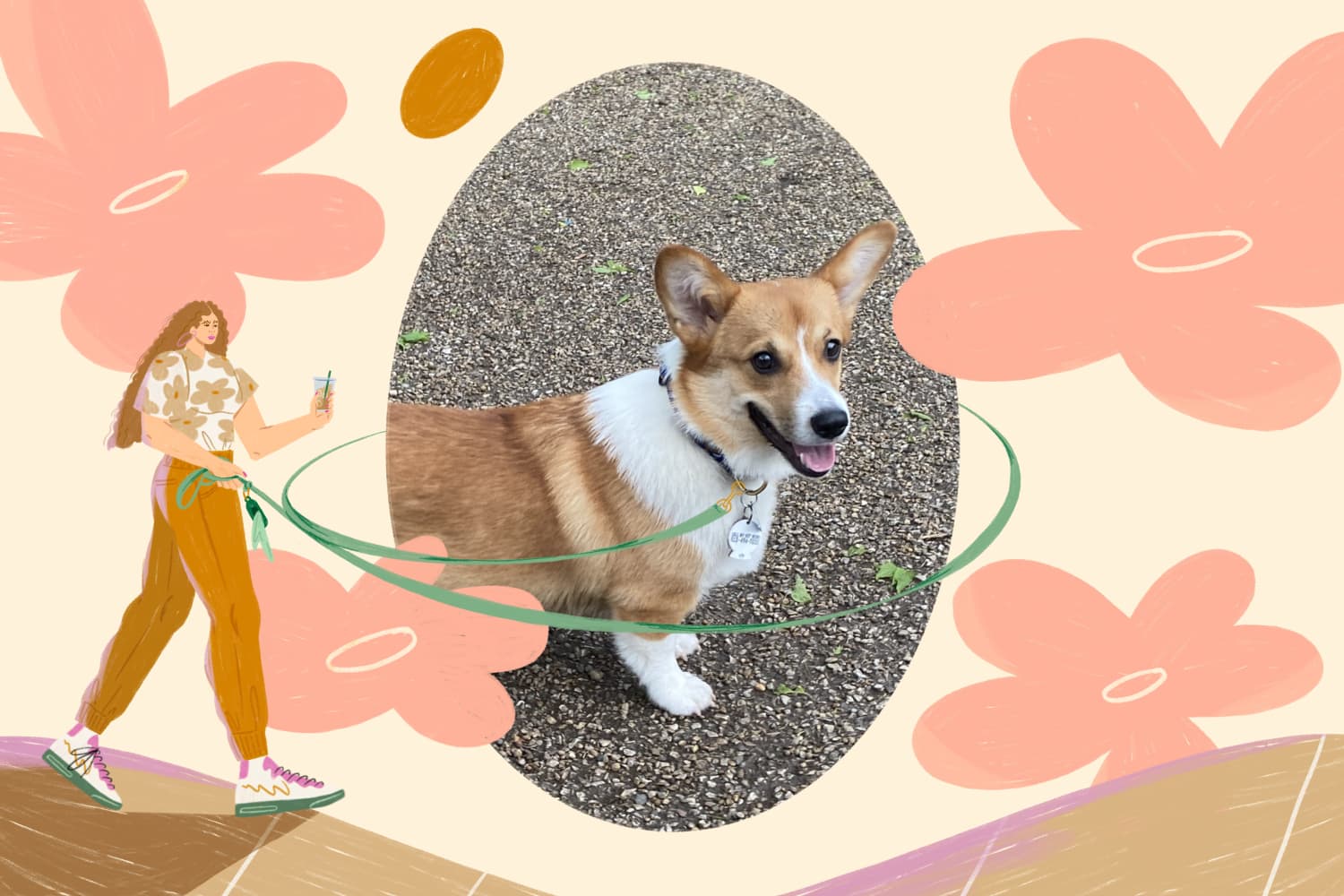 Four months into the pandemic, my therapist leveled with me. "Sarah," she advised, "you need two things: unconditional love, and a reason to get up in the morning." Woof. I'd been in a pathetic place. The shutdown's sudden, expansive changes left me in a semi-permanent state of sedation. While my isolation was no greater or worse than anyone else's, I found no comfort in the company of the world at large. Having talked about raising a dog for years, it felt like the ideal moment to dedicate time and effort to training and nurturing a puppy. Thus, like countless others, I decided to give the companionship of a pandemic pup a go.
Did you know that bringing home a puppy during a Chicago winter is among the dumbest things you can do? I discovered this early on, taking Rodeo down from my eighth-floor apartment a dozen times a day into the frigid air to meander along the salt-stained, gray concrete. But those cold walks with my little corgi led me to a new community — and a new sense of normalcy.
As you might have guessed, my loneliness did not go away immediately. At least, not at first. I knew raising a dog would be incredibly challenging, and at times, seemingly impossible. Honestly, I think I blacked out for the first 10 days or so. There's a very sweet neighborhood boy who knows Rodeo by name; for the life of me, I have no clue who this kid is. Then there's the warm and gentle woman who, when we cross paths, asks if I'm eating enough. Apparently in those early days of dog-parenting, I met her and told her I was too stressed to eat. Again, zero recollection. Among my favorite new acquaintances was the progressive, middle-aged divorcée who noticed me negotiating a walk with my very tiny dog and said, "You're a new dog mom. Are you okay? It will get easier." Kate, if you're reading this, you're a lifesaver.
I had been struggling, without question. And on top of the daily challenges of teaching an animal to go on a basic walk, figuring out a feeding and elimination (aka "pooping") schedule, and soothing a pup frightened by Chicago's nonstop cacophony, I felt incredible guilt. I'd made a massive life choice getting Rodeo, and no matter how prepared I was (very), nor that I'd anticipated the worst (which all happened), I felt foolish saying out loud, "Damn, this is ROUGH."
Hearing those words from someone who has been there was transformative. And while my friends were supportive, I wanted to surround myself with Dog People — folks in the thick of it. So, Rodeo and I started visiting our neighborhood dog park, the adorably named Wiggly Field. Shuffling around in parkas, faces obscured by masks and earmuffs and beanies, we Wiggly Fielders lifted each other up. When a woman rattled by the ongoing trials of daily pandemic life and her energetic canine wandered into the park, teary eyed and muttering "I can't do this," the rest of us played fetch with her dog while she collected herself. Our dogs lined up along the fence, monitoring their owners as we freed a car trapped in the snow under the L. We distracted each other's mutts while a handful of park goers led a baby rat to safety, much to the chagrin of the terriers. Swapping vet recommendations, stories of pets who've crossed the rainbow bridge, and orders of "Down, boy!" followed by exhausted apologies, this community of dog lovers became my own.
It wasn't just that I felt a kinship with these veteran and pandemic puppy parents. During my brief morning and evening trips to let Rodeo unleash — literally and metaphorically — I felt normal. I had missed interacting with strangers, shooting the breeze, standing relatively close to another human. For four long months, this was my Lollapalooza, headlined by a massive floof hilariously named Minnie and a butt-scratch-loving pooch named Bruno.
As it turns out, my therapist was right. Now, my reason to get up every morning has four very tiny legs and an internal alarm clock I'd love to set a couple hours later. I'm not sure if she loves me unconditionally — she absolutely prefers my boyfriend to me — but I know I love Rodeo so much it's physically, brutally painful. I can't picture the last months of the pandemic without her there, and I'm certain I couldn't have gotten through it without my Wiggly Field community. Sometimes, and indeed in the darkest hours of the past year, all I needed was a little distraction, a little perspective, and a very little pup.