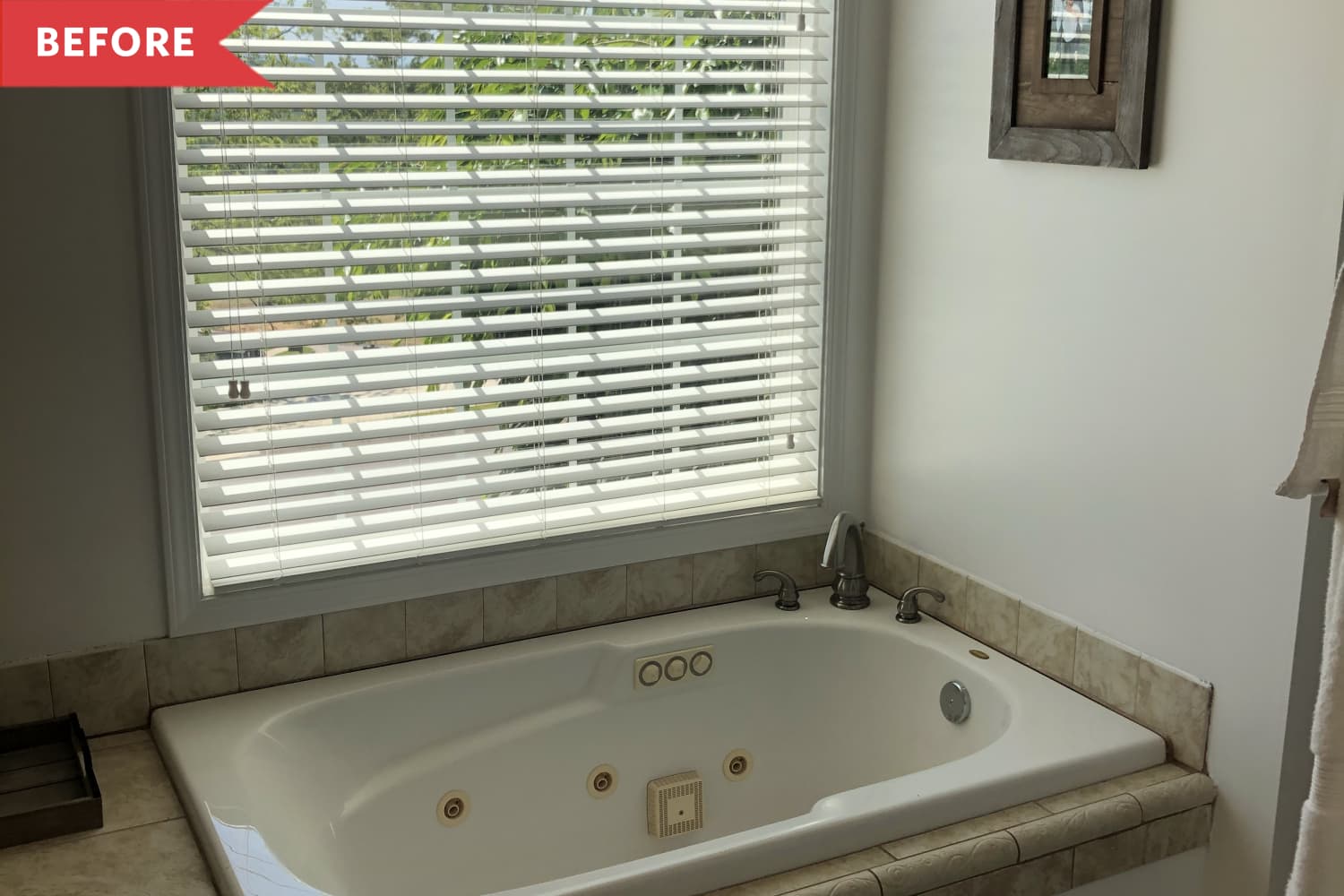 We independently select these products—if you buy from one of our links, we may earn a commission.
When owner Brittany Buckner moved into her Knoxville, Tennessee, home built in 2010, the bathroom looked like a lot of bathrooms from the early 2000s: beige and builder-grade, with a huge built-in tub.
"The 'before' photos you see aren't horrible," Brittany says, "but it just wasn't 'us.' We wanted to update it to reflect the rest of our home with bright whites and lots of wood tones and greenery."
Brittany and her husband envisioned a cozy and inviting space, one where they could go to relax after work.
With the help of Brittany's father, the couple had already started modernizing the vanity half of the bathroom, giving it a contemporary farmhouse feel by adding shiplap on the walls, painting the walls white (Valspar's Bistro White), painting the vanity matte black (Jolie's Noir), adding a wood frame to the mirror, swapping somewhat fusty sconces for Edison-bulbed beauties, and installing and grouting wraparound subway tile, all of which you can see on Brittany's Instagram (@brittanyshomesweethome).
In order to bring the black, white, and natural theme to the rest of the room, they decided to take out the corner tub completely. "This bathroom is approximately 10×10, and if you noticed in the 'before' photos, the bathtub was built into somewhat of a platform, with lots and lots of wasted space!" Brittany says. "Once we got rid of the platform area, we definitely felt like our space almost doubled!"
With the clunky tub out of the way, it was time to rip up the old tile — which Brittany says was the hardest (and dustiest) part — and install faux timber ceramic tile on the floors. "It was time-consuming, but it was oh-so-worth-it in the end," she says. After getting up the beige tiles, they laid HardieBacker board down and then added the wood-look tile using thin-set mortar.
"Surprisingly, during this DIY, we didn't run into any snags," Brittany says. "We were so shocked! We've done so many projects like this that we almost just expect it at this point, but to our surprise we pulled it off without a hiccup."
They chose a breathtaking clawfoot tub from Vintage Tub & Bath, which makes the room feel so much larger than the built-in did (and definitely more luxe and relaxing). Brittany crafted a shelf from a brand-new piece of wood that she weathered with a hammer, nails, and a sanding block, then stained a dark walnut color. And for the finishing touches, Brittany added some new art to the walls and some greenery via a faux olive tree.
"I love, love, love how light and bright our bathroom is now!" she says. "We poured so much work into it, and it's so nice to walk into your dream bathroom and see everything you accomplished every day!"
Inspired? Submit your own project here.