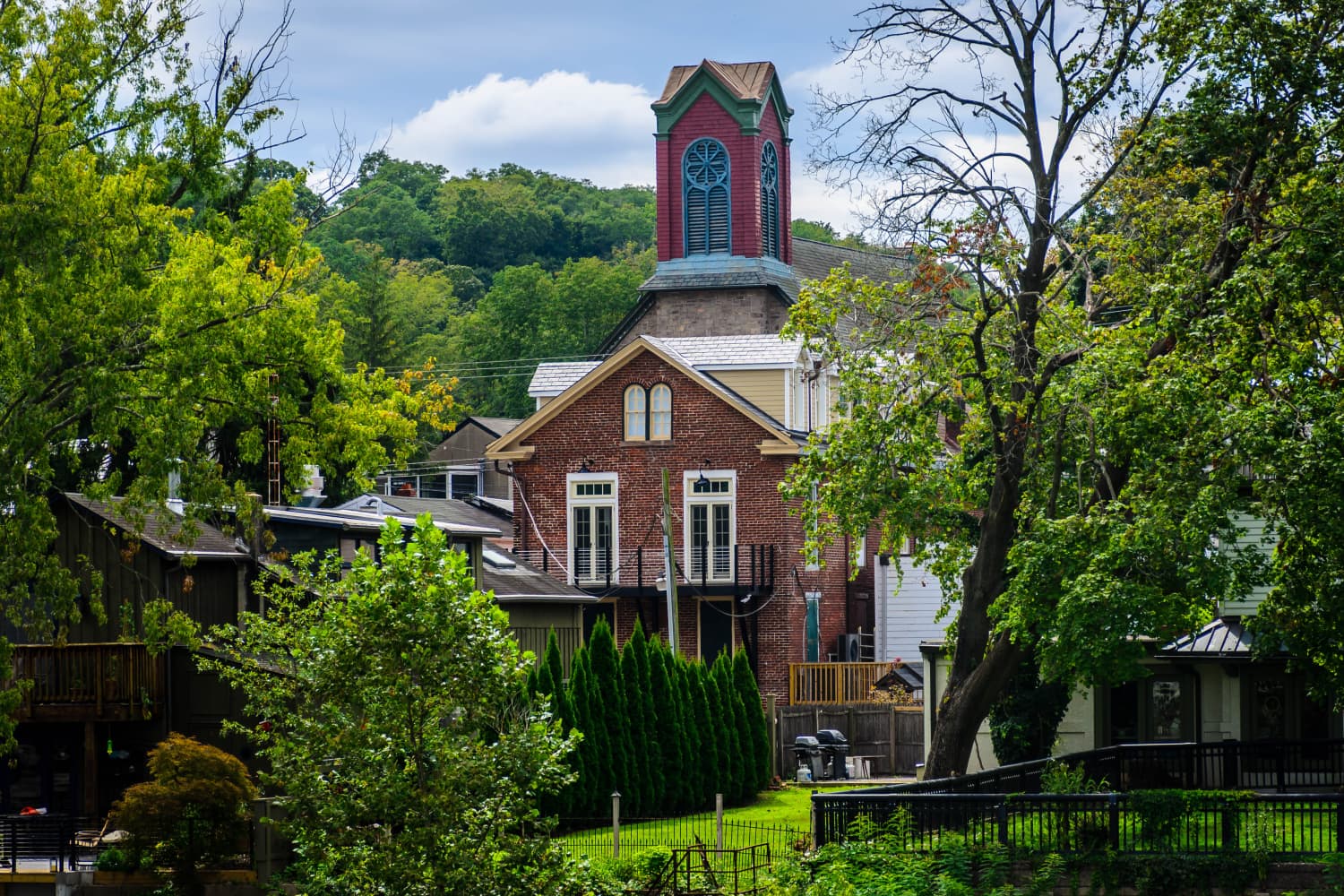 If you've been obsessing over HBO's Mare of Easttown, you might be wondering what it's really like to live in a Philadelphia suburb. The answer? Hopefully less murder mystery-y, but definitely more waiting for SEPTA regional rail trains on your commute.
Speaking of public transit — Philadelphians love to pick a friendly fight, whether it's about the Eagles' draft pick or how Cheez Whiz is actually a culinary abomination that only exists to serve tourists. So, there's also some dispute over what counts as a suburb, but for purposes of our methodology, a suburb is a place where you need to drive and/or take the commuter rail to get into the city. You also probably can have a backyard, which isn't often possible in a typical Philly row home. Fair? Let's take a look at four lively suburbs of the historic gem of the East Coast.
Mount Airy, Philadelphia, Pennsylvania
So, Mount Airy is technically in the Germantown neighborhood of Philadelphia. But again, we're going by the regional rail rule here. According to Philadelphia Magazine, Mount Airy "remains one of the city's most racially and socioeconomically diverse areas," drawing in city folk who want a bit of distance from all the hubbub. For lovers of beauty, both in art and in the outdoors, Mount Airy is a great place to live. You'll be just a short drive from the beautifully expansive Wissahickon Valley Park, and you can visit staple community art centers like Mt. Airy Art Garage and Allens Lane Art Center.
For Pennsylvania purists, the idea of living in New Jersey might send shivers down your spine. But Collingswood is actually a pretty hip place. Just five miles east of Philadelphia, Collingswood boasts a laid back vibe with plenty to do without hopping on a PATCO train. Along Haddon Avenue, you can dine at delicious restaurants from a wide variety of cultures – but just BYOB, because due to old Quaker law, Collingswood is a dry town. Plus, Collingswood is known for its thriving LGBTQ community. Fun fact: when New Jersey legalized civil unions between same-sex couples in 2006, Mayor Jim Maley performed ceremonies for couples as soon as the clock struck midnight. And if you're a poetry fan, you can brag that you live right by Walt Whitman's final resting place — weird flex, but okay!
Kennett Square, Pennsylvania
If you're a bread-baking, hop-brewing, home chef extraordinaire, you're in luck — especially if you like mushrooms. The first weekend after Labor Day, Kennett Square hosts its annual Mushroom Festival. The suburb calls itself the "Mushroom Capital of the World," and they're not exaggerating — more than 65 percent of mushrooms in America are grown in this area of Chester County, Pennsylvania. With 6,100 residents within one square mile, Kennett Square is cozy and densely populated, yet less than an hour away from Philadelphia. Many city dwellers make the trip out to visit the botanical paradise Longwood Gardens.
If you won't often drive into Philadelphia, you might consider moving further out to a suburb like New Hope. Along the Delaware River, New Hope is known for its eclectic assortment of one-of-a-kind shops — you can find anything from tarot cards to hand-crafted pottery. Though you might be itching to make the trek to the city to see your favorite bands play, New Hope has quite the live performance scene of its own. The historic Bucks County Playhouse is a treat for theater buffs — a famous summer theater, actors like Bernadette Peters, Angela Lansbury, Robert Redford, and Liza Minelli got their start performing in this offbeat Philadelphia suburb.