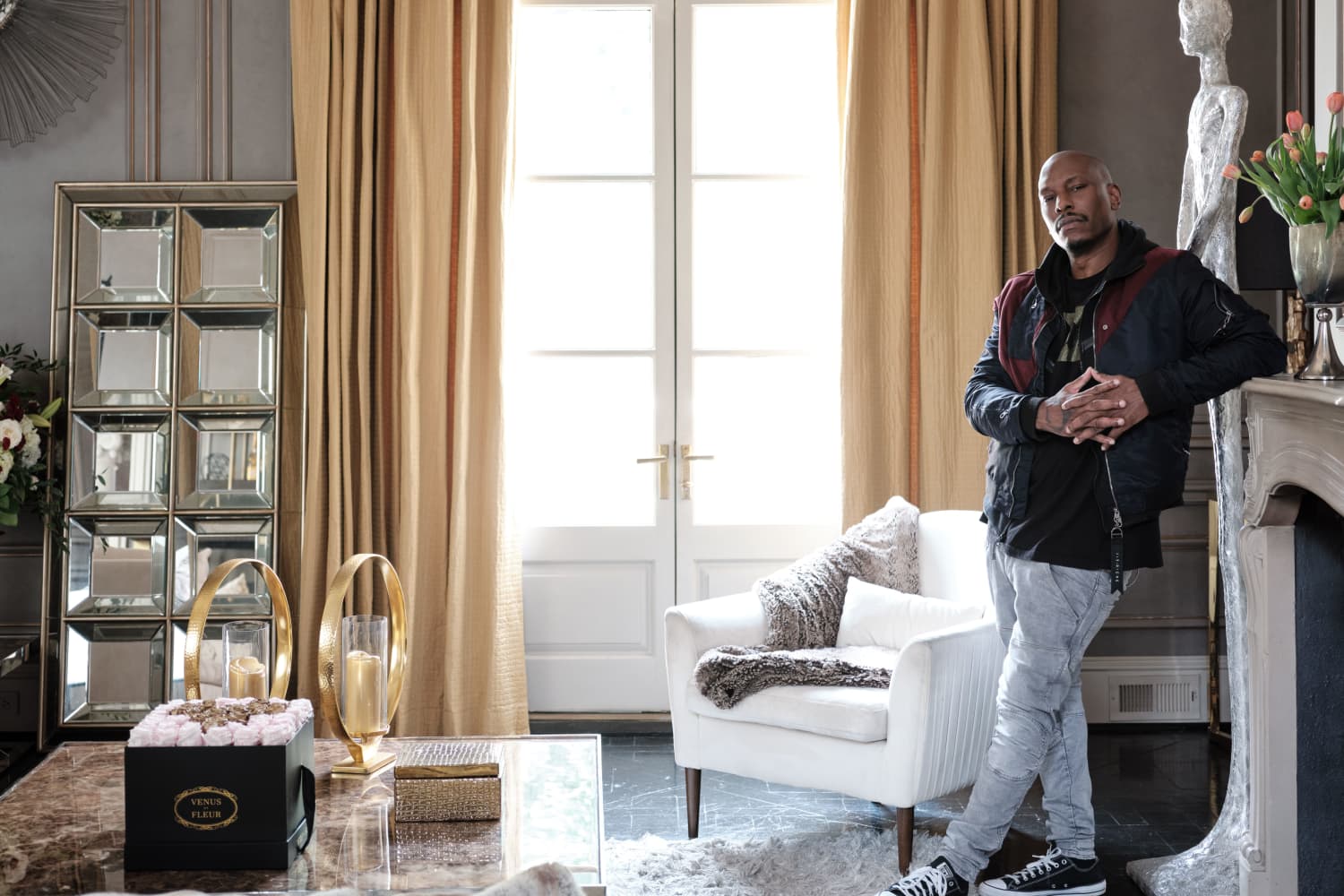 He may be a star of the "Fast and the Furious" franchise, but Tyrese Gibson was raised on "Lifestyles of the Rich and Famous".
The singer and actor opened up his French Chateau-style mansion in Atlanta to Architectural Digest, and the palatial spread is a far cry from his humble beginnings.
"I grew up in poverty, with every form of public aid, while my mom worked multiple jobs and raised four kids on her own," said Gibson, who loved to watch the Robin Leach-led show as a kid. "My first instinct was like, I can't believe human beings can actually own Rolls-Royces and castles! But eventually that TV show gave me the audacity to believe that it was possible to have these things, to break the cycle of poverty."
These days, Gibson calls the 25,000-square-feet spread home, and while no expense was spared on the seven-bedroom estate, which Gibson calls "regal," he wanted to make sure it was still a place that people could gather comfortably.
"It's very livable. No one comes into my house and, I'm like, I'm sorry, you can't sit here," he told AD.
Along with Sue Wishengrad, designer and owner of Los Angeles–based Sue Wishengrad's Trade Secrets, Gibson created his palatial oasis. Upon stepping into the marble entry, guests find stunning frame moldings and a filigreed staircase, as well as a 16-foot-tall yellow Transformer statue. The main "hangout" room, which designer Mona Stephen called "a combination of comfort and grandness," features a Cantoni coffee table and sofa and mirrored wall pane. To give a comfortable vibe, fur throws and decadent candles are visible throughout.
A three-island kitchen is ideal for a frequent entertainer like Gibson, while a painting of Martin Luther King Jr. by Kadir Nelson hangs between two archways. Off the kitchen, a breakfast room sits under a chandelier and custom curtains, while gold, white, silver, and red vases dot the space. There's also a formal dining room, inspired by Gibson's visits to the Middle East. The tables and chairs are upholstered in ostrich, and two custom-made gilded thrones flank the table.
Gibson's office is mostly black, a more muted vibe than the rest of the home. Outdoor street signs with inspirational names like "Ambition Way" and "Billionaire Boys Lane" are featured, as is the crackling fireplace and walls covered in custom mirrors. Of course, there's a music studio, complete with a painting of Marvin Gaye and a 24-karat gold microphone. A red shag rug sits on the floor.
In the primary bedroom, items like the camel-colored leather headboard with gold buttons and trimming are custom made. There's also a comfortable sitting area with a mirrored coffee table and a plush couch. The guest bathroom is as luxe as it gets, filled with Carrara marble and a deep soaking tub and full shower.
Outside, the sparkling swimming pool has a stylish patio area with a row of Modena lounge chairs. A giant shed is home to a custom Optimus Prime sculpture, overlooking the water.
It may be decadent, but Gibson is still in awe at the life he's created for himself.
"As I pull up to my house every day, I am literally in disbelief that it's mine," said Gibson. "People come over and they don't want to leave. This place has been a gift that keeps on giving…and I will never, ever let it go."