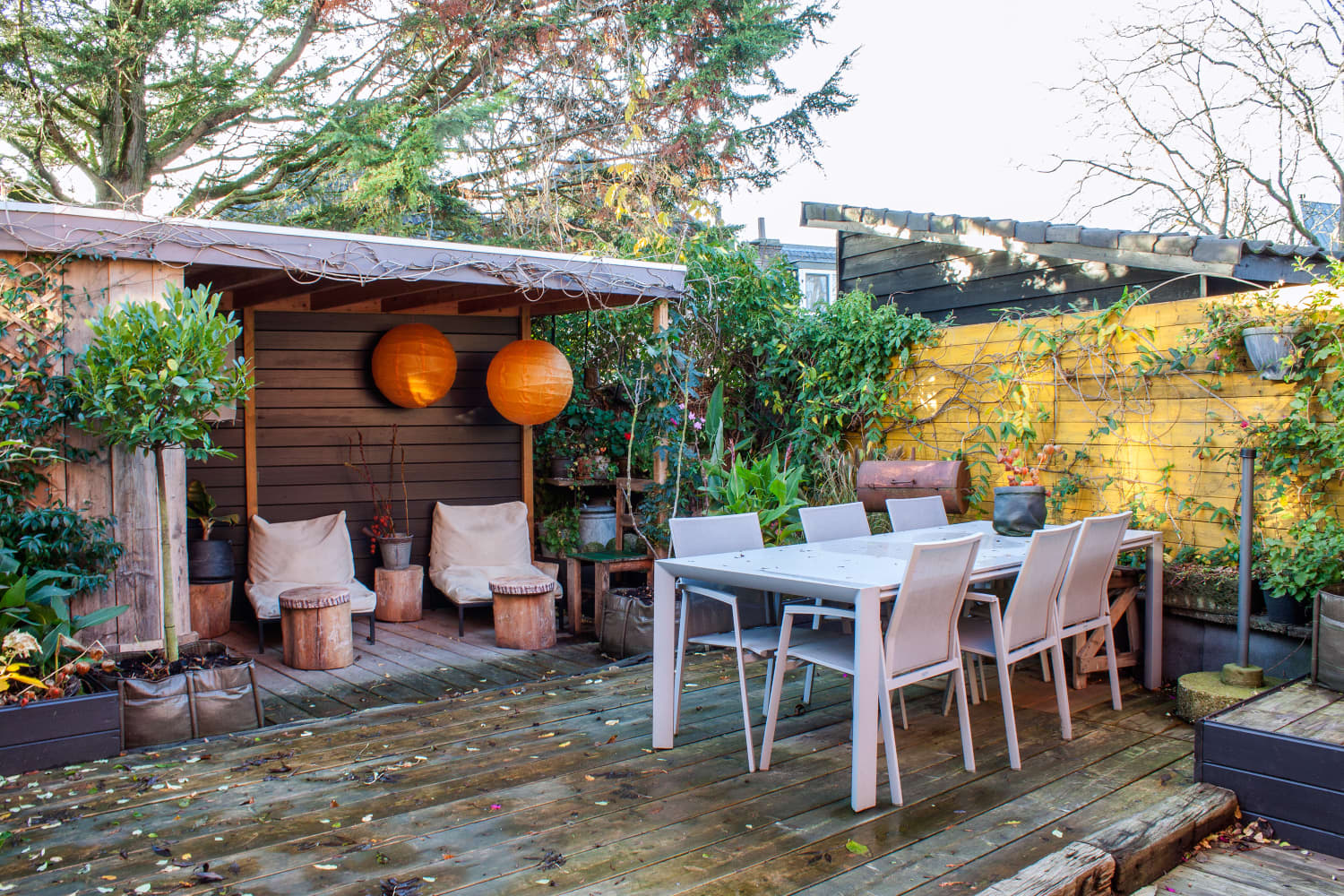 If you've ever used the terms "porch" and "patio" interchangeably, buckle up: These two home features have a lot that differentiate them. With today's buyers searching for houses with plenty of outdoor space for entertaining and relaxing, it's worth considering the differences between porches and patios.
Whether you're thinking about tackling an outdoor remodel project or you're buying a house, here's what you need to know about porches vs. patios — and how to decide which is right for your home and lifestyle.
What is considered a patio? A porch?
Typically found in the backyard, patios are often made from poured concrete or stone pavers. They're defined, hardscaped spaces that extend your living space outside and offer a blank slate for decorating with lounge chairs, dining sets, shade sails, umbrellas, other furniture, and barbecue grills.
Patios are usually uncovered, though covered patios and pergolas are also popular. Depending on the time of year, the time of day, and the available shade from trees or the house itself, some patios may be too hot and sunny for comfort. Patios — and anything left on them — are often exposed to the elements, too, including rain and hail.
Porches, for comparison, are usually attached to the front of a house and covered by a roof or awning. They're often raised off the ground and constructed from wooden floorboards. Many porches have railings.
Porches are typically built onto the home itself as an architectural feature, and they can even wrap around the entire front of the house. They can be enclosed with screens, too.
Since they typically face the street, porches offer less privacy but can be a good way to get to know the neighbors. They can also be decorated with outdoor furniture, rugs, tables, and even ceiling fans, since they're covered overhead.
"A porch is a charming and welcoming spot in the home," says Lina Galvao, interior designer and co-owner of Curated Nest Interiors. "It can add curb appeal and can be a relaxing place to hang out and people watch. A patio is often less formal, as it is usually in a private area of the yard and often has a grill or seating. It doesn't necessarily set the tone for the house like a porch might, but it serves as a wonderful area for relaxing and entertaining."
Is it better to have a porch or patio?
There's no one-size-fits-all answer to the porch vs. patio debate. It depends entirely on your home's style, your neighborhood, your budget, the amount of space you have, the local climate, and the location of your porch or patio in relation to the sun.
"A porch won't make sense with all home architectural styles," says Andra DelMonico, lead interior designer for Trendey. "It also doesn't make sense to have one if it won't get used. Many suburban homes don't have a porch because no one wants to sit by their front door and stare at their neighbor across the street. If you have space in the backyard, then a patio makes sense. However, you need to live in a climate where the weather is nice for you to get enough use out of it."
Though these outdoor spaces are similar, they're different enough that you may want to consider both. You may find that you use one at night and the other during the day, for instance, or one for romantic dinners and the other for hosting birthday parties, and vice versa.
"If I could put a front porch or veranda and a backyard patio on every client's home, I definitely would," says Kristin Bartone of Bartone Interiors. "Porches and patios have different functions, making them both an essential element in making your home a comfortable, year-round gathering space for family and friends."
Do patios increase home value?
Adding a patio can be a fairly affordable home renovation project. That said, you'll likely still need to hire a professional, which can add extra costs.
The National Association of Realtors estimates that installing an 18-by-16-foot concrete paver patio will run you around $7,200, while the estimated return on investment is $5,000. In other words, you'll recoup around 69 percent of the cost when you sell your home.
For comparison, adding a new wooden deck is more expensive on the front end — about $10,000, according to the association — but also nets a higher 80 percent cost recovery.
Still, a patio can really help enhance your quality of life while you're still living in the home, and having some outdoor space — whether a porch, a patio, a deck, a veranda, or something else entirely — will make your home more appealing to prospective buyers.
"Homeowners value their home's outdoor living space as much as the interior," says Ryan Dalzell, a San Diego-based real estate agent.