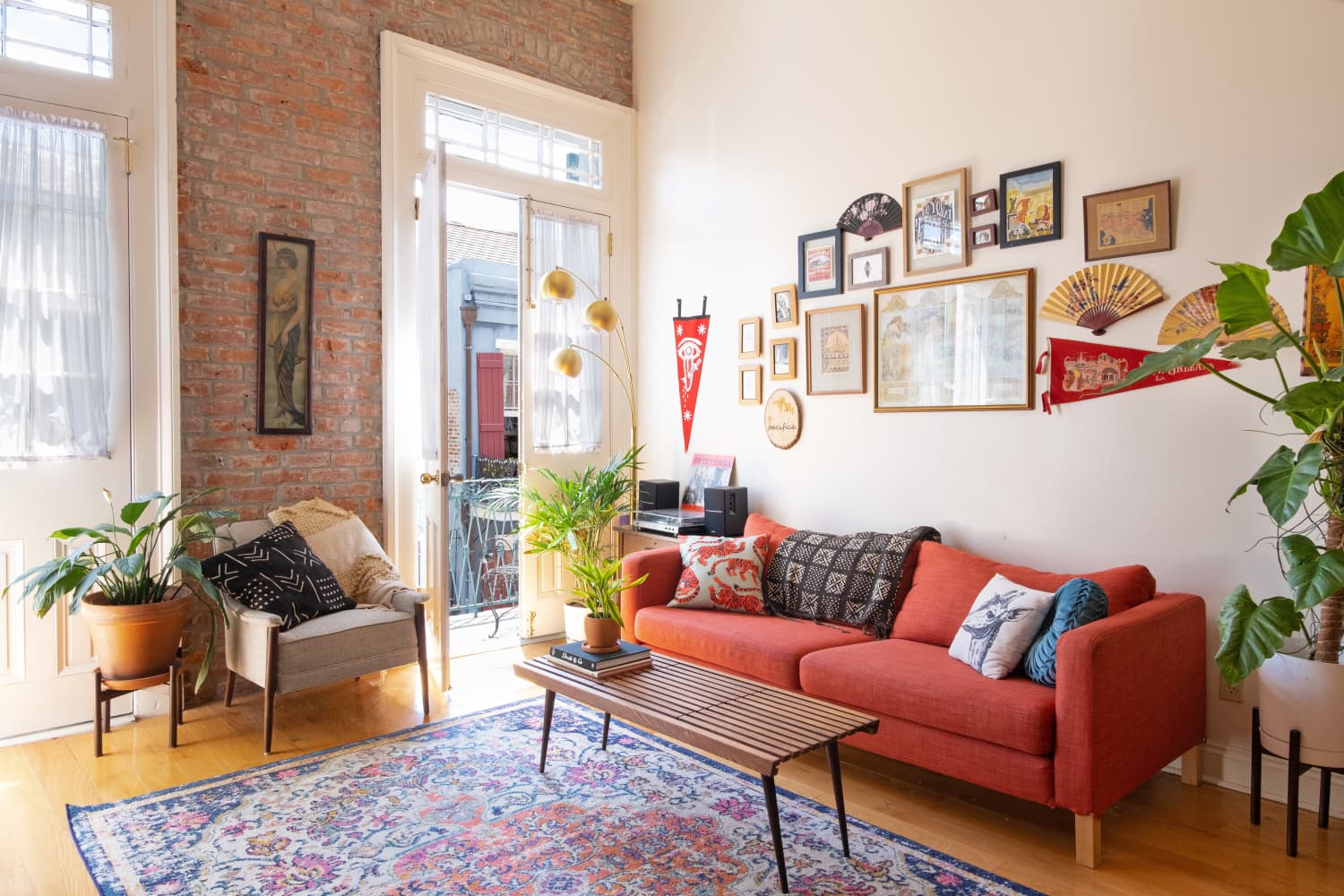 We independently select these products—if you buy from one of our links, we may earn a commission.
Name: Megan and Chris Olsen
Location: French Quarter, New Orleans
Size: 1100 square feet
Type of Home: Apartment in Creole townhouse
Years lived in: 2 years, renting
After seeing the courtyards and curved staircases of this rental apartment in the French Quarter, Megan and Chris Olsen knew this was the place for them. They are a very creative couple: Chris owns the vintage and antique clothing and furniture brand Vice & Graft as well as Swamp Rags, and Megan is Assistant Vice President of Nursing at Ochsner Health, a paper artist, and co-owner of Vice & Graft. They both love that their home has a ton of natural light, great French Quarter views, and that it's within walking distance to their favorite bars, coffee shops, and their kids' school. Like everywhere in the Quarter, their home is dripping with history, too.
"A few weeks after moving in, we headed to The Historic New Orleans collection, which maintains the original blueprints and history of most of the buildings in the French Quarter. The plot of land for this home was designated in 1722 and construction for a single-family townhouse and completed in 1833," Megan explains. "By the Storyville era in the 1900s, it was purchased by the current owners, Mercier Realty & Investment Co., and it became known as The Shim Sham Lounge, a jazz hall. When jazz fell out of popularity, it was reverted to individual townhouses by the 1970s. One of our neighbors has resided there since that time! We have two young kids and they're the first kids to live in the building in a long time."
"When we're at home, we typically keep the balcony doors open to let in the light and sounds. The French Quarter is magic no matter what time of day it is, but at night the gas lamps glitter and the sound of horse-drawn carriages or jazz drifting lazily through the neighborhood feels like a perpetual vacation. Even after more than a year in it's still magical," Megan says.
Apartment Therapy Survey:
My Style: Vintage, eclectic, and kid-friendly
Inspiration: The lush and old-timey New Orleans vibes mixed with eclectic vintage pieces.
Favorite Element: The view! The other details like the gas lamps and courtyards are also neat.
Biggest Challenge: The small space, especially with two kids. This is the subtropics, so there's no attic, and no basement, and with the humidity you can't store much in the courtyard. We've gotten pretty good at storage and organization and making dual use of spaces.
Proudest DIY: The paper moon hung in our bedroom! I made a vintage-style paper moon out of leftover Mardi Gras supplies and Amazon boxes for a photoshoot prop and it came out so good that I've gotten dozens of messages to sell it, or make more. It's got the right amount of whimsy and romantic old-timey vibes that I can't let it go.
Biggest Indulgence: The plants — it makes a difference in how lush the apartment feels. Because of the sunlight and humidity we get in New Orleans it's pretty easy to grow big tropical plants indoors. I have made some expensive mistakes, though, so I'm grateful for all the guidance from our local plant shops who give all the tips and tricks (@Fait.Nola and @UrbanrootsNOLA).
Sometimes Chris comes home with these incredible Storyville-era pieces of art simply to get my opinion on it and do research on it for Vice & Graft and I just can't let them go. And I have quite a collection of vintage accessories (purses, pins, beaded collars)!
Is there something unique about your home or the way you use it? Well, we're running two small businesses out of it, and raising two kids in it so we're sensitive to staying organized to make the most use out of the space. We've done research on different kinds of vintage furniture that both meets our aesthetic and keeps things organized.
An example is the 1920s Stradivara sheet music cabinet in our bedroom that is a perfect piece to house all the paper for my paper art business. Another example is repurposing a vintage bar cabinet that was repainted to look Atomic Age that had these neat shelves that my five-year-old assures are perfect for housing his Lego collection.
What are your favorite products you have bought for your home and why? We've amassed a sizeable record collection of vintage jazz and swing records since we couldn't go swing dancing during the pandemic and used the living room as our dance floor. Some are from @peachesrecords and some from antique shops. And locally made goods, especially candles from Hazeltine. They're locally made, women-made from start to finish, hand-poured candles that smell incredible, and have great art on the labels that depict the memories that the scents are based on. I give them as gifts often.
Please describe any helpful, inspiring, brilliant, or just plain useful small space maximizing and/or organizing tips you have: While we deal in a lot of vintage furniture and would love to outfit the entire place in perfect-condition vintage pieces, sometimes it's better to go with the worn-in (or washable) version of it for now because of the amount of Crayola paint and goldfish snacks in our lives while raising kids. Having a couch cover that can be washed easily but still fits with the rest of the furniture has come in handy more times than I can count.
What's your absolute best home secret or decorating advice? Take your time. It took us a year to curate the space into our vision, and it's still a work in progress. We travel around rural Louisiana every few months now to source vintage pieces for Vice and Graft. I'd encourage people to have an adventurous spirit and check out antique shops in their travels. You'd be surprised at the neat pieces you'll find.
This house tour's responses were edited for length and clarity.