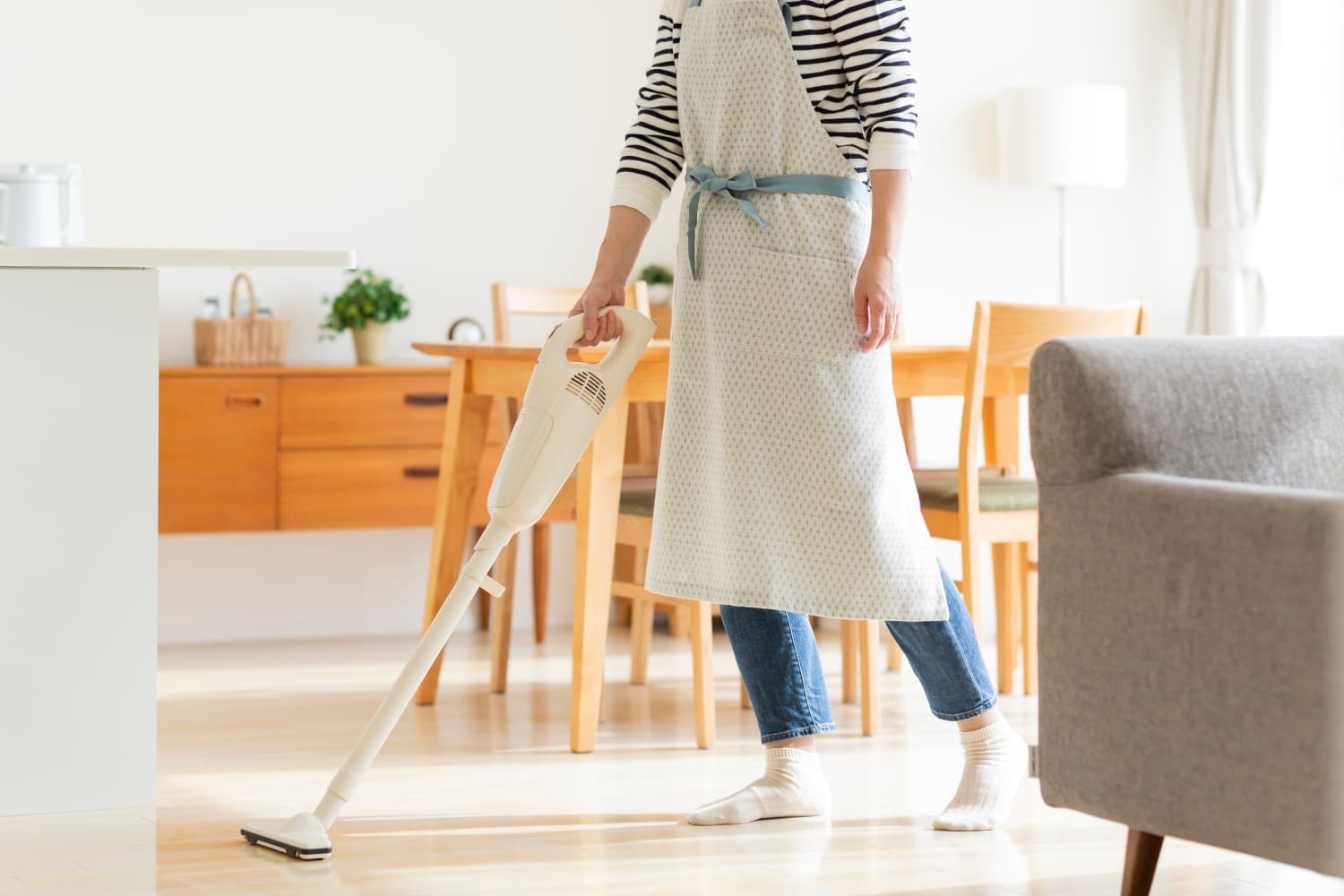 We independently select these products—if you buy from one of our links, we may earn a commission.
A clean work space is the first step to making a successful, lower stress meal. I didn't say low stress, since I don't know you and can't make those promises, but I recently bought a hand-held cordless vacuum and I think you should too.
If you live in a small space or just want an extra layer of convenience in your cooking routine, it might be worth considering parking one of these mechanical wonders — designed with NASA technology! — in your kitchen.
Why I Think You Should Have a Handheld Vacuum in the Kitchen
For more than 10 years, I've worked as a chef and recipe developer, which means I spend most of my time in professional kitchens with exacting standards. Yet, like everyone else, over the past year or so, I've been home, and my kitchen habits drastically changed. I needed to do a lot of cooking for myself and a whole lot more general cleaning. I was suddenly preparing meals and baking like a fiend. It turns out, feeding myself three times a day and producing enough sourdough to rival a bakery, leads to more tiny messes happening on the regular.
As someone with a compact kitchen and a compulsion towards cleanliness, I needed a quick way to clean up without pulling out the awkward broom and dust pan. That's when a handheld vacuum came into my life.
I bought a Dyson V7, but no matter what you welcome home, it'll be a workhorse in your kitchen. You'll find lots of uses for it and with proper care it can make a big difference in your world.
A full-size vacuum will never be as lightweight: Most hand vacs weigh in at about four pounds, have no messy bag, and take up just around a foot of space. Oh, and bonus? Little kids love to be super helpers when these things are around. Expect lots of excitement from the under-seven set when one appears in your home.
First tip is to find a place to plug it in. If your home has limited outlets this really is a consideration. While they're cordless when in use, they do work best when fully charged, and depending on the brand you buy, they typically only work for around 30 minutes before needing to be recharged. There shouldn't be a task you're using it for that takes longer than that though. It's also possible to get a wall mount. As with any tool, if you see it out, you're more likely to use it. There's also the option of USB charging which is a great alternative.
The Many Ways to Use a Handheld Vacuum in Your Kitchen
Like your upright vacuum, the handheld vac works best when you go slowly. It seems counter intuitive, but since it's small jobs you're working on, it still will be a quick clean up. And once you have it out you'll find a few other little things to focus on, like the windowsills and the top of the fridge. Keeping fine dust and particles off of the floor also makes it easier when you do get around to mopping. There won't be as much of a need to sweep and deep clean if you're keeping things tidy as you go
Thanks to the fact most of the vacuum cup containers are clear, you can also use it as a handy bug catcher for the stray ant or spider that wanders into your space. Just don't go after anything too large.
For small tasks it's a brilliant option. Use it to clean up that stray almond meal, flax seeds, and even a raisin or three. It can help with the crumb tray in your toaster, an often-neglected spot, too. It's also terrific for a quick pass over the fridge gaskets (that's the rubber seal on the door). You're certain to find 101 uses for it in no time.
When busy mother of twins Laurie Cohen in Boulder, Colorado took her at home coffee brewing to the next level during the pandemic, her purchases included a lightweight hand-held vacuum. "It picks up all the grinds that escape onto my counters and keeps the area clean so my wife doesn't get frustrated at me." She makes sure to wipe it out weekly so the cup doesn't retain any odors or get stained.
What You Should Know About Cleaning and Maintaining Your Handheld Vacuum
Make sure to occasionally wipe the machine down with a damp cloth and periodically clean the filter. If you have a higher end vacuum, go check that warranty or the manufacturer's website for details on how to clean the filter. If you don't take that step, over time it clogs, losing suction, and then just dies a sad death. They can also be replaced if you're in need or have forgotten about it up until now. Also, rinse out the cup with warm soapy water or a non-abrasive cleanser and make sure it's completely dry before replacing it. Hand-held vacuums are not typically designed for wet clean-up.
Prices can range from under $30 to over $500 and this is for sure an area where you get what you pay for. When you go to buy one, keep an eye out for one with high suction power and long battery life. Look for an option with a rechargeable lithium battery and attachments like a brush that can help with kitchen rugs and fabric seats.
Overall this is a purchase that for sure cut down on my housework and has brought an odd "I love cleaning!" joy to my life.