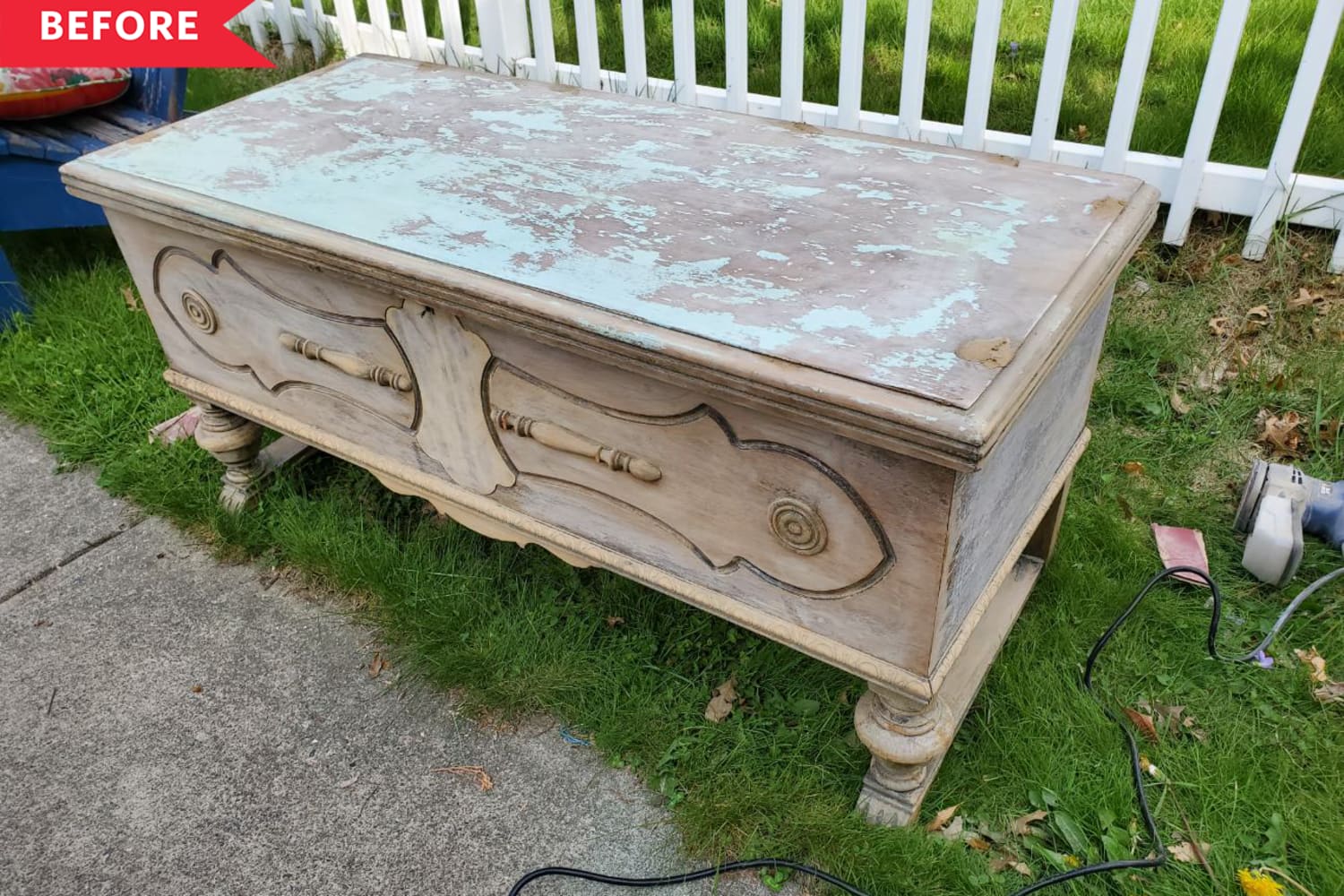 We independently select these products—if you buy from one of our links, we may earn a commission.
There's a lot of satisfaction to be had in restoring a vintage piece of furniture — especially if that piece is a family heirloom. If you have a family piece sitting around and waiting for some TLC, take inspiration from this redo from DIYer Claire Serowinski.
Claire's cedar chest was passed down from her husband, Brian's, grandmother. "His grandmother, Mary Sevensky, was such a sweet lady," Claire says. "She married her husband John in 1932 and this was her hope chest."
After a bit of flood damage and years of use, the chest was looking a little worse for wear. But, Claire says, "when I saw the inside and heard the story behind it, I was sold." Plus, her husband had fond memories of it, too: "My husband remembers playing hide and seek in the chest which was actually quite dangerous considering there are no safety latches on the chest," Claire says.
The chest, manufactured by Caswell Runyon, was extensively damaged on the outside, with chipped and peeling surfaces. Claire started by cleaning and sanding the piece to rid it of any unsightly chips. She also had to use some wood epoxy to fill in where the lid was starting to peel away to make the surface smooth.
Next, Claire primed and painted it in a soothing gray (Benjamin Moore's Boothbay Grey) that has a vintage feel — perfect for her vintage chest. "I wish I could have refinished it, but paint was the best option," she says. The paint helps highlight the beautiful wood details while also hiding the old damage.
Claire lucked out with the cushion: She found a perfect fit at a yard sale for just $20. "I love how the light Gray has a blue tint that goes so well with the new cushion," Claire says.
Now the chest is ready to be enjoyed by a whole new generation. "This old chest, a part of my husband's family history, looks happy once again and will be enjoyed by all," Claire says. Her biggest takeaway? "Never turn your back on good, old reliable solid wood. They don't make things like this anymore," she says.