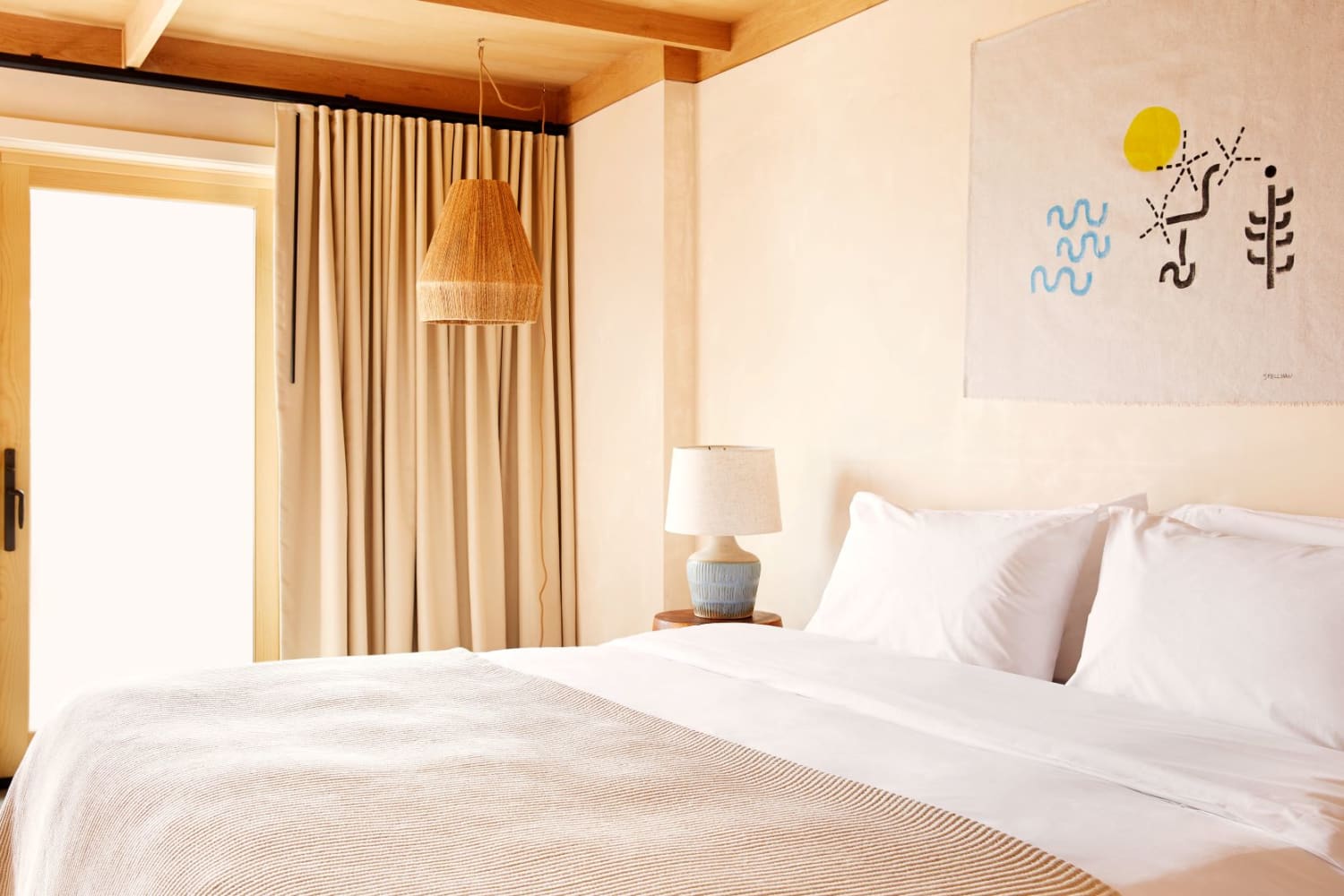 We independently select these products—if you buy from one of our links, we may earn a commission.
Well, it's officially summer, and for many, that means at least one trip to the beach to soak up all that the sand and surf have to offer. If you can't make it out to the coast or just don't want to leave that airy, maritime look behind at the sea though, it's never been easier to achieve that kind of feeling in your home decor without being so literal about it — you know, relying on shades of blue, seashells, and driftwood — though these elements can all lead to super pretty interiors if you're into them.
Specifically here, I'm talking about the more neutral, sophisticated brand of beachy that's risen to the decor fore lately, as seen in spaces like this simple, bright beach house in Spain on the Mediterranean Coast or even stateside at the super stylish Marram hotel in Montauk, NY, which was designed by Post Company in collaboration with Atit Jariwala, CEO of hospitality company Bridgeton.
With the right palette, finishes, and materials, the subtle seaside look's not a hard one to master. Try these design elements that'll bring calmness and a sense of beachy informality to your space that's still seriously stylish. It's all about not going overboard… get it?
Instead of doubling down on ocean blues and nautical reds, look to the sandy parts of the sea for inspo instead. Think on trend desert neutrals, from warm tans to the pinks and mustards of a sunset cruise, which you can see on full display in photographer Alicia Peiró's Spanish coastal living room above. These subdued shades ultimately may give you more of an opportunity to layer in new accent pieces in punchier hues one day, too, if you tire of your current mix. Plus, they feel a little less expected than the above-mentioned primaries or a spectrum of aquas and turquoises, at least in a coastal setting.
Natural fibers like seagrass and sisal get a lot of love in typical coastal decor, but why not open your place to other woven materials, too? You can play with palette here as well. Try a darker jute rug in blue, for example, to ground some of the lighter neutrals in your space, which will create a look like the chic pairing at the Marram above. Armadillo offers jutes in a bunch of deeper hues, including coal and pine if blue isn't your thing.
Don't forget lighting either! Rope has always had a nautical context when it covers shades and cords, but a thinner twine-covered pendant or even a paper lantern table lamp feels a little more modern but still easy and breezy.
Weathered cedar is the new driftwood, and it's not just for fences or the facade of buildings either. Bring furniture made of this material indoors — think benches, tables, and even stools in this light silvery wood. Look for additional pieces made out of reclaimed fishing boats or even old sea-battered homes. White oak can also hang in this mix, too, as can white painted woods.
Abstract but on theme artwork
You can totally go for an aerial beach shot or seascape if that's what makes you happy, but sometimes less can be more when it comes to beachy decor, particularly if you live in a cooler climate but want to channel chill but understated beach feels year-round. That's why I love the Sean W. Spellman canvas wall hangings at the Marram above; they hint at the sun and sea with circles and squiggly, swirly brushstrokes. These pieces are quite large and not cheap, but artist and musician Spellman also offers small but still sizable prints for less.