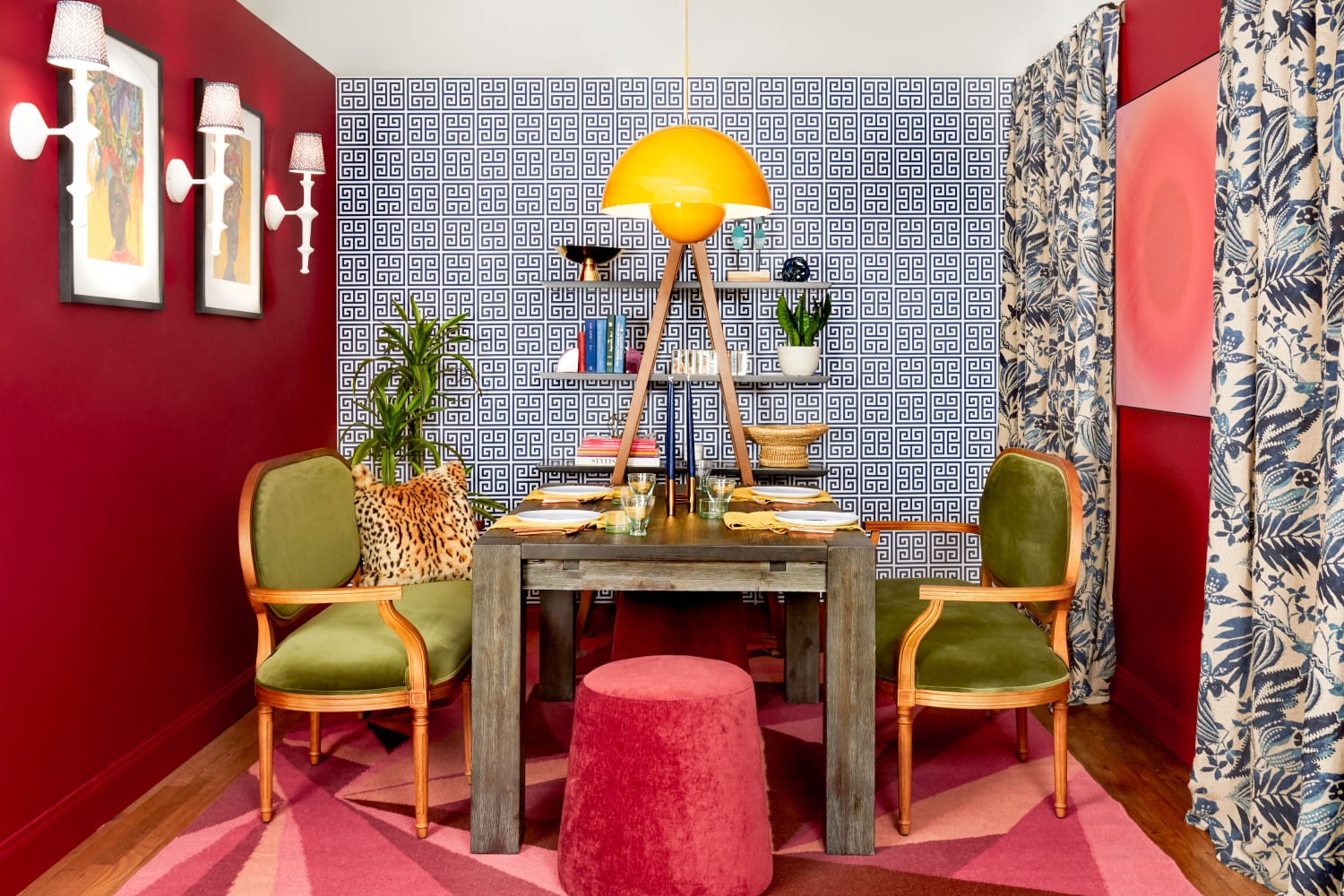 We independently select these products—if you buy from one of our links, we may earn a commission.
When it comes to furnishing small rooms, finding the seating that perfectly fits the bill — and the space, most importantly — sometimes feels like navigating a shopping black hole. Obviously, you want something big enough to comfortably fit friends and family, but that's also compact for any tight spaces (or entryways — don't forget to measure!). It's the ultimate furniture oxymoron, no? Plus, that's not even taking into account price or style.
Slightly reminiscent of 18th century French style and available in blue or green, this velvet beauty clocks in at just 58 inches wide — ideal for a tiny living room "sofa," an entryway accent, or even tucked up to your dining room table.
The latter's exactly how Fahmy put not one, but two green renditions to use for an elegant chair replacement. She also offset the seat's classic look with modern details like an animal-print pillow, bold paint and wallpaper, and glam ottomans on the opposite sides of the table. After all, by her account, "a small room is the perfect place to bring in rich colors, mix patterns, and incorporate eccentric touches."
For a living room look that's just as alluring, Nozawa tapped into the blue version — which, despite its bold warm hue, arguably can still be regarded as a tonal basic (step aside, beige). "Layering patterns and colors is easier when you broaden what defines 'neutral,'" says the designer. "Consider denim and leopard prints bold — but still neutral — canvases to add onto."
With that mantra in mind, she surrounded the piece with a blend of classic, contemporary, and decidedly eclectic accents, like vintage-inspired wallpaper, juxtaposed with a sleek leather stool and leopard-print coffee table. Consider taking a cue from her draped pom-pom throw, too, which doubles as an eye-catching pop of color and cozy cuddle staple on standby.
No matter how you spin it, you can't go wrong with this versatile piece for any room. Admittedly, it is a splurge, but also a lasting statement piece that's guaranteed to stay in style (and still cheaper than most small-space sofas!). Plus, you can easily mix up the styling and placement as your tastes evolve, as evidenced by Fahmy's and Nozawa's different takes.
To get even more of the designer's looks (plus tour all the rooms!), don't forget to check out the rest of the Small/Cool experience.