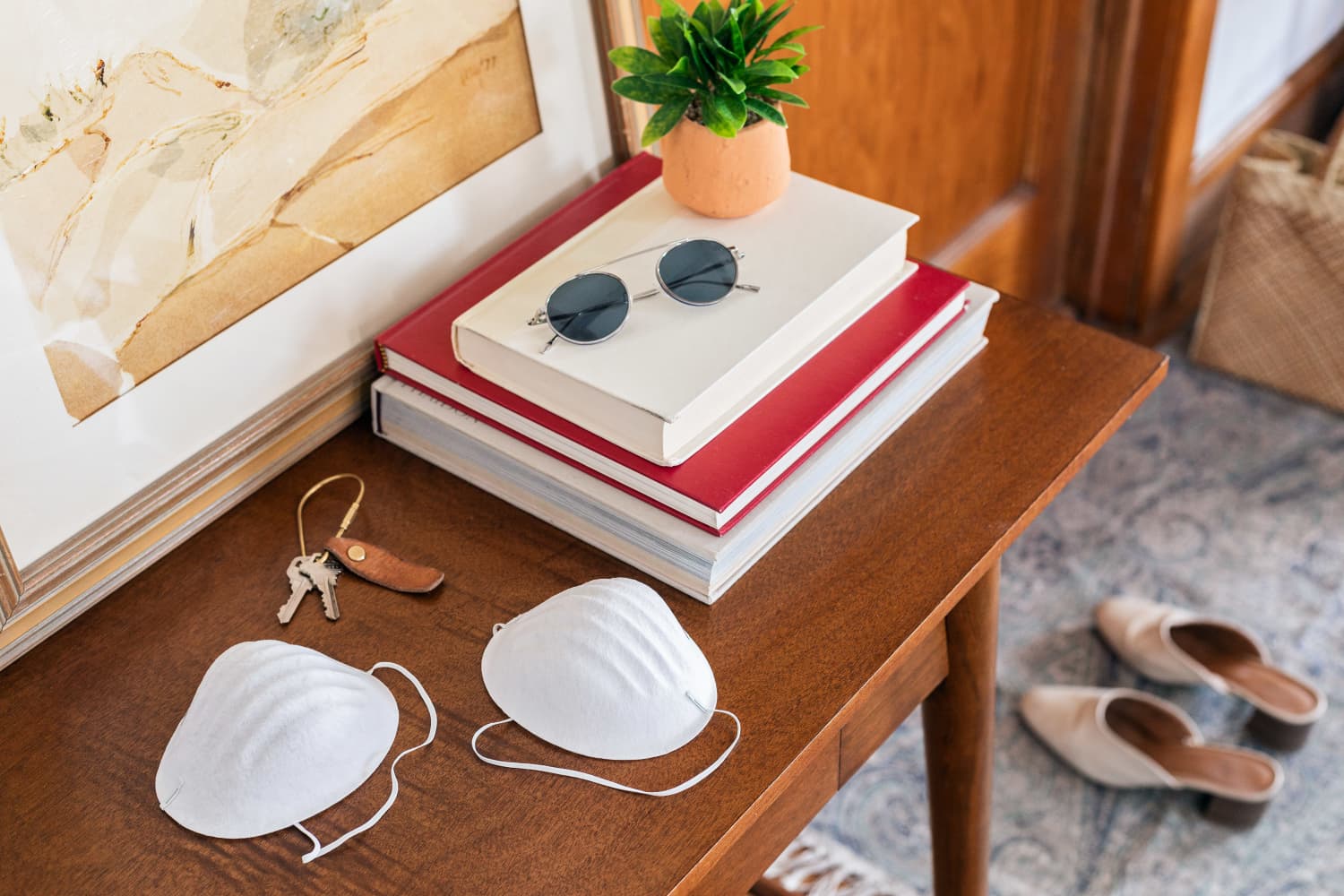 More than a year of mask mandates in an effort to slow the spread of the coronavirus has likely resulted in a stash of cloth and disposable masks somewhere in your home — which likely means that you've also disposed of plenty of single-use masks. That's understandable, but I can't help but think about all the masks that have been dropped on the streets and ended up in our waterways. While disposable masks do serve their purpose, they stand to create plenty of waste and can negatively impact the environment if not disposed of properly.
According to a March 2021 study by the University of Southern Denmark, people are using millions of disposable face masks every day, and that inevitably leads to plenty of waste. As the Ocean Conservancy group noted the same month, the organizations' international coastal cleanup network collected over 100,000 pieces of personal protective equipment (PPE) from beaches and waterways around the world in the span of six months. On top of that, the earloops of disposable masks have been found wrapped around the legs of birds and other animals, posing a threat to their lives.
Disposable masks are made of tightly woven plastic polymers that can break down into microplastics — not only are the masks not biodegradable, but over time, they can pollute the environment around them. "Microplastics are problematic because they make their way into all levels of the food web, even into the tiniest organisms like plankton," Britta Baechler, Ph.D., a senior manager of ocean plastics research at Ocean Conservancy, told Apartment Therapy. "We now know that PPE is widespread, so that's the worry."
As more and more people receive the COVID-19 vaccine and states and businesses begin to lift mask ordinances, you might find yourself reaching for your mask less frequently. It's probably a good idea to keep some on hand for the foreseeable future — especially if you're in crowded places, feel sick yourself, or are around children who cannot yet be vaccinated — it's also essential to dispose of disposable masks properly. Here's what sustainability experts want you to do when it comes to disposing your single-use face masks.
If you do need to use single-use masks, make sure they end up in the trash.
The best way to ensure that disposable masks don't end up on the streets or ocean is to ensure they actually end up in the trash bins and eventually in landfills. Although the amount of waste isn't ideal, it's better than ending up where it can be more harmful to the environment. That also means not tossing them in overflowing trash bags.
"If there is a really full trash bin that has items teetering on the top, maybe wait until you find a less full trash bin, so it doesn't end up in street gutters or on the ground," says Sabs Katz, a sustainability expert and co-founder of Intersectional Environmentalist.
Baechler also recommends cutting the ear loops of your disposable masks before tossing them, much as you would prepare plastic soda can rings for recycling. Doing so mitigates the risk of these strings wrapping around animals and tangling their limbs.
Remember that disposable masks aren't recyclable.
Because many disposable masks and other pieces of PPE are made of tightly woven plastic and are considered hazardous materials, they aren't recyclable, which is why it's essential to dispose of them properly.
TerraCycle, a private recycling business, does offer Zero Waste Boxes to recycle nonwoven disposable plastic-based masks like three-ply surgical masks, dust masks, and KN95 and N95 masks to make new products like plastic lumber. However, these boxes start at $88 to use and ship and shouldn't include any medical waste.
"I think it's great that TerraCycle has this option and has this box, but not a lot of people have access to items like that because they don't live in close proximity to any sort of TerraCycle box or don't know about it," Katz says.
Know how to dispose of masks you see littering the street.
If you want to organize a clean-up or simply pick up the masks you find littered on the ground, in parks, or on beaches, there are a few precautions you should take. The Ocean Conservancy recommends wearing masks and gloves before picking up potentially contaminated masks and disposing of them, but that you should never pick up anything you're not comfortable with. Afterward, carefully remove your gloves and wash your hands thoroughly.
Use reusable masks, when appropriate.
From DIY masks to stylish, retailer-supplied options, it's likely you now have a fair stock of reusable masks somewhere at home. If you can, it's a good idea to continue wearing these cloth masks when you need them to help reduce the waste created from disposable ones. (Just be sure to wash and sanitize them after every use!)
She also suggests that people lower their single-use plastic waste, in general. "This type of concerted effort will help us minimize the effect of plastic on the ocean and the environment," she says.
"I always recommend people use reusable masks, not only because disposables are bad for the environment, but it's also going to cost you a ton of money, too," says Jhánneu Roberts, a sustainability expert and digital creator. She also remarked on the prevalence of human-created waste: "I see it all the time when I'm walking down the street, and I'm like, 'pick up your masks,'" she noted. If you're unvaccinated or simply want to continue following mask protocol, check out the CDC guidance on how to wear masks for the best protection possible.
And when it's time to repurpose a reusable mask that is no longer fit to wear, Roberts recommends sewing a few together as cleaning rags. Katz also notes that these small fabric pieces are ideal for sewing as patches for clothes.
"I'm hoping people will use them as patchwork pieces just because it's a fun DIY and cool way to keep the memory alive," Katz says. "I, personally, will be keeping some of my masks for historic purposes."