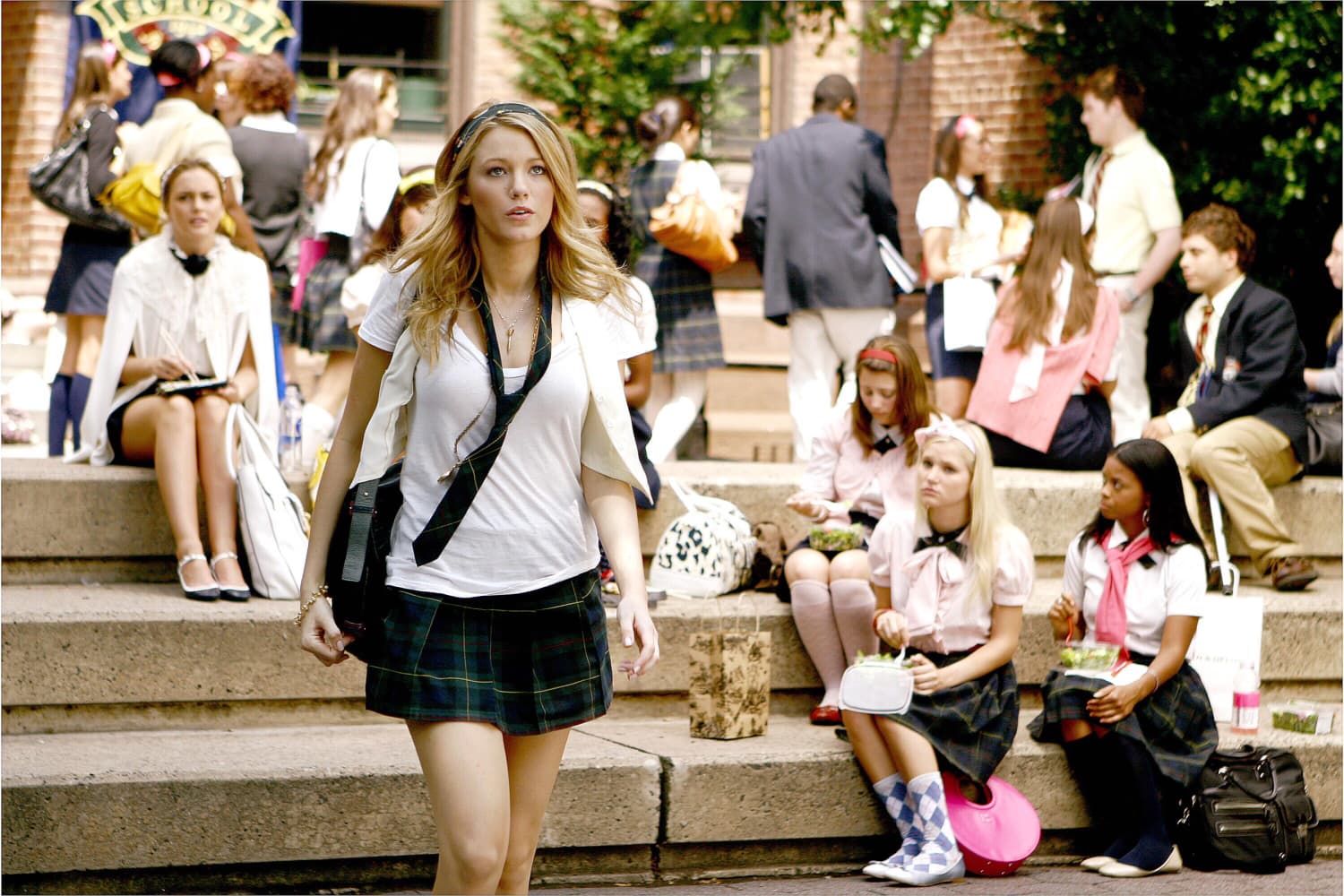 For those who watched soapy teen drama "Gossip Girl" during its original run from 2007 to 2012, they know that the essence of Gossip Girl is eternal. And, apparently, so is the actual show because with the impending HBO Max reboot — it premieres July 8 — the high schoolers on the Upper East Side are back in the spotlight along with the lavish parties, fashion, and drama befitting a teen in 2021. This "Gossip Girl" 2.0 if you will, developed and produced by a team from the original GG Josh Schwartz, Joshua Safran, and Stephanie Savage, is more of a sequel than anything: We're back in the same world as before, but with a whole new crop of students to follow as their lives get picked apart by a new Gossip Girl (still voiced by Kristen Bell, because you know you love her xoxo).
But before we learn about our new Queen Bees and Drama Kings, online interior design service Modsy revisited some of our old friends (or enemies — looking at both of you, Dan and Jenny!) and imagined what the grown-up living spaces of the original Upper East Siders might look like in 2021. Let's see what they came up with.
Blair & Chuck's Upper East Side Townhouse
As if Blair Waldorf would ever leave the Upper East Side. Modsy gave Made For Each Other Blair and Chuck a townhouse that's all about combining their two aesthetics. Modsy's VP of Style Alessandra Wood says that means putting together pieces that are both "feminine and classic" with ones that have a bolder, more masculine look. Wood tells us that the resulting space is one that "mixes flirty, classic design with vintage industrial touches." Blair and Chuck would no doubt have a lot of high end pieces, but if you want to achieve this look, Wood suggests combining "soft rounded silhouettes with edgy, metal pieces." Plus with the addition of pictures of her two greatest loves — Serena and Audrey Hepburn — this townhouse should be Blair Waldorf approved.
Dorota & Vanya's Studio at Blair & Chuck's House
Modsy figured a dream team like Blair and Dorota wouldn't really part ways, and so imagined what Dorota's living quarters at the Waldorf-Bass townhouse would look like. Pulling from that time Dorota designed Blair's office, Modsy gave her and Vanya a bold, eclectic studio. To get this look, Wood suggests starting with a vibrant wall color and then adding in warmer earth tones through fabrics and furniture. And to give the space a more "layered, expensive look," you should include "gorgeous materials such as burl and inlay." And a Cyndi Lauper print never hurt either, not according to Dorota, at least.
Serena & Dan's West Village Home
Since Dan burned most people on the Upper East Side — if you have not heard yet I'm not in the least bit sorry to tell you that Dan Humphrey turned out to be Gossip Girl — he and Serena would have to hightail it to a different part of town and the West Village seems like a good fit for Ms. van der Woodsen. Wood says the Modsy team wanted their space to reflect Instagram trends with a relaxed, California vibe." Sure, it's high end, but it's also all about comfort as well as some bold pops by way of decorative accents. For this look, Wood advises to "start with a large, comfortable sofa" and pair it with "a bold, eclectic rug." To create that sense of calm that the Upper East Side never afforded this pair, paint the room in "an earthy, green wall color." Also, maybe stay off the internet? That might help, too.
Oh, Little J. Modsy thinks even your design studio would be dark and moody. It's all about drama, for Dan's little sister. Since Jenny would be working in fashion, her home office would have to be glamorous and fashion-forward. The edgy color palette here helps achieve that, as well as some focal sculptural pieces. Wood says to "use pops of brass in lighting and finishes for a luxurious touch." If you're looking for even more drama, Wood also suggests that you should "layer in light colors and black and white art for high contrast." And if you need more drama than that, well, who are you, the Gossip Girl?